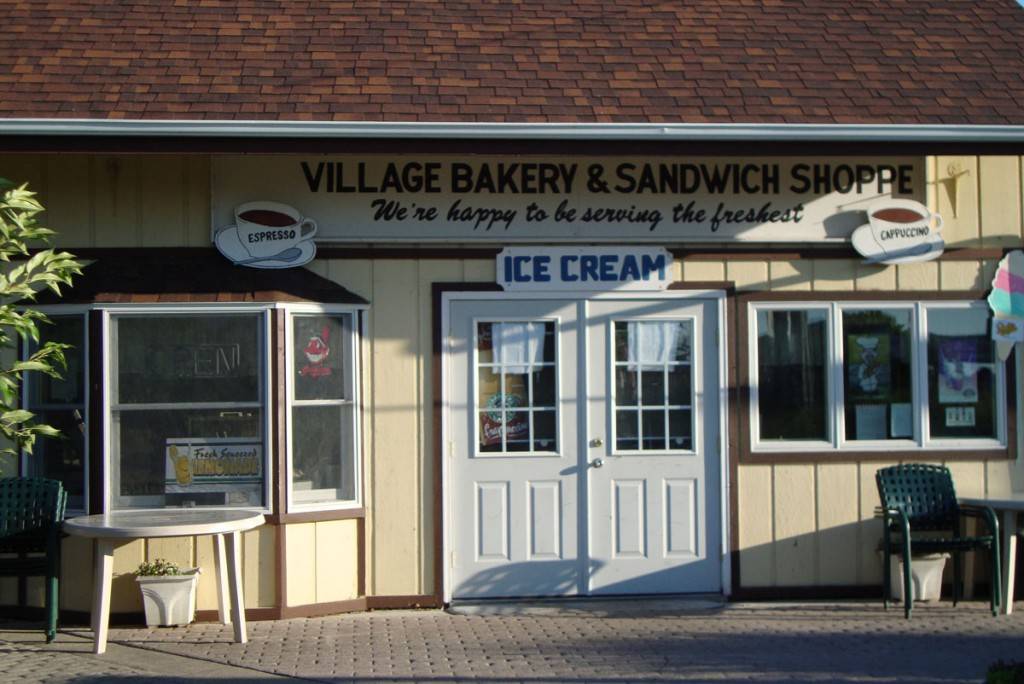 The friendly staff at the Village Bakery makes sure everyone on Put-in-Bay has fresh pastries and coffee to wake up to every morning. For over 20 years, Pauline and her staff has made the best pastries, cakes, and pies on the island. Coffee is ground every day and every piping hot cup is rich and strong. Perfect with a croissant or danish before heading out onto the boat or spending the day exploring the island.
Chocolate croissants, turnovers, and muffins are the baked fresh every day. Special occasion? The Village Bakery offers cakes and pies you can special order for your next big event. Besides pasties, they cook up hearty breakfast options and healthy lunches.
Village Bakery Breakfast and Lunch Highlights:
Griddle with Sausage, Egg, and Cheese on a Biscuit

Croissant with bacon, egg, and cheese

Smoked Ham Sandwich

Tuna and Chicken Salad

Village Salad with ham, pistachio, and craisins
Ice cream and sundaes are also on the menu. This really is the place for sweets! The Brownie Sundae is really out of this world! 
Village Bakery Offerings:
Croissants and Chocolate Croissants

Fresh Homemade Muffins

Scones

Bundt Cakes

Pie (Lemon Meringue, Coconut Cream, Banana Cream, Fresh Fruit)

Specialty Cakes with fillings like Raspberry, Nutella, and White and Chocolate Icing
Catering
Besides their specialty cakes and pies, they have an extensive catering menu. Call them today in order to plan for an upcoming business meeting or party. They offer entrees like Glazed Ham, Meatloaf, and Chicken Paprikash along with sides like Macaroni and Cheese, Scalloped Potatoes, and Spaetzels.  Opt for a party tray for a large event or pastas for something a little different. Of course dessert trays are also available.
In terms of the cakes and pies, the skilled bakers can make anything your heart desires. German Chocolate Cake, cheesecakes, and even Wedding Cakes are all available. Put-in-Bay is a lovely place to get married and Village Bakery the perfect place to make a cake for your special day.