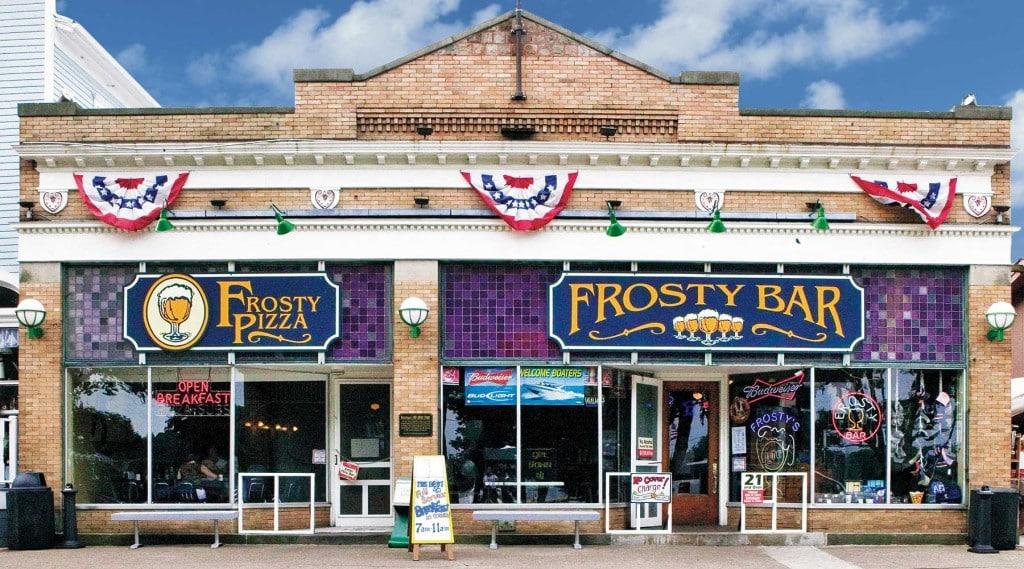 Frosty Bar is a Put-in-Bay institution. This fun, friendly bar is brimming with good cheer all summer long. To celebrate summers on the island and all things Frosty, make sure to visit Frosty Gifts. Souvenirs include t-shirts, beer koozies, and baseball hats.
Frosty Gifts Offerings
Snag your very own "Sunday Funday" tee and wear it every week to celebrate the party lifestyle. The Frosty's tumblers are great to bring on the boat. Fill it with your preferred beverage. The handy straw makes it easy to sip from.
They carry Frosty Christmas ornaments so you can remember warm summer days in the winter months. A Frosty gift certificate is the perfect present for an Island first-timer or long time visitor.
Frosty's is one of the central gathering places on Put-in-Bay. With their ice cold beer served in frosty glasses and mouth-watering pizza, everything about Frosty is fun-filled.
Owned by the Stoiber family, Frosty's really understands what makes Put-in-Bay so special. Located right in the middle of Delaware Avenue, across the street from DeRivera Park, Frosty's in right in the middle of the action.
Plasma TV's play sports all day long. There's always a game of pool going, and DJ's spin every night during the weekend. This place is so beloved they even have their own competitive fishing team! Come be part of a Put-in-Bay tradition at Frosty.
There are so many things to do on Delaware Avenue alone, you could spend all summer hanging on just a few blocks. Eat breakfast at Pasquale's, lunch at the Village Bakery, and grab a bar stool and camp out at Frosty's into the night.
Instead of pizza opt for south-of-the-border flavor at Big Mans' Burrito Stand located at the rear of the property. The back patio is lively every night of the week, with beer, margaritas and lots of fun!