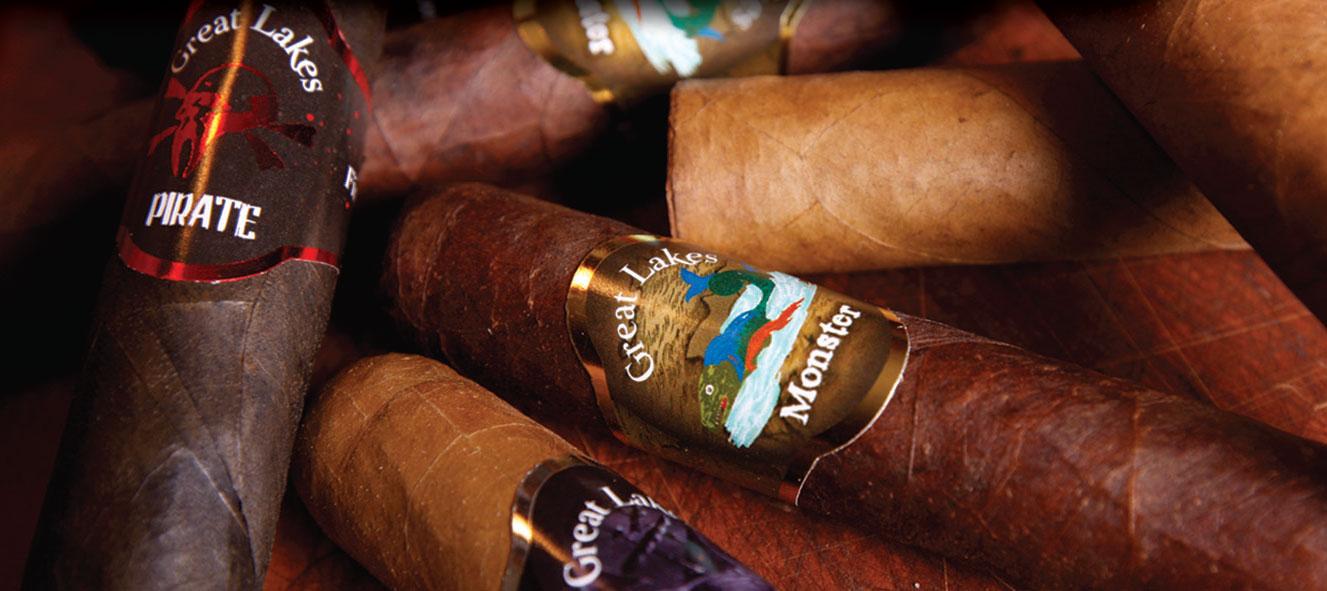 The Great Lakes Tobacconist, also known as Richard Warren, is a Put-in-Bay Legend. Celebrated far and wide for his diverse talents he grows a giant pumpkin every year just for Oktoberfest. He also dons a pirate costume for Pyratefest. And perhaps his most specialized talent is his Historic Put-in-Bay Cigars.
Over the last few years, Richard has put together a collection of five different cigars, all inspired by Put-in-Bay. Personally blended by Richard, these babies are rolled by Kilner Boutique Factory in Tamboril, Dominican Republic.
The Great Lakes Tobacconist Cigars
Island Airlines

Miller Ferry

Niagara

Monument

Heineman Winery
Each cigar is a premium blend of different tobaccos like the one on that review of La Aroma de Cuba. Island Airlines is the largest. This 6" cigar is a full-bodied blend of tobacco blend of Nicaragua, Peru, and the Dominican Republic.
The Miller Ferry offers a more mid-body taste blended with Dominican and Nicaraguan tobaccos. While a lighter taste can be found due to the mild Niagara were Dominican and Brazilian tobaccos meld to make a truly delicious taste.
To celebrate the 100th anniversary of the Monument, Warren furthermore created the Monument.  A Put n Bay Treat!
Purchase cigars individually or also in a set. There is even a gorgeous wooden gift box for sale. Perfect for Father's Day or for celebrating the birth of a new child.
The Great Lake Tobacconist Purveyors
Joe's Bar

Miller's Marina

Heineman Winery
The Heineman Winery blend goes perfectly with the sweet wines sold at this local winery. Also known as a petite pyramid, this cigar also lasts over 20 minutes. You will probably need to rent a golf cart or call a Put-in-Bay taxi to get here, as it is off the beaten path.
A cigar and a glass of premium wine is a match made in heaven. Or order up a glass of scotch at Joe's Bar. Take a seat out on their expansive back patio. Puff away and enjoy the warm summer evening. How perfect.