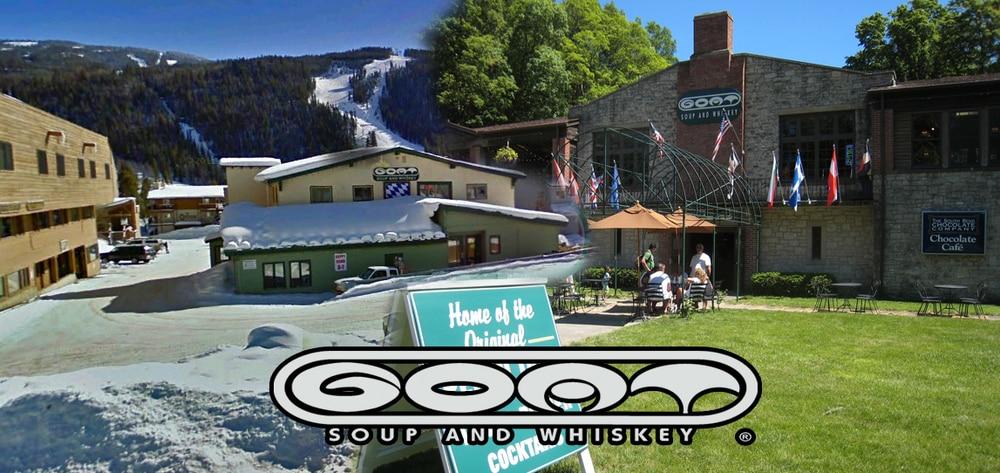 With an eclectic menu, fresh ingredients from on-site gardens, and casual fine dining, Goat Soup & Whiskey is Put-in-Bay dining at its best. This restaurant serves up delicious food in a peaceful, sophisticated setting. Their outdoor seating is beautiful and the setting tucked away from the hustle and bustle of downtown Put in Bay attractions.
The chefs at Goat Soup & Whiskey take pride in everything they make. There's no better indication of that than the three gardens on the premise. They use fresh herbs and vegetables in their appetizers, entrees, and cocktails. They also source berry's from nearby Bergman's Orchard. Diners can immediately taste the difference the straight from the garden ingredients make on their dishes.
The dedication to fresh extends to their seafood. They use freshly caught perch from Lake Erie in their famous Perch Tacos. Crispy fried perch is wrapped in a flour tortilla with cheese, green onion, shredded cabbage, and their secret "pali wali" taco sauce.
As their name implies, their soup menu is out of this world. Unlike most Put-in-Bay restaurants, they have a rotating menu of soups daily so make sure to ask your server what's cooking on the stove. This establishment is known for its great food and craft cocktails!
The Goat Soup & Whiskey Menu Highlights
Lollypop Lamb Chops
Reuben Balls
Lake Erie Perch Sandwich
Frieda's Walleye a la Fran: A Walleye fillet crusted with parmesan breading and sautéed in garlic butter, capers, and lemon
Seared Scallops
Bavarian Pretzel served al fresco in the Biergarten
The dinner options are divine with duck breast served with a ponzu sauce, blue cheese sirloin, and seared scallops served over jasmine rice. Goat Soup and Whiskey is a perfect spot for a date night or special occasion.
The wine list is varied and impressive, with reds and whites from every corner of the world. The beer selections run the gamut from domestic to imported which differentiates itself from other Put-in-Bay bars. Their cocktail menu is as impressive as their dinner menu, with fresh takes on old classics. Try the Banana Bliss made with fresh bananas, Bacardi rum, fresh bananas, ice cream, and creme de cacao. After a delicious meal and dessert, there is still plenty of things to do in Put in Bay, Ohio so make sure you don't get too full!
After Dinner at The Goat Soup & Whiskey
The Goat Soup & Whiskey is the perfect place to celebrate your bay vacation. Put-in-Bay comes alive at night! After you enjoy your world-class meal, you can let your hair down at any of the iconic bars in town. Visitors must visit Joe's Bar and Mr. Ed's Bar! Some of the other most popular places to enjoy the nightlife and live entertainment are The Reel Bar, The Keys, Boathouse Bar, Hooligans Irish Pub, Mossbacks, Topsy Turvey, Put-in-Bay Brewery, Frosty Bar and Distillery, The Round House or Put-in-Bay Winery. You can't go wrong with any of these places! Put-in-Bay is known for its relaxed island vibe so you are guaranteed to have an amazing night! There is so much to do and see in the Lake Erie Islands.
If you are hungry after a night of sipping on margaritas, stop by Cameo's Pizza for a late-night slice or the Chicken Patio which is conveniently next to The Round House! There are plenty of other late-night dining options in town and at the Put-in-Bay resorts too.
Stay the weekend on the island to soak in the full experience of South Bass Island. Visitors come back year after year because of the Put-in-Bay restaurants, shopping, nightlife, history, and the spectacular views of Lake Erie. Take your time seeing the sights and enjoying your time at Put-in-Bay harbor or Perry's Victory Monument.
Catch the Jet Express to the island and experience the Key West of the Midwest for yourself! Don't delay, because the summer fills up fast. Check out the lodging options and book your stay now.