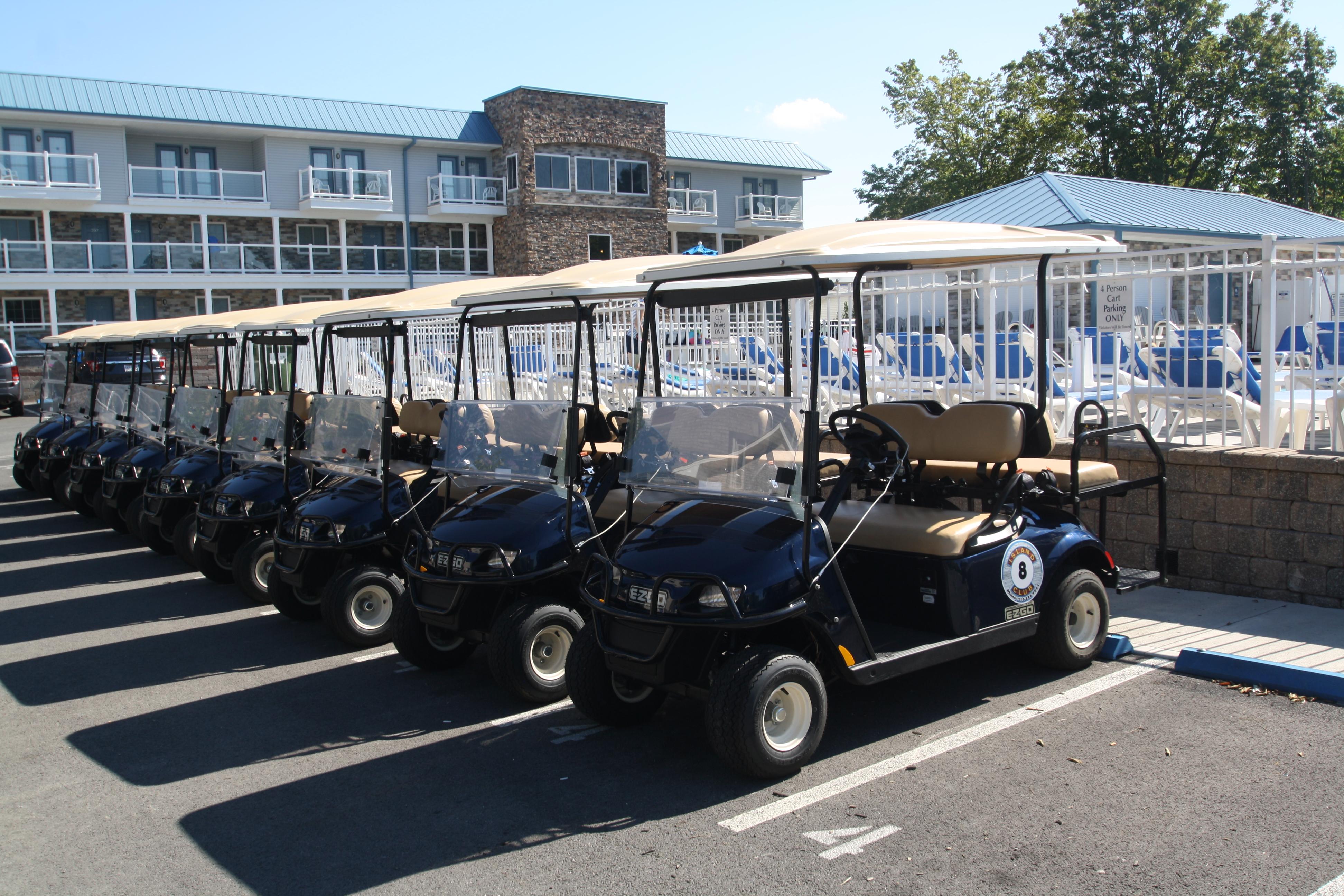 PLEASE NOTE: Golf Carts are for rent to Put-in-Bay Condos guests only! If you are not staying at the Condos and you need a golf cart, check out the Put-in-Bay Golf Cart Depot! Call 419-800-2278 for the Depot!
Put-in-Bay Condo Golf Carts
Located behind the airport off of Langram Rd, the Put-in-Bay Condos are the newest and most luxurious lodging accommodations on the island. All units are on the water and provide beautiful views of Lake Erie. Adding to the amenity list at this location are taxi service and golf cart rentals.
Once you have your golf cart, the island full of places to see, things to do, and great dining options. For information on where to go and what to see, click here for more information. Kids love Perry's Victory and International Peace Memorial, The South Bass Island State Park, The Candy Bar and so much more.
Golf carts are the ideal method of travel on Put-in-Bay as the island is not large in size. Everything is quick and easy to get to on a golf cart and it takes no longer than 15 minutes to get anywhere on the island. Great Put-In-Bay Restaurants and Put-In-Bay Attractions are a short jaunt away!
Local online forums have placed these rentals first place in terms of service and guest relations. Stop by for an overview of the best Put-in-Bay Lodging at the Condos in general and the Golf Carts in particular or check right here at Home Options.
Rental Rates
Rental rates across the island are subject to change from weekend to weekday, typically being cheaper on weekdays due to much lower demand. There are gas powered golf carts from EZ-GO. Different rental agencies have different rates, however we keep ours the cheapest on the island and rent exclusively to guest of the condos and Island Club. We off day rentals and overnight rentals. Overnight golf cart rentals are only available at certain locations like ours. We also have bike rentals and can be found located near the Miller Ferry dock on Put-in-Bay Rd!
Traffic Laws
All golf carts are registered as licensed motor vehicles, meaning they are viewed the same way as your car is in Cleveland or anywhere else on mainland in the eyes of the law. You must be at least 16 years of age and have a valid drivers license in order to operate the cart. No person carts are allowed on Put-in-Bay ferry's like the Jet Express or Miller Ferry. 8 person golf carts is the largest passenger golf cart you can get. All carts have seat belts, turn signals, headlights, and taillights that must be used. YOU CAN GET A DUI ON GOLF CART ON PUT-IN-BAY ISLAND – Be smart!
What to do With Your Put-in-Bay Golf Cart Rental
Welcome to Put-in-Bay! When you find yourself in downtown Put-in-Bay Ohio on Delaware Ave and don't want to hit the bars yet, don't worry. There's almost endless things to do on South Bass Island. The island is very small, making it easy to get around plus even if you have an electric cart you won't run out of charge the whole day.
put-in-bay, oh 43456