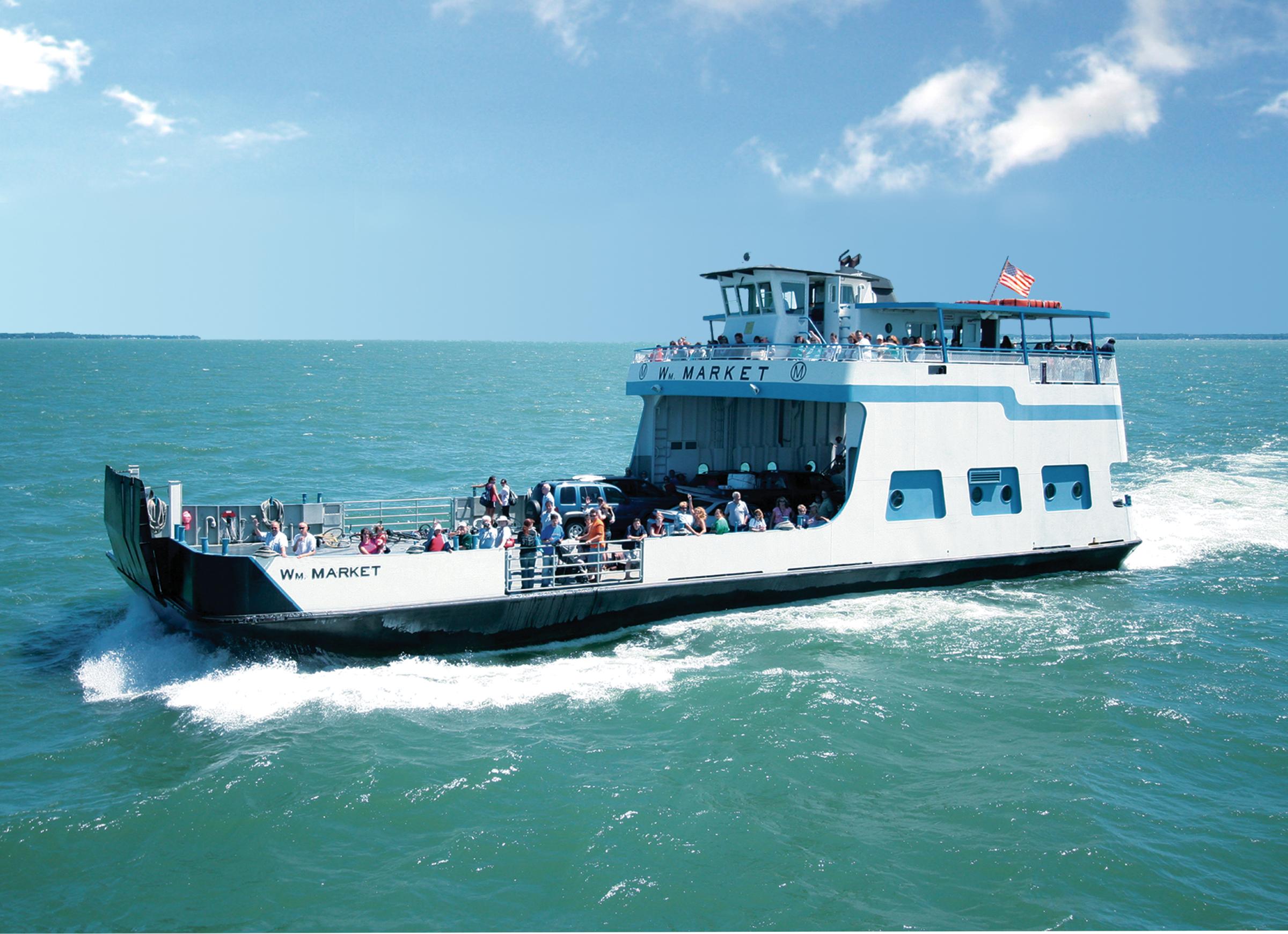 Miller Ferry Transportation
The Miller Ferry Company offers ferry services to both South Bass Island and Middle Bass Island with the lowest fares. Passengers enjoy scenic views on the way to their desired destination. Both Put-in-Bay and Middle Bass Island offer nature trails, restaurants, wineries and more.  However, if you had to pick between the two, Put-in-Bay would win every time when it comes to places to see and fun attractions to take part in.
Both ferries leave from the tip of Catawba Island at the end of route 53. The ride to Put-in-Bay takes 18 minutes. Meanwhile, the ride to Middle Bass Island is roughly 40 minutes long. Check the Miller Ferry schedule on their website when coordinating your trip to the Lake Erie Islands. Once on their website, you will also be able to see the rates for one-way and round trip tickets. The address of the Miller Ferry is 5174 E Water St, Port Clinton, OH 43452. The ferry is within a half-hour drive from Sandusky, Ohio and an hour drive from Cleveland, Ohio. The ferry makes frequent trips daily. To view the full schedule, click here.  A ferry ticket can be purchased online or in person.
Put-in-Bay Ferry – The Miller Boat Line
Passengers wishing to bring their own vehicle over can do so with the Miller Ferry. Bringing your car over to Put-in-Bay is not recommended during the busy summer months due to the fact that parking is limited downtown for larger cars like these absolute vans;. In addition, the line to bring a vehicle over to Put-in-Bay can tend to get very long leaving passengers waiting for multiple ferry cycles to bring their car over, despite the frequent trips made by the ferry. Guests can choose passenger service only and enjoy free parking near the Miller Ferry.
A new ferry boat was added to the fleet during the 2019-2020 season and features state-of-the-art boating technology to enjoy as you venture off to your getaway.
For those worried about parking at the ferry: don't. Free parking is available within walking distance of the Miller Ferry! Plus, once you get off on Put-in-Bay, take a taxi or check out the golf cart rentals to get around. Golf carts are a great way to enjoy downtown Put-in-Bay.
In conclusion, Miller Ferry is the best way to get to and from both South Bass and Middle Bass Island and has the lowest fares. See you soon on one of the Lake Erie Islands!
Meet the Miller Ferry Fleet –  All 6 boats are passenger/vehicle ferries
M/V Mary Ann Market
Completed in 2019
Carries up to 600 passengers
Length 140 feet, breadth 38'6″ feet, draft 7 feet.
M/V Put-in-Bay Extension
Upgraded in 2009-2010 to add a 40-foot steer midsection
Carries up to 600 passengers
M/V Put-in-Bay
Constructed in 1997
Carries up to 500 passengers
Propulsion: Twin 3412 DITA Caterpillars with 1300 horsepower
M/V William Market
Constructed in 1993
Carries up to 500 passengers
Propulsion: Twin 3412 DITA Caterpillars with 1300 horsepower
M/V South Bass
Constructed in 1989
Carries up to 500 passengers
Propulsion: Twin 3412 DITA Caterpillars with 1240 horsepower
M/V Islander
Constructed in 1983
Carries up to 500 passengers
Propulsion: Twin Detroit Diesels with 700 horsepower
When you get off the Ferry
The Miller Ferry docks on the southwestern end of South Bass Island. Passengers bringing their vehicle over can drive up the hill on head to their destination. Passengers needing transportation will find an abundance of Island Club and Put-in-Bay taxis waiting for you. The taxi rides are $3 per person and the friendly taxi drivers will take you anywhere on the island. Keep in mind tips for the taxi drivers are always greatly appreciated.
Golf cart rentals are a common way to get around once you've made it to Put-in-Bay island. For guests staying at the Island Club and Put-in-Bay Condos, you're golf cart rentals will be right onsite. Visitors that aren't staying at either premier lodging location are recommended to rent their golf carts from the Put-in-Bay golf cart depot located in the heart of downtown Put-in-Bay.
Frequently Asked Questions:
How many cars can fit on the Miller Ferry?
The number of cars that can fit on each of the four ferry boats in service varies but the largest of the vehicle ferries can hold up to 26 cars. During the peak summer season, The Miller ferry will have their entire fleet running. Despite having all ferries running to accommodate guests, bringing a car to the island can result in wait times for the ferry.  Reservations are not required and vehicles are taken on a first-come, first-serve basis.
How much does the Miller Ferry cost to ride to Put-in-Bay?
The Miller Ferry has separate prices for adults, children, cars, bikes, etc.  For the most up-to-date pricing, visit the Miller Ferry website by clicking here.
Does the Miller Ferry close for the off-season?
The Miller Ferry does run on a seasonal schedule. During the spring, the first ferry trips begin in March. The final ferry trips of the season take place in November. Additional trips may be added for extended dates, weather permitting.
How long is the boat ride from Port Clinton?
The ride from the the Miller Ferry's Catawba Island dock in Port Clinton is about 20 minutes long.
Can I bring my car to Put In Bay?
Yes, you can choose to bring your car to the island on board the miller ferry, however we strongly recommend you don't do this. It costs a lot extra, there isn't much parking on the island, and you could be waiting up to 2-3 hours to get your car on instead of closer to 15 by just walking.
Do I need a reservation for the ferry?
No, the ferry is first come first serve. Most of the time if you're just walking on you'll be able to buy your ticket and board the next ferry in about 15 minutes. Cars can be subject to much longer lines so we recommend just walking on and renting a golf cart from there.
Can I bring a wheelchair on the ferry?
Yes, the ferry is wheelchair / handicap accessible but you'll have to remain on the lower deck as the only way up top is via a narrow stair set, but don't worry the view is just as good on the lower deck!
Should we bring groceries?
The island has a grocery store, deli, and carry-out but no pharmacy or liquor store so pack in accordance to that information. The selection can be limited in the grocery store at times but they will have the basics, and a beverage center next door can service your other beverage needs.
Can I bring a trailer to Put In Bay
Yes, but it costs extra in addition to already having to pay extra for your car so we do not recommend it. You can go online to their website to find more exact information but depending on the size it can cost anywhere from $10-$60.
Is there an ATM on site?
Yes, the Catawba Island dock on mainland has an ATM located inside the gift shop and the Put In Bay dock, also known as the Lime Kiln dock, has an ATM in their gift shop as well.