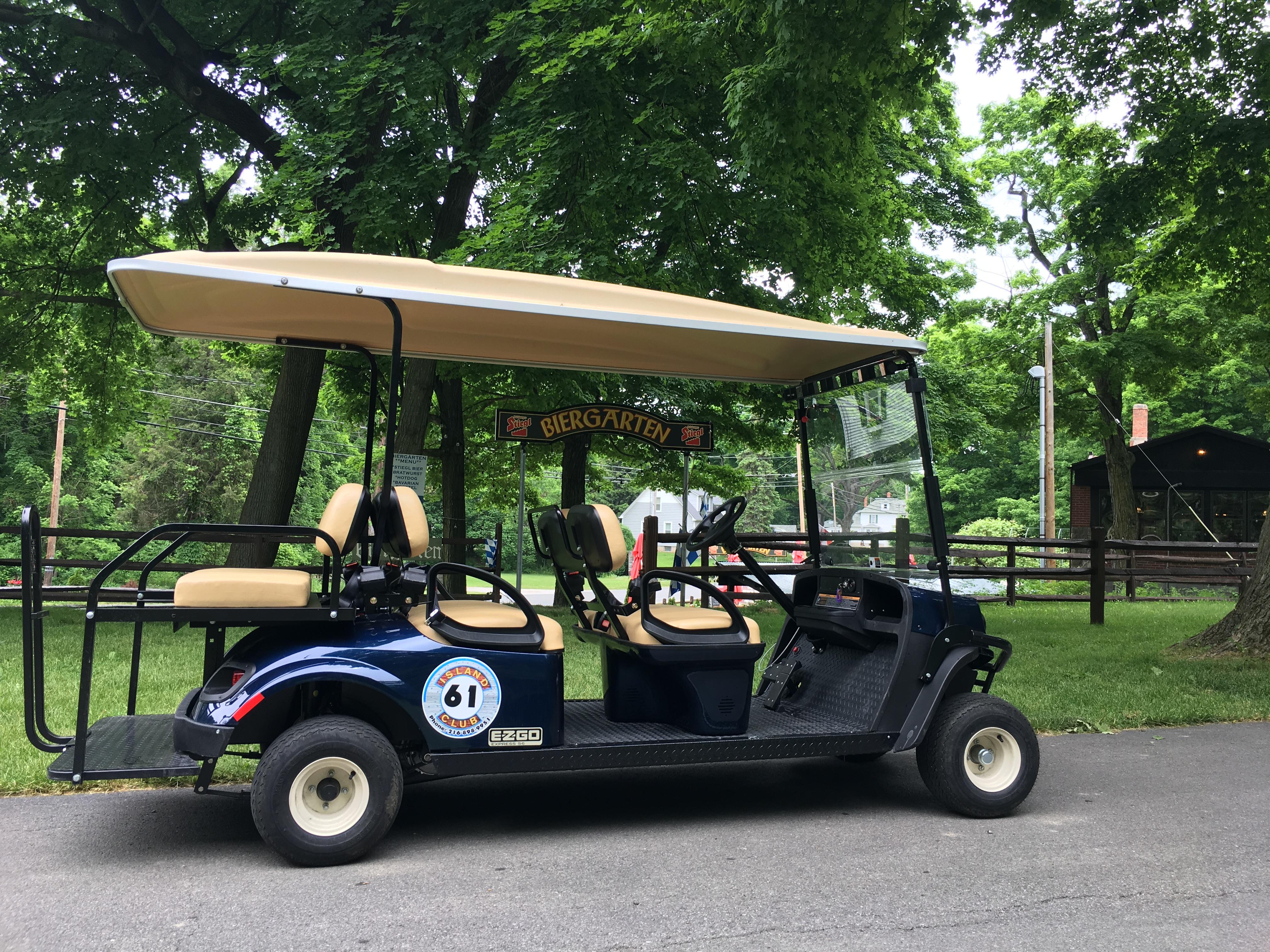 PLEASE NOTE: Golf Carts are for rent to Island Club guests only! If you are not staying at the Island Club and you need a golf cart, check out the Put-in-Bay Golf Cart Depot! Call 419-800-2278 for the Depot!

Golf carts are by no doubt the primary choice of transportation on Put-in-Bay Ohio. The unofficial report for number of golf carts on the island is over 800, with most of them being rentals. There are multiple sizes to choose from depending on your personal or group transportation needs. Island Club Golf Carts offer guests staying at the Put-in-Bay Condos and Island Club homes access to private golf cart rentals. We have EZ-Go golf carts.
The Golf Carts offers both 4- and 6- person carts regularly. Proudly serving ONLY Put-in-Bay Island Club Rentals guests with a confirmed home or condo reservation!
Rentals are daily.  So, your cart is an overnight rental.  Therefore, you can avoid the hassle of returning it each evening and picking it back up in the morning like at other rental agencies. Rentals are for guests only but if you just need a cart for an hour or three, check out Put-in-Bay Golf Cart Depot. Grab a Put-in-Bay Taxi to get downtown.
Proudly serving ONLY Put-in-Bay Island Club Rentals guests with a confirmed home or condo reservation!
Traffic Laws
All golf carts have seat belts, turn signals, taillights, and headlights that must be used/worn at all times. Golf carts are registered as licensed motor vehicles exactly like a car, so just because you left Cleveland to come to Put-in-Bay Island doesn't mean there's no longer any rules – YOU CAN GET A DUI ON A GOLF CART – and it happens all the time. Don't ruin your trip by being dumb! You must be 16 years of age with a valid drivers license to operate the vehicle. Carts can not go on any Put-in-Bay ferry's like the Jet Express or Miller Ferry even though it can have cars. Follow all traffic signs and signals.
Moreover, the consequences of a DUI or DWI conviction can be severe. From hefty fines to potential jail time, the stakes are high. That's why reading a comprehensive DUI and drunk driving guide from a trusted source is crucial. It provides clarity during uncertain times.
Getting Here and Getting Around with Put-in-Bay Golf Cart Rentals
Welcome to Put-in-Bay! The Jet Express dock is located in the heart of downtown Put-in-Bay on Delaware Ave. The Miller Ferry is farther away located down Langram Rd. Electric Carts will get around just as well as gas powered carts don't worry. Island Club has 2-8 person golf carts available and sometimes have bike rentals available as well! You can find Island Club can be found near the Miller Ferry dock on Put-in-Bay Rd.  Book Now!
Golf carts are the best way to see your favorite Put-in-Bay attractions. Island Club has day rentals and overnight rentals. Overnight golf cart rental rates may vary from weekday to weekend. This is true across the island for all rental agencies due to increase demand on weekends. Island club has gas and electric golf carts, as well as the best bay lodging. We look forward to you staying with us when you visit South Bass Island, Ohio in the Great Lake Erie! Book Now!