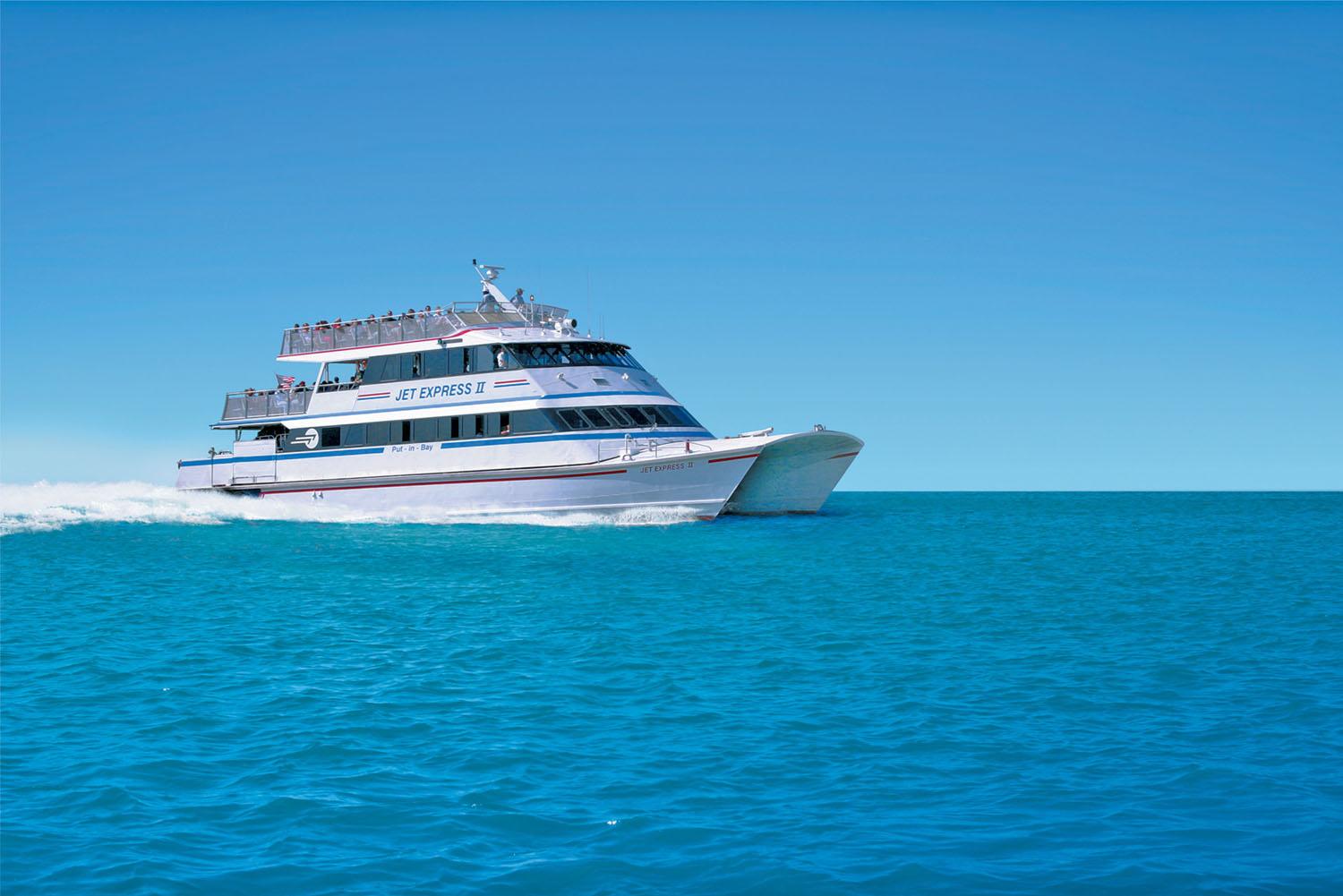 The Jet Express Ferries to Put-in-Bay
Get more bang for your vacation dollar when you ride the Jet-Express from Sandusky Ohio or Port Clinton Ohio. With every paid ticket, passengers receive a value packed coupon sheet with savings at many of Put-in-Bay's favorite destinations.
Discounts include Put in Bay golf cart rentals, water sports, mopeds, Kids eat free in many restaurants, discounts on Put in Bay attractions and much much more all over the island! As a result, there are many ways to save money by choosing the Jet Express.
Be sure to request your money saving coupons when you purchase your ticket or you may now purchase tickets on-line so place your order today!! When you get to the island, remember to call for a Put-in-Bay taxi to get you around.
The Ride is Half The Fun
All-aluminum ocean-approved catamarans, the Jet Express ferry boats are built in the USA. Traveling at speeds in excess of 40 mph the catamarans are among the fastest ferries in the world, yet the sleek twin hull design glides through all weather conditions with unmatched smoothness. Triple deck design provides beautiful viewing from an open air observation deck or from two stylishly appointed passenger lounges with tinted windows, carpeted decks and cushioned seats.
Providing Early Morning/Late Night Service to downtown Put-in-Bay, board the Jet Express boat line for the most convenient and most comfortable transportation to your island getaway. The Jet also goes from Put-in-Bay to Kelley's Island in the summer in case you want to check out another Lake Erie island, as well as a boat from Cleveland to put in bay once a year!
The Jet Express dock in Port Clinton dock on Monroe St, the Sandusky dock, as well as the boat itself have working restrooms. If your coming from Port Clinton you can checkout the "Jetbar", with direct access from the bar to the ferry. Ask the crew about upcoming events, the best nightlife, or any other questions you may have. They offer round trip tickets as well as one way, and do not service transportation to any Canadian islands such as Pelee Island.
Family Activities Near The Dock
DeRivera Park
DeRivera Park is at the heart of downtown put in bay and was originally founded to honor the first owner of South Bass Island. It's one of the first things you'll see when you step off the boat onto the island and is a great place to take your kids to play. They have a playground, swings, full working restrooms, and perhaps the coolest part, old cannons from the War of 1812 stretch the whole perimeter of the park.
Kimberly's Carousel
Kimberly's Carousel is actually one of the country's oldest original carousels still in operation today. Built in 1917 it was purchased by an island local who wished to see it restored to it's former glory, and with the help of his wife's artistry they managed to restore 12 original horses as well as add many more original characters your children will love. You can also check out the island candy and ice cream shop right next door!
Boardwalk & Upper Deck
The boardwalk is one of Put in Bays most recognizable names and with their famous "Lobster Bisque", their entire menu is great and you won't go wrong taking the family here for lunch or dinner. The Upper Deck boasts an amazing sunset view for parents and kids meals come served on a Frisbee that you get to keep! Remember to be sure to check out the Lake Erie Shores & islands website and see if they have any discounts available.
PIB Candy Bar
The PIB Candy Bar is obviously a great place to take your kids and has almost every kind of candy you can think of in shapes and sizes maybe you couldn't. The store is very cool looking inside and out and you can tell they put a lot of work into making it look great. They also serve ice cream in a separate little area towards the back of the store and this will no doubt be one of your kids favorite destinations while touring Put In Bay.
Mr. Ed's Bar & Grille
Mr. Ed's Bar & Grille is located just steps away from the Jet Express dock in the heart of downtown Put-in-Bay.  Known as one the best bars in downtown Put-in-Bay, Mr. Ed's always has live music throughout summer weekends. Enjoy live entertainment, cold drinks, good people and a great time on the island!
Frequently Asked Questions
Is there a bar on the Jet Express?
There is a bar at the Jet Express dock in Port Clinton called the Jetbar. There is no actual bar on the ferry boat but if you arrive early and need a cocktail as you wait to set sail you can do so at the JetBar.
Can I bring alcohol to Put In Bay?
REMEMBER ALL STATE LIQUOR LAWS STILL APPLY ON PUT IN BAY! Now with that being said, yes you can bring alcohol onto the island with you. There is no liquor store on the island so you might want to get the harder stuff ahead of time but beer and anything else can be purchased at the Island Beverage Center next to the Beer Barrel Saloon.
Is there a beach on Put In Bay?
Yes, Put In Bay does have two small beaches open to the public. The main one is located in the State Park, and if you decide to go there make sure you check out Joe's Bar! The other is located out past the monument on the islands East Point.
How much is a Jet Express ticket?
A one way ticket is will cost around $20 and round trip tickets will be around $35. Youth tickets (12-16) are $15 round trip. Child tickets (6-11) are $6 round trip and kids 5 years old and younger ride free.
How long is the boat ride to Put In Bay from Port Clinton? What about Sandusky?
The boat ride is only about 25 minutes if you leave from Port Clinton and about 45 minutes from Sandusky. To pass the time onboard you can ask staff about the island or check out the views from the boats open-air deck and windows.
Are there restrooms?
Yes, restrooms are located on board the ferry as well as at all docks. The restrooms onboard are single rooms while the restrooms at the dock are more like what you would typically expect.