Discover Put-in-Bay, Ohio: A Summer Paradise
Welcome to Put-in-Bay, a charming village on South Bass Island, located in Lake Erie's western basin. This peaceful Ohio village, halfway between Toledo and Cleveland, transforms into a vibrant summer destination, perfect for all ages. Whether you're planning a family vacation, a romantic retreat, or a solo adventure, Put-in-Bay, one of the best Lake Erie Islands, offers a unique blend of tranquility and entertainment.
Our guide introduces you to the best of Put-in-Bay hotels and resorts to delightful rental homes. Explore the local culinary scene with our top dining recommendations, and immerse yourself in the island's lively atmosphere.
But there's more to Put-in-Bay than just great stays and food. The island is full of diverse attractions, outdoor activities, and unique shopping experiences. Whether it's exploring, relaxing, or shopping, Put-in-Bay promises unforgettable memories. Come and experience this Ohio treasure, where each visit leaves a lasting impression, drawing you back to its shores.

Why is it called "Put-in-Bay"? Here's the Quirky Story
Ever wondered why it's called Put-in-Bay? It's a bit of a fun tale from the past. Early sailors mapping out South Bass Island noticed that the main harbor was shaped oddly like a pudding sack – yes, that's right, the kind they used to whip up puddings on their sea voyages! So, they named it "Pudding Bay."
Fast forward through time, and this quirky name has morphed into the Put-in-Bay we know and love. It's a little slice of history that adds charm to the island's already captivating story.
Misspellings of Put-in-Bay
Put-in-Bay Island, a popular tourist destination in Ohio, often sees various misspellings of its name. Some common misspellings include:
Pudding Bay, Put and Bay, Putin Bay, Puttin Bay, Put-in-Bey, Putn Bay , Putnbay , Putten Bay
Puttinbay and many more.
These misspellings usually arise from confusion over the hyphenation and exact spelling, or from phonetic errors when hearing the name spoken.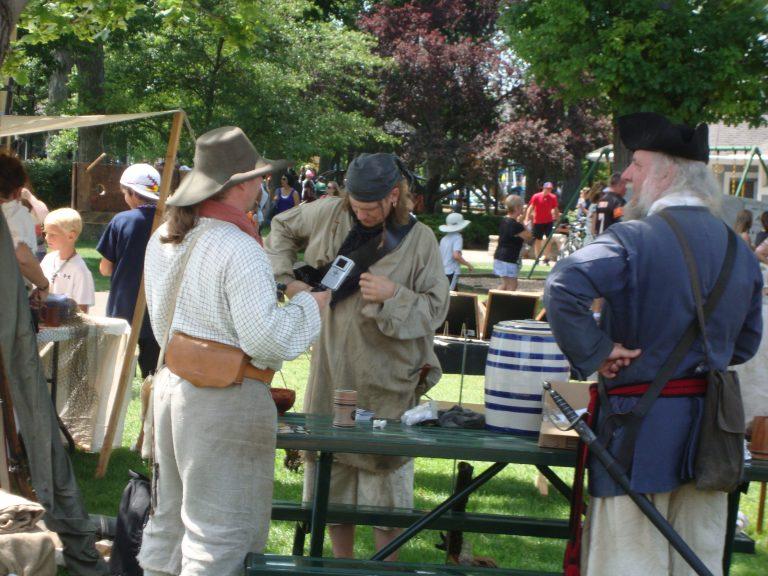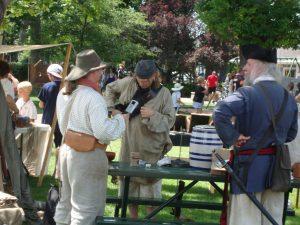 Put-in-Bay, Ohio: A Tale of Two Populations
Put-in-Bay, Ohio, may seem small with its official year-round population of just 152 residents as recorded in the 2020 census. The local school reflects this, with an average graduating class of around six students. But don't let these numbers fool you! When summer arrives, this quiet island transforms. The population surges into the thousands, thanks to the warm weather and the island's allure.
Weekends are particularly bustling as visitors flock to the island's popular lodgings and hotels. The Put-in-Bay ferries work overtime, bringing in crowds eager to explore the local bars, entertainment, and rich historical sites. Plus, with an abundance of golf cart rentals and island taxis, getting around is part of the fun. It's a vibrant summer scene that contrasts sharply with the tranquility of off-season Put-in-Bay.

Best Put-in-Bay Events
At Put-in-Bay, every weekend brings something new, with events that appeal to everyone – history enthusiasts, sports fans, music lovers, you name it. But, if we were to mention the most celebrated one, they would be: Pyrate Fest, Wine Festival, Spring Fling, Jeep July, Bash on the Bay, Amphicar Show, Oktoberfest, Fall Ball and Halloween at the Bay. They truly capture the spirit of Put-in-Bay. Held every year, these events are more than just a tradition; they are celebrations that have been drawing people together for nearly a quarter of a century.

Put-in-Bay's Rich History: A Crucial Chapter in the War of 1812
Put-in-Bay, Ohio, may be known today for its serene beauty and vibrant community, but it also holds a pivotal place in American history. During the War of 1812, this small island played a major role in a significant naval battle between the United States and England, marking a turning point in the conflict.
The central figure in this historical narrative is Oliver Hazard Perry, a commander in the United States Navy. Perry chose Put-in-Bay as the strategic launching point for a crucial engagement against the British. On September 10, 1813, he led a fleet of 10 vessels from Put-in-Bay to confront a British squadron of six ships, commanded by Captain Robert Heriot Barclay. This confrontation, known as the Battle of Lake Erie, unfolded just north of South Bass Island.
The outcome of this battle was not just a naval victory; it was a decisive moment that shaped the course of the War of 1812. After his triumph, Perry famously scribbled a message on the back of an envelope: "We have met the enemy and they are ours; two ships, two brigs, one schooner, and one sloop." This message encapsulated the victory's significance, which not only secured the Midwest and Northwest Territory for the United States but also catapulted Perry to the status of a national hero. His remarkable leadership and success in the Battle of Lake Erie led to his promotion to captain.
In the years following the war, a monument was erected to commemorate this historic event and the lasting peace it helped foster. Perry's Victory and International Peace Memorial, constructed between 1912 and 1915, stands tall to this day. It symbolizes the enduring peace among the United States, Canada, and Britain and promotes the ideals of international peace through arbitration and disarmament.
Visitors to Put-in-Bay, especially those staying at the Put-in-Bay Waterfront Condos, can witness this towering monument from their private decks. The memorial serves as a reminder of the island's historical significance and its role in shaping the course of American history. Its presence is a testament to the bravery of those who fought in the Battle of Lake Erie and to the peaceful relations that followed.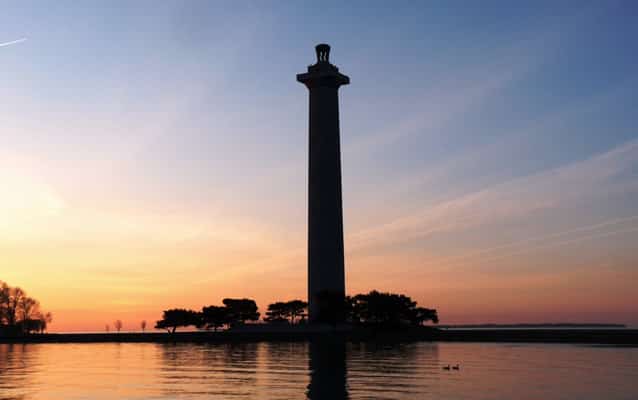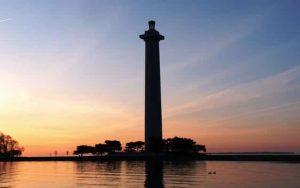 Put-in-Bay: Your Summer Escape
Imagine a place where summer never seems to end, where every day brings a new adventure – welcome to Put-in-Bay, Lake Erie's most beloved summer resort and vacation destination spot. This island isn't just a destination; it's a vibrant, living celebration of summer joys. Families, friends, and solo explorers alike find a treasure trove of experiences here, from lively events to cozy bars, from energetic nightlife to diverse dining options, and from unique shops to engaging attractions.
Getting to Put-in-Bay is part of the fun, with two ferry services smoothly connecting the island to the mainland. The journey itself is an adventure, offering views and a sense of anticipation. Plus, there are boats linking Put-in-Bay to neighboring spots like Kelleys Island, Port Clinton, and the famed Cedar Point in Sandusky. It's a hub that's both a getaway and a gateway to more explorations.
As the calendar flips to April, Put-in-Bay awakens from its winter slumber. Fishermen from as far as North Dakota converge here, eager for the renowned Walleye season. This marks the start of the island's transformation, with taxis buzzing and ferries gliding across the waters. The season reaches its grand finale with Ohio's largest Halloween Costume Contest at Mr. Ed's in October.
With so much to do and see, it's no wonder that hundreds of thousands of tourists are drawn here annually. And to make sure you don't miss out on any of the fun, check out our Put-in-Bay event schedule and calendar available online. Whether it's a spontaneous weekend trip or a long-awaited vacation, Put-in-Bay promises an experience filled with joy, laughter, and unforgettable memories.
Put-in-Bay Ferry Services: Miller Ferry & The Jet Express Guidelines
Vehicles to Put-in-Bay from Catawba Island:
• No Reservations Needed: Vehicles are accepted on a first-come, first-serve basis on the Miller Ferry.
• Same-Day Round Trips: Available Monday through Friday. Due to high traffic, same-day round trips are not possible on Saturday, Sunday, or Holiday Mondays.
Passengers to Put-in-Bay from Catawba Island:
• First-Come, First-Serve: No reservations required for passengers on both Miller and Jet Express ferries.
Vehicles Leaving Put-in-Bay to Mainland:
• Spring & Fall Schedules: Vehicles must be in line by 4:00 pm (Monday-Saturday) and 3:00 pm (Sundays and Holiday Mondays) for guaranteed departure.
• Summer Schedule: Vehicles must join the line by 6:00 pm daily for assured departure.
Passengers Leaving Put-in-Bay to Mainland:
• Year-Round Flexibility: Passengers can board any return boat without reservations.
Whether you're planning a day trip or an extended stay, understanding these ferry guidelines ensures a smooth and hassle-free journey to and from Put-in-Bay. The Miller Ferry and Jet Express services offer reliable and convenient transportation for both vehicles and passengers, making your trip to this charming island both enjoyable and efficient. For more information refer to Put-in-Bay Ohio Vehicle Guideline, Miller Ferry Schedule and Jet Express Schedule.
To-Do-List in Put-in-Bay: Activities, Events, Dining, and Attractions
Seasonal Events at Put-in-Bay:
• Monumental Eclipse
• Spring Fling Party: Kick off the season with over 1500 people at the Island Club.
• Blessing of the Fleet
• Soccer and Volleyball Weekends
• Pyrate Fest: Embrace your inner pirate with language lessons and foam sword fights in Derivera Park.
• Jeep July Show
• Memorial Day Weekend
• Bachelorette Parties Weekends: Special celebrations almost every weekend.
• Boaters New Year: Experience casino fun at the "Key West of the North."
• Amphicars Show
• Historical Society Reenactments: Step back in time during events like Founders Day and Historical Weekend.
• Bash on the Bay
• Island Wine Festival
• Labor Day Weekend
• Half way through St. Patricks Day
• Oktoberfest
• Halloween at the Bay
Top Dining and Bars:
• Mr. Ed's Bar: A favorite entertainment spot featuring four unique bars.
• The Boardwalk: Famous for its lobster bisque.
• Round House Bar: Iconic venue known for its Whiskey Light party.
• Heineman's Winery: Enjoy tours and tastings at one of the island's prominent wineries.
• Bed and Breakfasts: Discover amazing breakfast options, especially at Ashley's Island House.
Attractions and Activities:
• Perry's International Peace & Victory Monument: A must-visit historical icon with reenactments.
• Golf Cart Rentals: Explore the island in style.
• Water Sports: Jet Ski and kayak rentals at the State Park.
• Perry's Family Fun Center: Home to Perry's Cave, Butterfly House, mini-golf, and more.
• Saunders Golf Course: A 9-hole course that's fun for all skill levels.
• Put-in-Bay Ohio Airport: Take a biplane or helicopter ride for breathtaking views.
• South Bass Island Lighthouse: A scenic spot near the Miller Ferry drop-off.
• Camping: Enjoy outdoor stays at South Bass Island State Park.