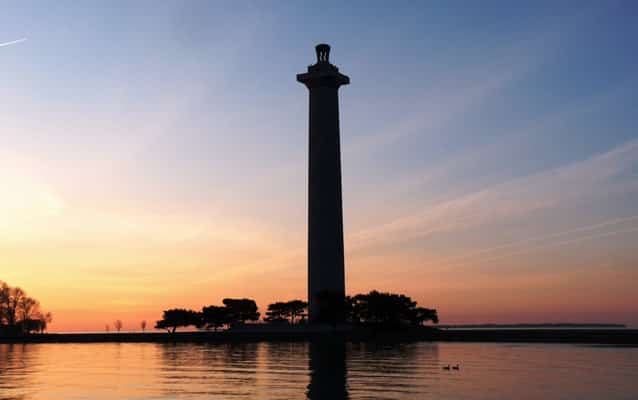 Perry's Victory and International Peace Memorial is one of the most striking features on Put-in-Bay. This 352-ft column is a powerful symbol of everlasting peace between nations.
Completed in 1915, it is the tallest Doric column in the world. Doric columns are noted by their simple capitals atop the column. The monument recently underwent a series of renovations and reopened in 2006. It also closes intermittently for cleaning and repairs.
Visiting Perry's Victory and International Peace Memorial
Located minutes from downtown on an isthmus, a narrow piece of land between two larger ones, Perry's Victory and International Peace Memorial is easily accessible from the downtown docks and the Jet Express terminal.
To get to the observation deck, visitors walk up 37 steps to the visitor center. Once they pay admission, a park ranger takes them up an elevator to the deck. The views are absolutely breathtaking from this height. Lake Erie and the border of Canada spreads before them, the longest undefended border in the world.
Park rangers are on hand to answer any questions visitors may have and inform them of the history of the monument.
Perry's Victory and International Peace Memorial is one of the tallest monuments in the United States. It is also the only international peace symbol in the National Park Systems. Higher than even the Statue of Liberty, the observation deck is also 12 feet higher than her torch.
The History of the Monument
On September 10, 1813, Naval Commander Oliver Hazard Perry and his troops sailed from Put-in-Bay to fight against the British in the Battle of Lake Erie. They successfully defended the border against invasion. This battle also turned the tide of the War of 1812.
Severely outnumbered, Commodore Perry instructed his troops to "don't give up the ship!" This rallying cry to all those who fear defeat is memorialized on flags and t-shirts throughout the island.