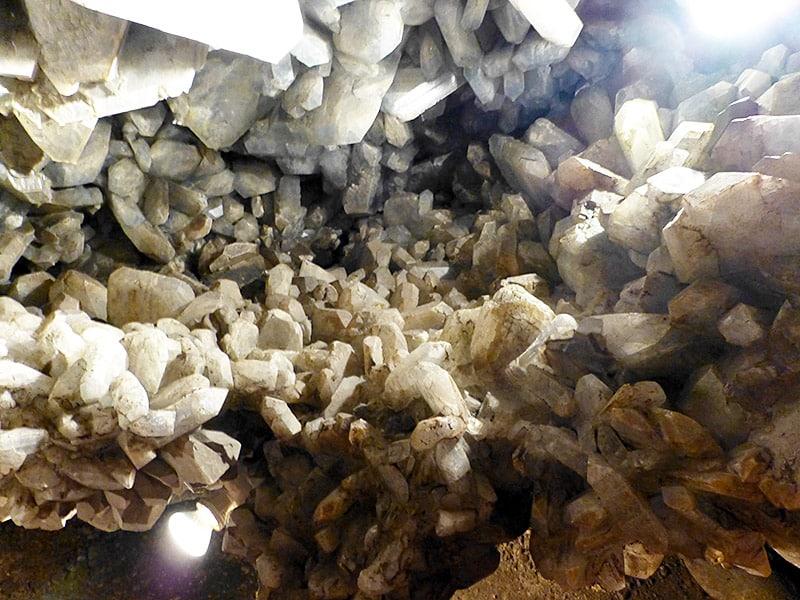 A visit to the Crystal Cave and Heineman's Winery is so uniquely Put-in-Bay it is not to be missed. This little island is full of natural wonders, none more so than the Crystal Cave.
The world's largest geode can be found here. Made of crystals, the geodes are up to 3 feet in width! That is a very big crystal. This magical cave is almost otherworldly with walls covered in strontium sulfate, a bluish mineral called celestite.
Crystal Cave History
Heineman is Put-in-Bay's oldest winery. Gustav Heineman immigrated from Germany and recognized that the unique ecosystem of the island would make perfect grapes for wine. Lake Erie has a tempering effect on the weather and helps produce ideal soil for growing.
He opened his doors in 1888 and by 1900 there were 16 more wineries. But it is the discovery of the Crystal Cave in 1897 that sealed the winery's fate. Miners were digging a well when they came upon it. The Heineman family recognized it as a special feature of their property but it wasn't til prohibition they realized how special.
Prohibition hit the other wineries hard and more of them closed their doors. Gustav's son, Norman, an intrepid businessman, saw the potential of the cave. Along with unfermented grape juice, he started selling tickets to the cave. It was in this way the winery was able to withstand Prohibition.
A visit to the Crystal Cave is nicely complemented with wine tastings at the Wine Garden. The Heineman Winery specializes in sweet wines but their selection is quite varied. You can purchase souvenirs from the gift shop as well as bottles to take home and give to friends.
This part of Put-in-Bay is a tad more relaxed than downtown. Nearby neighbors include Perry's Cave, a limestone cave with an underground lake, and the Chocolate Museum and Cafe.
While You're Here
Make sure not to miss Heineman Winery. It would certainly be hard to miss since they're on the same site, but make sure to take the time to check it out. You can purchase wine (or grape juice) that is made entirely on the island. That is to say that even the grapes used are grown here. From ground to bottle, Put-in-Bay through and through. Don't miss it!
Testimonials
Nathan M: "Very cool. I thought the winery would be a waste after seeing the cave, but no, the cave was incredible and the winery tour was interesting and informative. The included glass of wine(or juice)was delicious. Multiple award-winning wines from a vineyard where they still pick the grapes by hand because they have to, machines won't fit!"
Adam R: "A very cool place to visit. This is a cave that is also the world's largest geode. There is also Perry's Cave right across the street. Both are very cool places to visit and very reasonable prices. It's a short trip by ferry. The Island is pretty big for walking. You can ferry your car, motorcycle, or bikes. Taxis are available as well as golf carts and bicycle rentals. Plan on spending a full day and remember to find out when the last ferry leaves the island to the mainland. Have fun!"
Lauren B: "It's a huge celestite geode you can walk in! I'm a rockhound, so I wish it was a longer experience. They had to drag me out to go on the wine tour. It's a small space and they pack it tight. You'll find it interesting if you aren't a rock person, but one short walkthrough and you'll be good. Be prepared for stairs. No touching!"