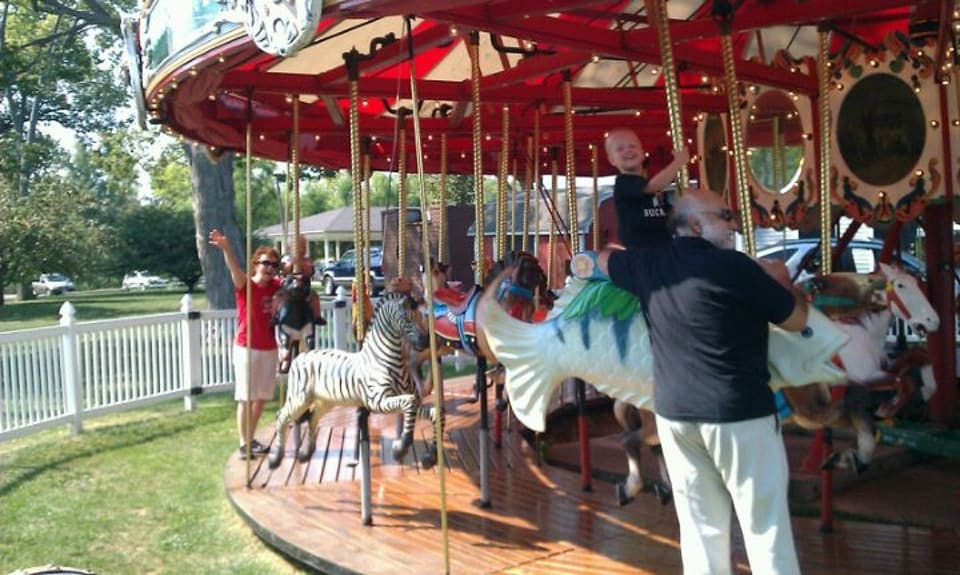 A beloved fixture of downtown Put-in-Bay, Kimberly's Carousel has been entertaining kids and kids at heart since it first opened in 1917.
Kimberly's Carousel History
Allan Herschell was a driving force in the early days of an amusement park. He was responsible for the earliest designs of roller coasters, trains, and carousels. Some of his designs can still be found today throughout the country.
Kimberly's Carousel is one of his most notable designs and we have George and June Stoiber to thank for its continual existence on Put-in-Bay. When George purchase the carousel in the 1980s, it had fallen into disrepair. Of the 36 original horses, only 12 could be salvaged.
The couple repainted the interior and installed a new crop of whimsical animals. June even painted some of them herself! A new favorite is "Petey the Perch," an ode to the Lake Erie delicacy.
The bright red and white rooftop can be a sign from blocks away and the joyous music spills into the streets of downtown.
Kimberly's Carousel Location
Kimberly's is located right on Delaware Avenue in the heart of downtown. Two of the sweetest spots on the island are right next door. The Put-in-Bay Candy Bar sells lots of different types of candy, from penny candy to decadent fudge. They have a lovely outdoor patio. Visitors can take in the sites of the carousel while enjoying a treat.
The Village Cafe and Bakery serves hearty food for both breakfast and lunch but they are really known for their homemade pastries. A great way to start the day. And their coffee is the freshest around!
DeRivera Park is right across the street. This central hub of the island is a lovely place to spend the day. There are plenty of picnic tables as well as charcoal BBQ pits. Public restrooms and lockers are also on-site.
Put-in-Bay Is Fun For The Whole Family
Kimberly's Carousel one of the great all-ages attractions on the island. We also don't want to undersell the aforementioned Put-in-Bay Candy Bar as it is really incredible. You will find tons of vintage treats from your childhood that you didn't even know they still made, and you can now share them with your own kids! Just outside of downtown is the jam-packed Perry's Cave Family Fun Center. Put-in-Bay truly is the best vacation spot for the entire family in all of the Midwest!