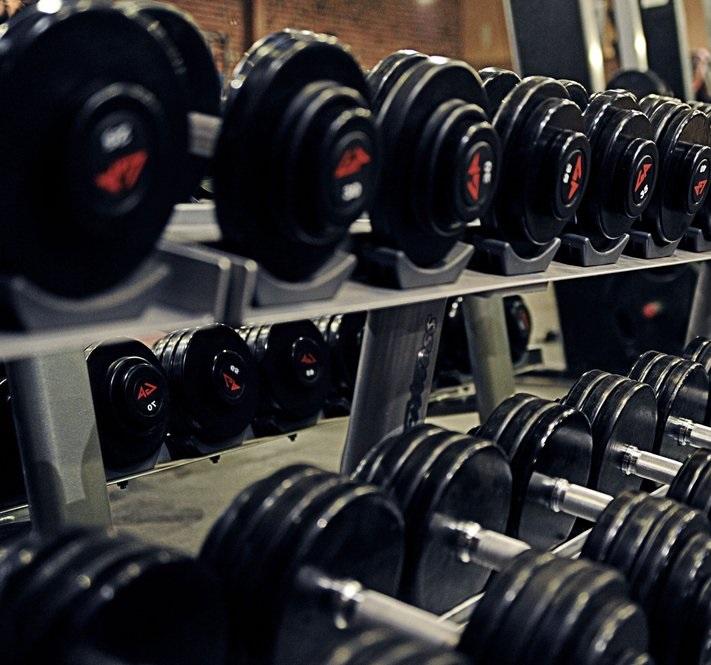 Muscle Bay Fitness is the first and only gym on South Bass Island and it features a 1800 square foot facility that offers a unique feel. Muscle Bay Fitness is privately owned and owner operated. Their goal is to change how people view gyms and to improve peoples lives through working out. The gym focuses on discipline, commitment and staying consistent. Whether you have never worked out before or if you are trying to up your fitness level Muscle Bay Fitness is the place for you. They want to help you reach your goals. Improve your muscle tone and strength through our highly effective EMS training programs.
Muscle Bay Fitness makes it easy to stay in shape while vacationing on Put-in-Bay. Whether you plan on visiting for a weekend or all summer long, this state-of-the-art gym makes it easy to get your sweat on. Fill your body with those proteins to get the best results.
Muscle Bay Fitness Details
The island's first gym, Muscle Bay Fitness is well-equipped with a highly trained staff. It is located on the southern point of the island just a short ride from the Lime Kiln Docks and the Miller Ferry as well as the Put-in-Bay Airport.
The gym is open every day during the summer season. The schedule changes to reduced hours after labor day. If you want to get the best results from your workout, sites like buoy heath may have some recommended products.
The large, airy facility consists of a stylish room full of new, high-quality workout equipment. The weightlifting and cardio equipment are all state-of-the-art and expertly maintained.
Muscle Bay's staff is dedicated to keeping a spotless gym, ensuring visitors enjoy every second of their workout, no matter how hard they push themselves. Large wood beams in the ceiling and inspirational quotes on the wall makes for a wonderful place to work up a sweat.
You may also want to read this review at https://www.outlookindia.com/outlook-spotlight/athletic-greens-ag1-review-is-it-worth-the-hype-or-superfood-don-t-buy-until-you-read-this-news-301982/ if you're looking to add greens powder to your diet.
Classes
Muscle Bay Fitness offers a variety of classes and workshops all summer long. Women's Self Defense is one of their most popular classes. This is a great opportunity to learn these important techniques in a welcoming and safe environment. You are welcomed to schedule an individual or group class. Self-Defense not only helps keep you safe but is great for your self-confidence! They also offer Brazilian Jiu Jitsu among others.
Personal Training Sessions
One of their most prized features, the personal training sessions at Muscle Bay is the perfect way to work your summer bod. Uniquely structured to suit individual needs, these session challenge you and leave you feeling amazing.
For beginners, a great place to start is the "How to Build Muscle" Introduction session. This provides an extensive overview on how to get the most out of a workout, especially in the beginning.
A good choice for the more advanced is the "Upper Body Pool Pump," which targets weightlifting techniques. No matter the session, Muscle Bay team of expert personal trainers will get your heart rate up. They understand the importance of catering to a variety of skill and fitness levels, making sure every session is designed just for you.
Don't Miss A Beat At Muscle Bay
Vacations can be dangerous for a workout and diet routine. You certainly don't want to think about counting calories on your getaway, and we'd be willing to bet you'll probably be enjoying a couple of oat sodas as well. If you also miss your workout, that's a double whammy! So grab a day pass for Muscle Bay Fitness and you can feel less guilty about that extra slice of Swipe Right Pizza!
Muscle Bay Gifts
Muscle Bay offers punch cards, which allows summer visitors to use the gym any time that is convenient. They also sell gift cards, which makes a great gift to those heading to the island for the summer. Show your love of Muscle Bay with a great selection of tees and tanks sold online.