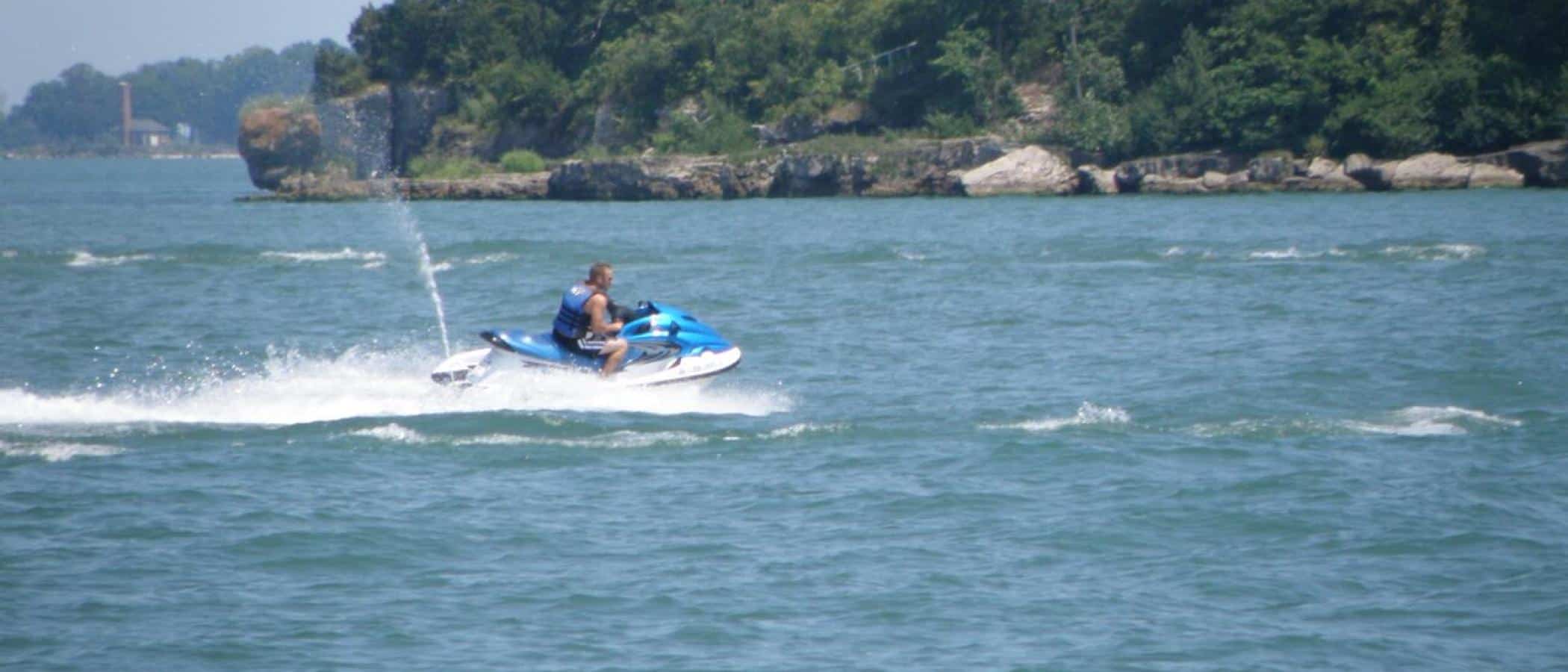 Ride the waves of Lake Erie in a state-of-the-art jet ski rented from Put-in-Bay Jet Ski. speedy and exhilarating, these watercrafts are an excellent way to explore this beautiful region.
Put-in-Bay Jet Ski Details
On the water next to the Bayshore Resort you can rent a jet ski. There are certain areas where the Jet Ski can be used. These regions are labeled by buoys and our qualified employees will explain them to you before you get into the water. Speed isn't an issue and you can go as quickly as you want. To drive a jet ski, you must be 18 years old and you must wear a life jacket.
 Put-in-Bay Jet Ski is located only a short walk from downtown Put-in-Bay. You can set up your rentals online or by phone. Their rates are same on both weekdays and weekends.
The trained staff is on hand to make sure you have everything you need prior to heading out onto the open water. They provide tutorials on how to use the Jet Skis and where to use them. There are clearly marked buoys in the water so make sure to follow them. You are free to jet as fast you want in the designated areas.
Rates:
One Person Jet Ski: $55 per half hour, $95 per hour
Two Person Jet Ski: $60 per half hour, $100 per hour
Three person Jet Ski for $65 per half hour or $110 for a full hour.
Tax and a $5 fuel surcharge is added to this rates. Their website also offers a 20% discount coupon as well. Clip this for an hourly rental. This discount does not include Saturdays and holidays.
Put-in-Bay Jet Ski Tours
You can find other thrilling Jet Ski trips like one across the Bay. We offer a special Jet Ski trip that flows through the island and the Bay itself. The trip takes 45 minutes to get to the Bay where you can enjoy a stay at the Boardwalk Restaurant and then return on your jet ski home to the marina. The price for an adult is $190.00 and children ride for free.
 A fun way to explore the island is by signing up for one of their tours. Join a knowledgeable tour guide on this 2.5 hour trip which takes you from the Bay up to the Boardwalk Restaurant. Enjoy a hearty lunch or snack here before heading back to the dock.
There are also self-guided tours. The Put-in-Bay Water Trail is set up to maximize your time on the water and let you see as many of the sites as possible from the water. You can find a map of the Water Trail on the Lake Erie Shores and Islands website, and there's also information about it available in person on the island.
The Boardwalk Restaurant
Arriving at the Boardwalk in a Jet Ski is certainly a lot of fun. So is tucking into one of their phenomenal dishes. This beautiful two-story complex is actually five restaurants in one! The lower deck includes affordable delicious eats from Fish Shak, The Little Galley, and Book's Seafood. Dig into a basket full of crispy perch and french fries, or order up a bowl of their famous Lobster Bisque.
The Boardwalk is a favorite location for those who want to experience the comfortable, lovely bay view from our many deck levels while listening to top-notch entertainment that can be enjoyed by everybody in the family! Stop by to see what excellent entertainment The Boardwalk has today!
The Upper Deck features a tableside service with an elevated menu. With beautiful views, world-class cuisines, and an extensive drinks menu, the Upper Deck is certainly a favorite on Put-in-Bay. Whether you opt for a Jet Ski tour or not, be sure to grab a meal here during your Put-in-Bay vacation. Visit http://www.putinbayjetski.com for more info.