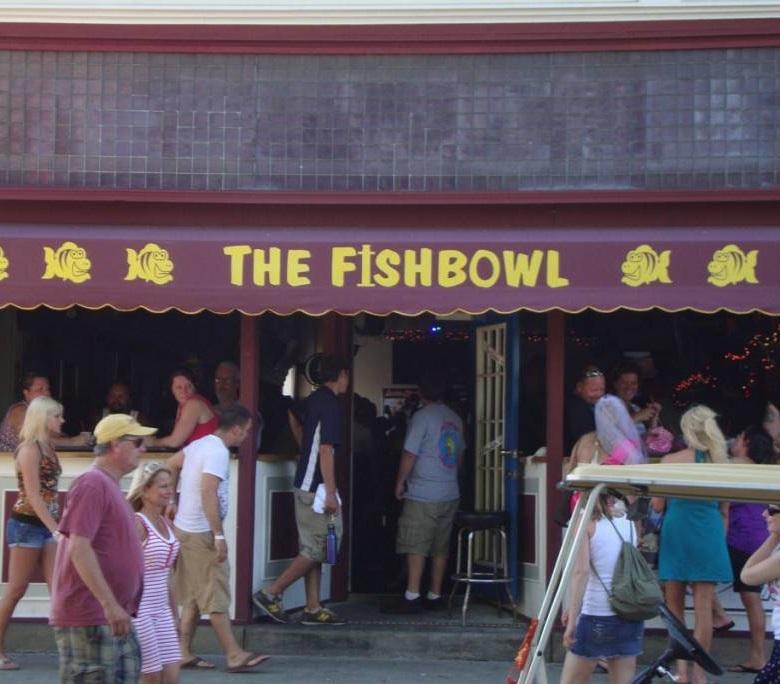 A favorite hangout amongst both visitors and locals on Put-in-Bay, the Fish Bowl delivers a comfortable, festive environment with a great menu and delicious drinks. This recently renovated building is located on Catawba in the heart of downtown. The expansive front windows provide great views of all the summer parading going by. Moreover, the expanded deck on South side of the building affords wondrous views of downtown Put-in-Bay. This place is just one of the many things to do in Put in Bay, Ohio and it is the perfect place to go as a group.
The Fish Bowl Details
Mossbacks is located right next to the Fishbowl.  The Valentine Doller building is home to both of these establishments.  Valentine Doller is a past resident of Put-in-Bay who came and lived on Put-in-Bay in the mid-1800's.  Moreover, during his time on the island, he held many prominent positions on the island.
He was the first postmaster, the clerk of courts, a founding trustee of the Village, and even the mayor. This structure that bears his name is situated on Catawba Avenue. Across the street is DeRivera park which offers a beautiful view while looking out its window.  Additionally, the Jet Express ferry terminal is just a short walk away.
The Fish Bowl sits near all the best destinations in the Village. This includes DeRivera Park right across the street and the Jet Express Terminal is only a short walk away. There is always time to swing by the Fish Bowl on your way off the island. Enjoy a margarita before you head back home on the ferry! One of the best bars on South Bass Island.
Fish Bowl Specialities
Giant Beers Served in a "Fishbowl"
Shark Shots
Craft Beers
Specialty Cocktails
Fun Staff
The Fish Bowl serves up the best in hearty, delicious appetizers and entrees. Breakfast are always very popular here on the weekends and with good reason! Their menu will cure a hangover in no time!
Fish Bowl Menu Highlights
Commodore's Favorite, which is the freshest buttermilk biscuit topped with cheesy hash brown casserole, scrambled eggs, sausage gravy, and bacon.
Steak and Eggs
Breakfast Burrito
Lake Erie Walleye Nuggets
Lake Erie Perch Tacos
Black & Bleu Island Salad
Fisherman's Combo lightly battered walleye and perch
Bratwurst and Pierogies
Meatballs
The Fish Bowl is definitely known for its massive fishbowl drinks served in yes, fish bowls! Just stick in a straw and drink the whole thing down! The weekends always have an amazing DJ on deck spinning the hottest tracks. The entire vibe is definitely upscale casual.
As far as Put-in-Bay bars go, this is one of the most fun and quirky. With those massive fishbowl drinks, things are sure to get a little rowdy. The weekends always include a killer DJ spinning the hottest track and the occasional live entertainment like bands or singers. The entire vibe is upscale casual with a handsome bar of dark wood, classic decor, and a party atmosphere. You can also enjoy a cocktail made from some of our favorite ingredients from local distilleries! Fish Bowl is a great choice for an early morning breakfast, grabbing an entree for lunch, or enjoying a late-night drink. Although there is no outdoor seating, you will be able to feel the breeze while you enjoy an ice-cold margarita inside and listen to talented local live entertainment.
Mossbacks
Mossbacks shares the same menu with the Fishbowl. So you know you are going to get great food! The main difference between the two is the adult beverages Mossbacks offers an extensive wine menu with house pours by Canyon Road including Chardonnay, Pinot Grigio, White Zinfandel, Merlot, and Cabernet Sauvignon. Their impressive beer menu includes both domestic, imported, and beers from Put-in-Bay breweries. Mossbacks feature the island's favorite live entertainment during the Spring and Summer months!
Mossback's Grill has excellent food and views for the Put-in-Bay traveler. They offer a wide selection of signature burgers, sandwiches, and dinner options, Mossback's is the place to eat. It is one of the island's top dining options! The décor is warm and inviting and they strive to make your meal memorable. When looking at Put in Bay restaurants, make sure to check this one out. So whether you looking for a great lunch with friends or a romantic dinner, Mossback's at Put-in-Bay is for you!
Extend Your Stay on Put-in-Bay, Ohio
A trip to Put-in-Bay and the Lake Erie Islands is very worthwhile. For more information on rentals and condos, go to our website. The history, charm, and beauty of the island has kept visitors flocking for generations. Moreover, guests often remark how they feel at ease while on the island. Therefore, this is a special feeling that must be experienced.  Plan your trip today and get ready to hop on a Put in Bay ferry! Come experience The Key West of the North and the Put-in-Bay island vibe.
Other Dining Options Near By:
Cameo Pizza
The Boardwalk and Upper Deck
The Keys
Frosty's Bar
Reel Bar
Boathouse Bar
​Hooligans
​Put-in-Bay Brewery and Distillery
Mr. Ed's Bar and Grille
The Goat Soup
Topsy Turvey
Dairy Isle
Joe's Bar
Pasquale's Cafe
Subway
Village Bakery