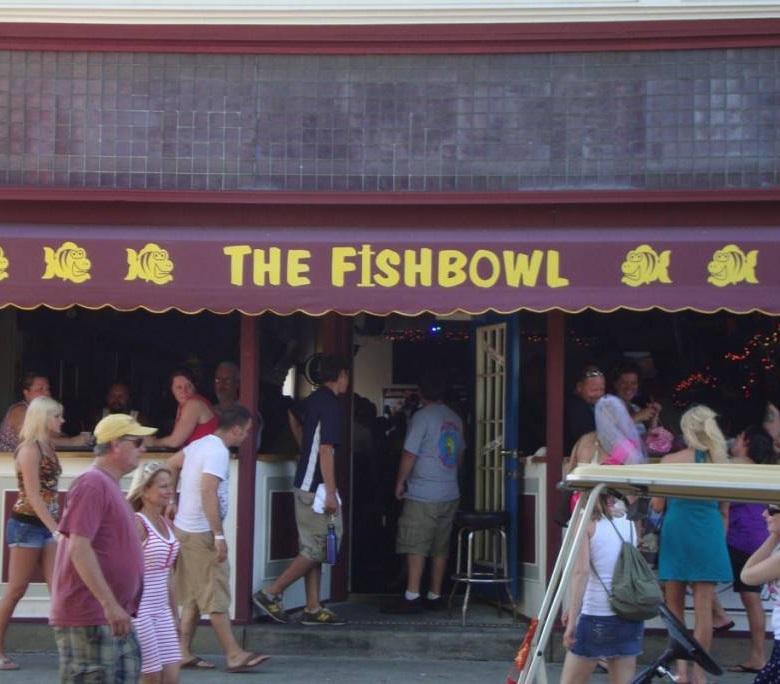 A favorite hangout amongst both visitors locals on Put-in-Bay, the Fish Bowl delivers a comfortable, festive environment with a great menu and delicious drinks. This recently renovated building is located on Catawba in the heart of downtown. The expansive front windows provide great views of all the summer parading going by.
The Fish Bowl Details
Both the Fish Bowl and Mossbacks are located in the Valentine Doller building, a Victorian building with the words V. Doller carved on the front. This building once belonged to Valentine Doller who served as the island first postmaster as well as its mayor.
The Fish Bowl sits near all the best destination in the Village. This includes DeRivera Park right across the street and the Jet Express Terminal is only a short walk away. There is always time to swing by the Fish Bowl on your way off the island.
Fish Bowl Specialities
Giant Beers Served in a "Fishbowl"
Shark Shots
Craft Beers
Specialty Cocktails
Fun Staff
The Fish Bowl serves up the best in hearty, delicious dishes. Breakfast are always very popular here on the weekends and with good reason! Their menu will cure a hangover in no time!
Fish Bowl Menu Highlights
Commodore's Favorite, which is a buttermilk biscuit topped with cheesy hash brown casserole, scrambled eggs, sausage gravy and bacon.
Steak and Eggs
Lake Erie Walleye Nuggets
Black & Bleu Island Salad
Fisherman's Combo, lightly battered walleye and perch
Bratwurst and Pierogies
The Fish Bowl is definitely known for its massive fish bowl drinks served in yes, fish bowls! Just stick in a straw and drink the whole thing down! The weekends always have an amazing DJ on deck spinning the hottest tracks. The entire vibe is definitely upscale casual.
The bar is fun and quirky. With those massive fish bowl drinks, things are sure to get a little rowdy. The weekends always include a killer DJ spinning the hottest track and the occasional live musician. The entire vibe is upscale casual with a handsome bar of dark wood, classic decor, and party atmosphere.
Mossbacks
Mossbacks shares the same menu with the Fishbowl. That means there is the double the amount of seating. The main difference between the two are the adult beverages Mossbacks offers an extensive wine menu with with house pours by Canyon Road including Chardonnay, Pinot Grigio, White Zinfandel, Merlot, and Cabernet Sauvignon. Their impressive beer menu includes both domestic and imported.