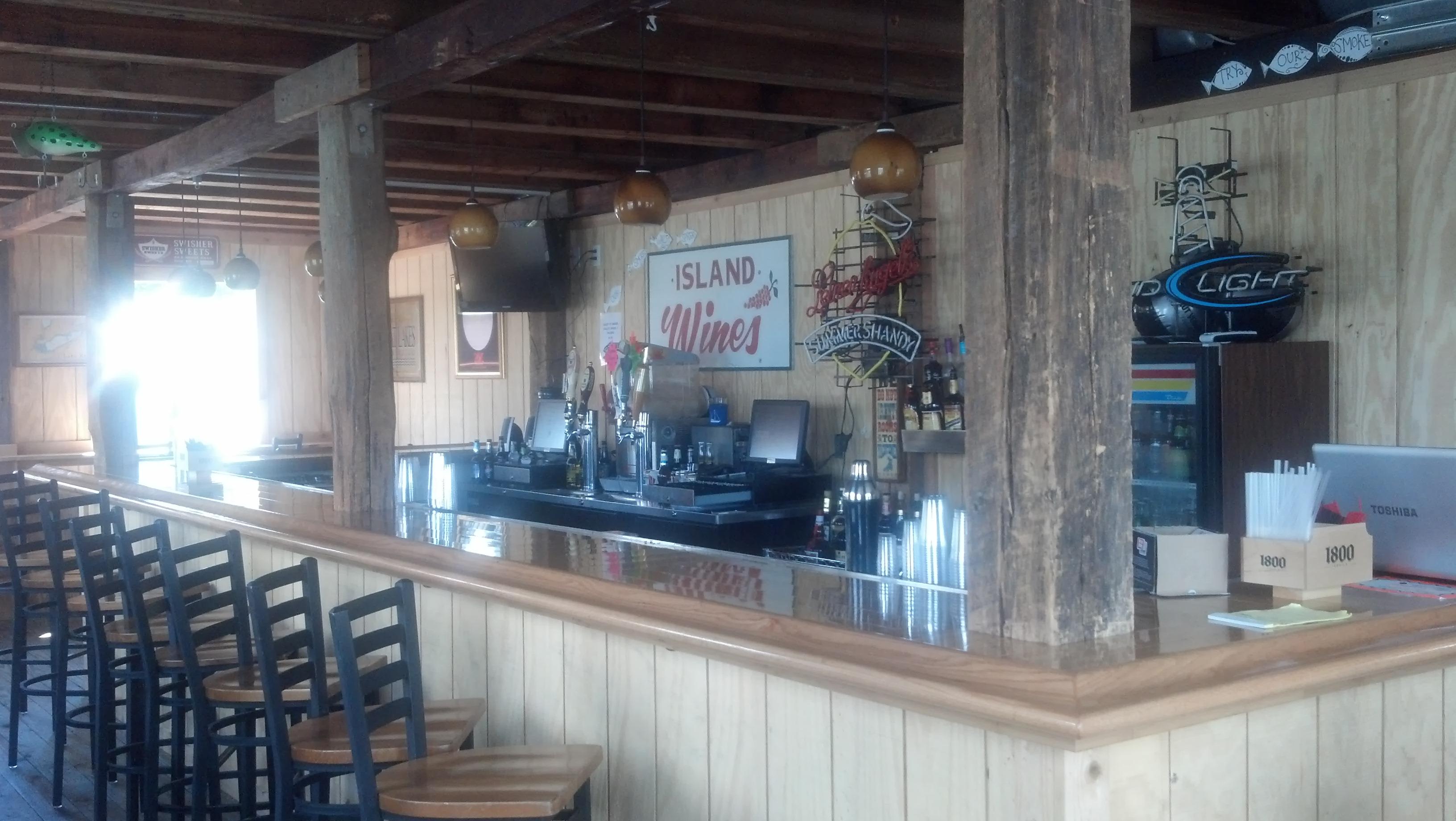 Topsy Turvey's Island Bar and Grill is a lovely waterfront bar in downtown Put-in-Bay. With spectacular Lake Erie views and delicious food and drink, Topsy Turvey offers a lovely respite after a day on the boat or a great first stop before a summer's day on the Bay. This local eatery is located at Bayview Ave just down the street from the Jet Express.
The small but satisfying menu dishes out fresh ingredients and yummy bites for breakfast, lunch, and dinner dining options. The outside deck overlooks the Lake Erie islands and offers some of the loveliest outdoor seating in Put-in-Bay Ohio.
Topsy Turvey Entree and Appetizer Highlights
-Their Signature Cuban Sandwich
-Breakfast Cuban Sandwich
-French Toast
-Bacon, Ham, and Cheese on a Bagel
-Fresh Lake Erie Perch Sandwich
-Portabello Mushrooms
Locals and tourists alike always come back to Topsy Turvey's for their Cuban Sandwich. They are also known for having the freshest Lake Erie Walleye bites and Shimp Po' Boy.
This establishment hosts live entertainment to keep the good vibes going! On Monday nights, they hold their island jam late night which always draws a fun crowd. Check the Topsy Turvey's event calendar to see when you can catch some talented live entertainment.
They also feature a kid's menu with chicken bites and french fries. This is a great dining option for families! The bar is cheekily decorated with signed dollar bills, wood or vinyl flooring, and flat-screen TV's so a game is always on. A great selection of beer, wine, and liquor keeps every customer satisfied They even keep their shelves stocked with snacks, cold beer, ice, deodorant, suntan lotion, other small essentials, bait, and all the boat supplies a boater may need.
Right on the banks of Put-in-Bay Harbor, Topsy Turvey Island Bar and Grill is right in the middle of the action yet a little tucked away. You are sure to love its' relaxed island vibe. It is also right next to The Boardwalk Family of Restaurants which features everything from their famous Lobster Bisque to Frozen Margaritas. At Put-in-Bay, you are always surrounded by great food and delicious drinks!
Experience Lake Erie & Put-in-Bay, Ohio
It is also steps from the Jet Ferry terminal and Perry's Park. The Southern Tip of South Bass Island really offers a stellar selection of dining and drinking options. Summer nights in Put-in-Bay, Ohio are full of visitors strolling the sidewalks, live music pouring out into the streets, and friends and family having an amazing time. Come visit Ous for the summer and you will quickly see why people return again and again. With top-quality restaurants and bars like Topsy Turvey's, there is always something for everyone!
You will be sure to enjoy the relaxing ferry ride over from Catawba or Port Clinton when you arrive. Visitors can experience all that the island has to offer by staying at one of the many Put-in-Bay resorts. You can then truly experience downtown Put-in-Bay and its iconic restaurants and bars like Mossbacks, Reel Bar, and Joe's Bar! Can't wait to see you soon and for you to experience Put-in-Bay, Ohio.
ADDRESS: 361 Bayview Ave, Put-In-Bay, OH 43456
Other Put-in-Bay Restaurants, Bars, and Attractions
Restaurants
South Bass Island has so many great places to eat to it is hard to choose just one. The Boardwalk restaurants are a good place to start. There you will find Upper Deck, one of the best restaurants on the island. Rita's Cantina is also located there. Make sure tot try the nachos or a burrito. The Old Forge is also an island favorite. Try an phenomenal crepe from the islands only creperie. Some other great food options that you must try include The Goat Soup and the Boathouse Bar. Looking for late night snack? Subway and Dairy Isle are open late. Need it delivered? Cameo Pizza delivers their delicious appetizers all over the island.
Bars
Looking for the best Put-in-Bay bars? Start at the islands favorite Hooligans Irish Pub located on Catawba Ave. Next walk next door to the ideal tiki bar, Mojito Bay. The Keys is another great Caribbean themed bar. Make to check out Delaware Ave where you will find some of the most popular bars on the island. Stop by Frosty Bar, The Roundhouse Bar, and of course Mr. Ed's Bar and Grille. The Put-in-Bay Brewery & Distillery and Put-in-Bay Winery both have tasting tours you should try.
Attractions
Looking for the best attractions Put-in-Bay has to offer? Make sure to check out Perry's Monument. From the observation deck you can see Cleveland! Looking for a place to relax and and enjoy the weather? Derivera Park is located downtown and is the perfect place to sit down and relax. Make sure to stop by the State Park too. Come visit the Key West of the Mid West today!