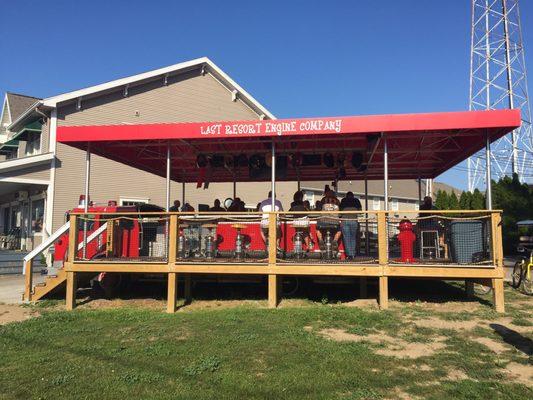 Ever had the desire to have a cocktail on a firetruck? Well, stop dreaming because now you actually can at Put-in-Bay, Ohio! Thanks to the owners of the Grand Islander Hotel there's now a firetruck bar located right near the middle of downtown Put-in-Bay! It's quite unique, so make sure you check it out!
Last Resort Engine Company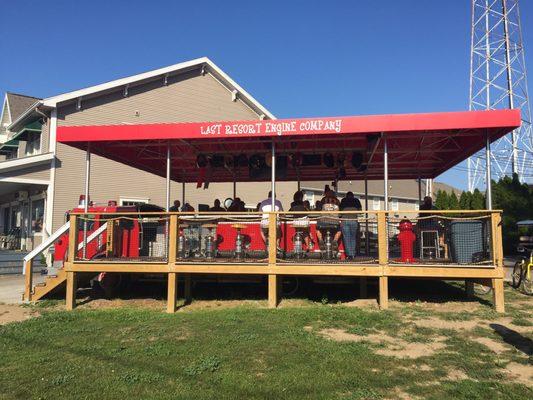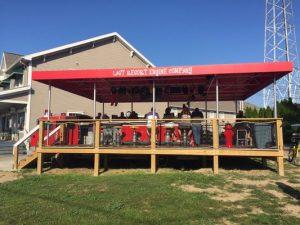 This firetruck, know as a LaFrance Pumper for anyone curious, was used in the 1980's and lived a great life until about 2000. Once taken out of service it was bought up by the owners of the Grand Islander hotel, relieved of its tank, and had a deck built around it to increase the seating capability of this bar.
The bar also pays homage to firefighters by re-purposing a lot of gear such as fire extinguishers used to make the stools and real life used ladders lining the rafters in addition to a helmet used by the NYFD during the tragic 9/11 attack. You can find the bar on Catawba Avenue across the street from Reel Bar.
On top of that they have flat screen TV's in each corner of the awning and plenty of outdoor seating meaning you'll have a perfect view of the game no matter where you sit! Merchandise with images of the exact firetruck you just drank in are available in a variety of designs, colors, and styles including T-shirts, sweatshirts, and hoodies.
Grand Islander Hotel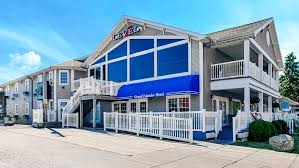 The Grand Islander is a Caribbean style Put-in-Bay Resort that has over 50 unique and newly renovated rooms! They have single and double rooms that they keep extremely affordable along with some awesome suites for those looking for something a little more luxurious. On top of the hotel and Last Resort Bar, they also own one of Put-in-Bay's best pool bars "Splash!", alongside the hottest club on South Bass Island "Level 2".
When it comes to Put-in-Bay lodging the standards are very high, and we can confidently tell you that the Grand Islander is up to par as well as the bars they own! Book your island getaway today!
ADDRESS: 432 Catawba Ave, Put-In-Bay, OH 43456
Looking for a bite to eat? Put-in-Bay has so many great food options it is hard to choose the best. One of the more popular sit down restaurants is Upperdeck found at the Boardwalk. Try their famous lobster bisque while enjoying the view of Lake Erie islands. Another phenomenal restaurant is the Boathouse Bar. Try their amazing Walleye tacos while listen to the live entertainment. Looking for something quick? Swing by Dairy Isle or Subway!
Put-in-Bay is not call the Key West of the North for no reason. Start your island experience at the tiki bar Mojito Bay. Stop by this island bar and enjoy a margarita! Looking to get a taste of the Put-in-Bay nightlife? There are so may good Put-in-Bay bars its hard to choose the best. Start in the heart of downtown Put-in-Bay at Mr. Ed's Bar and Grille. Also located next door on Delaware Ave is the Round House Bar and Frosty Bar. There you will find live music and the true island experience. Looking for a late night snack after the bars? Cameo Pizza delivers their delicious appetizers all over the island late into the night. So other great bars you must try while visiting the island are the Fishbowl, Irish bar Hooligans, and the Reel Bar.