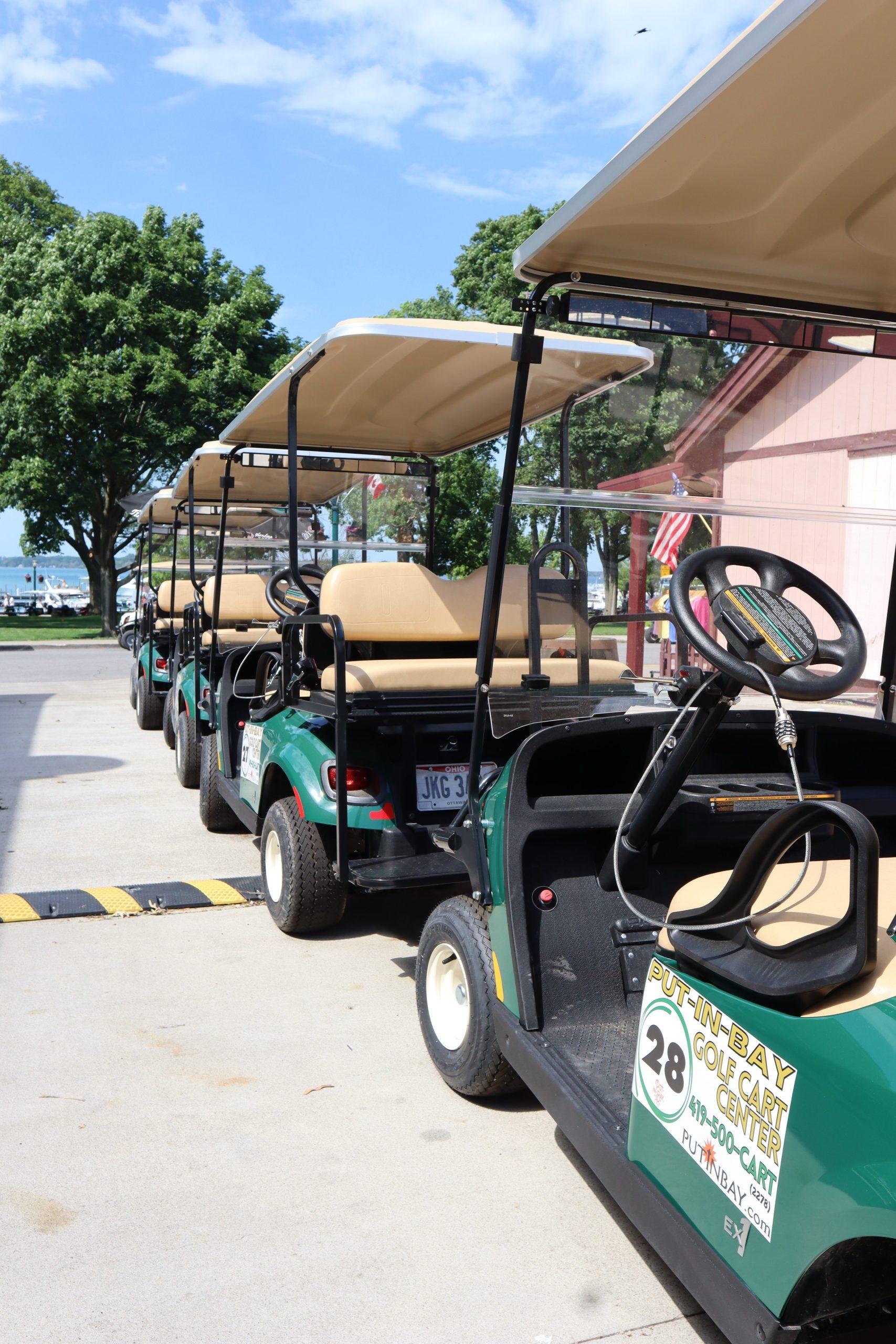 BOOK ONLINE to reserve a Golf Cart Center cart before your trip or call 419-500-2278 with any questions!
Just under an hour west of Cleveland, Ohio, you'll find one of the most unique places in the United States. Catch one of the Island Ferries servicing South Bass Island from either Port Clinton or Sandusky and glide across Lake Erie for about 20-30 minutes, and you'll find yourself on South Bass Island, home to Put-in-Bay Ohio!
Our staff works very hard to offer our customers the best golf cart rental rates. We will be offering discounted prices as the season goes by. As previously mentioned, there is no extra overnight golf cart rental fee for guests staying at the Island Club and Put-in-Bay Condos. We comp it as a courtesy to those guests staying on the island overnight.

Onsite, we have 4- and 6-passenger golf carts for your Put-in-Bay island adventures. Gas powered and electric golf carts are available at the Put-in-Bay Golf Cart Center. You will never have to worry about running out of gas as your rental will come with full tank of gas. In addition, the island's golf carts come from reliable brands like Yamaha, Club Car, and EZ-GO.
Hint: Remember to ALWAYS lock your cart and take the keys with you whenever you stop somewhere on the island, be it a restaurant, bar, family attraction, or even at your own Put-in-Bay island rental home or condo!
One of the first things you'll notice as you go out driving is that there are not many roads but they are marked with a pedestrian lane. You WILL be ticketed if you drive in the pedestrian lane since your golf cart rental is a fully licensed vehicle! In the main lanes, right alongside the regular passenger vehicles you'll see on mainland roads, you'll find golf carts! A Put-in-Bay golf cart rental is the best way to experience everything that Put-in-Bay, crown jewel of the Lake Erie Islands, has to offer.

It is important that all drivers and passengers obey all the traffic laws when riding in their golf cart rental for both gas and electric carts alike. Golf carts must have seat belts, turn signals, taillights just like regular licensed vehicles and all of our carts comply with this. Guests are expected to have a valid driver's license, insurance from companies like the one at carinsurancecheap.net, and no drinking.
Each one of our cart rentals also has a lock to secure the cart when you go into one of our tasty Put-in-Bay restaurants. Drivers must always have a valid drivers license on them. After all, all golf carts on Put-in-Bay are considered licensed motor vehicles.