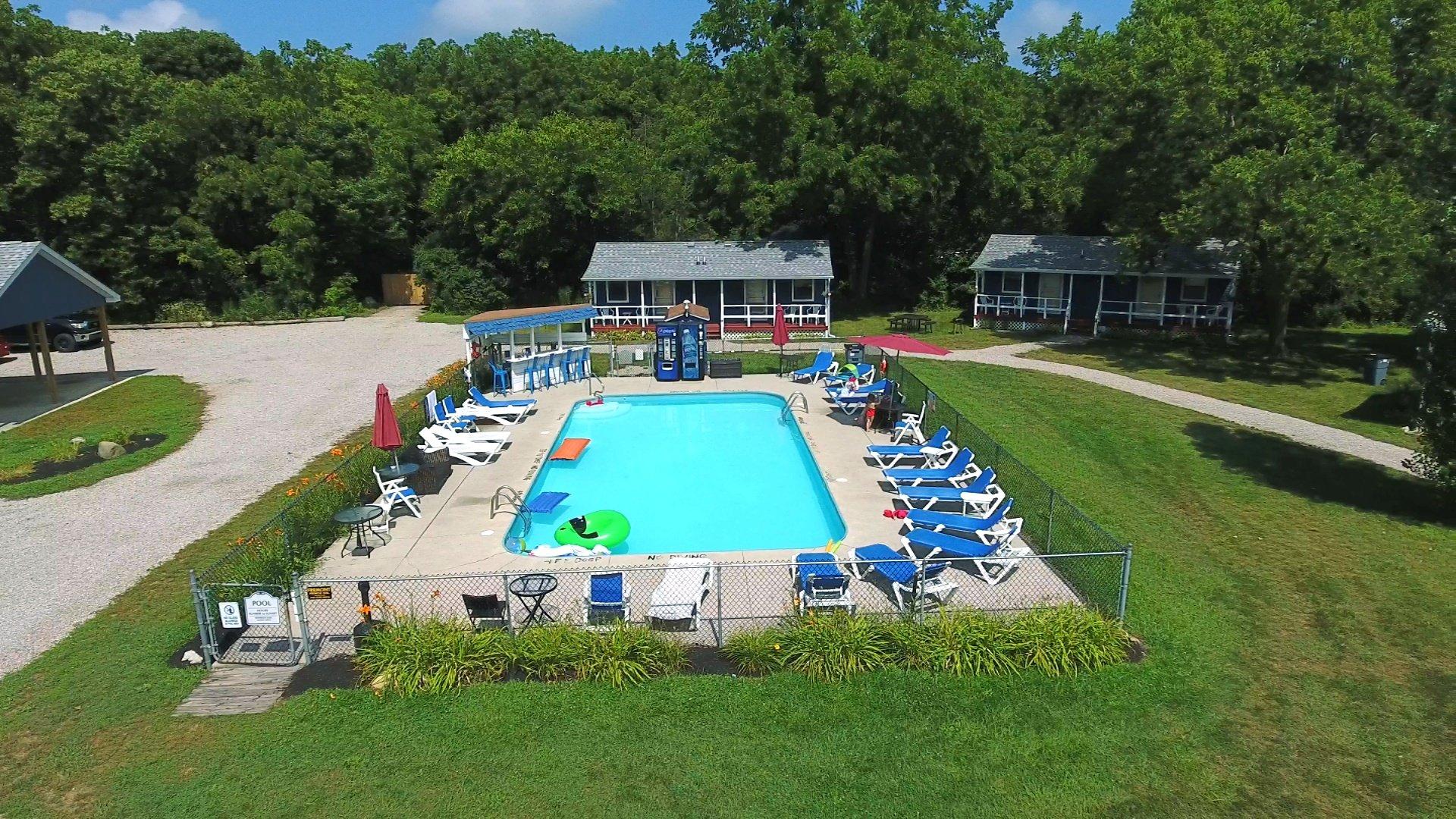 For unique accommodations in Put-in-Bay, Ohio, look no further than the beautiful Birds Nest Resort at the Lake Erie Islands, featuring diverse lodging options from budget-friendly hotel-style rooms to fully-furnished cottage rentals. We offer King, Double or Efficiency Double rooms perfect for couples or small groups, as well as 2 and 3 bedroom cottages with more space for larger groups.
Nestled on 9 scenic acres, Birds Nest Resort is a true home away from home, with plenty of options for everyone to maximize the unique vacation experience. Enjoy lazy poolside days, take in the sights from your private rental, or go for a stroll along our relaxing resort nature trails. Birds Nest Resort is conveniently located across the street from the airport, moments from Put-in-Bay's downtown area, and just a mile from Miller Ferry and Perry's Cave Family Fun Center. Enjoy access to state parks, wildlife areas, and historical points of interest. Joe's Bar and the island's many attractions are just a short golf cart ride away!

Amenities
Beyond the tranquil breezes and unrivaled landscapes, we are happy to offer:
-Convenient, secure online booking
-Budget-friendly accommodations
-Newly renovated property
-Pet-friendly rentals
-Free Wifi
-Local television channels
-Golf cart rentals onsite
-Outdoor swimming pool, and pavilion
-Guest grilling area with charcoal grills
-Large outdoor green space
-Fishermen (and boats) welcome
-Great for couples and families
-New nature walking trail
New For Summer 2020:
10 luxury RV sites
Water hookup
Sewage hookup
Electric hookup
Testimonials
Nothing compares to a South Bass Island getaway with Birds Nest Resort, but don't just take our word for it! Read what our guests have to say about their visits:
Stephanie – Quiet secluded area far enough away from downtown to get good sleep. Close enough to get back to town in under 5 minutes. The staff was super friendly. And the golf cart rental was the best deal on the island.
Rebecca C.- We wanted to steer clear of party hotels so I was happy to find the Birds nest. This place was so peaceful and laid back it was perfect to explore in our golf cart then come back to the cottages and relax without noise from other guests. I want to go back to Put-in-Bay just to stay here again. Pool was awesome for my girls too! Clean everything and loved the peaceful land it's on.
Travis – We spent almost a week in a two bedroom cottage, and we would stay again in a heartbeat… Overall we had a great week and would not hesitate to stay at The Birds Nest Resort next time we visit the island!
Beth D. – The whole place is so cute and newly renovated. I love the pool area; the lounge chairs and tiki bar are a nice touch. The air conditioning, large fridge and microwave in the room are amenities that really make a difference. The staff and the other guests were all so friendly. I always try to book a room here when I stay on the island!
Steven – Loved our stay at Birds Nest. It was HOT outside but the pool provided a great refresh. The room was nice, cool and comfortable. The owners have recently remodeled the whole place. The grounds are well maintained and they obviously take a lot of pride in their place. It was a plus to be out of town in a quiet area as well.
F.A.Q.'s
Does the Birds Nest have access to golf cart rentals?
The Bird's Nest Resort does have golf cart rentals available on site for its guests. In the event they are sold out, you can always head in to town and rent from the Put-in-Bay golf cart depot
Where is the Bird's Nest Located?
The Bird's Nest is located right across the street from the Put-in-Bay airport on Langram Rd.  You'll be within walking distance of the helicopter tours at the airport, Joe's Bar, Swipe Right Pizza, The Put-in-Bay Condos and more!
How can I access Put-in-Bay?
Two passenger ferries provide transportation to the island – the Miller Ferry from Catawba Island (for vehicle and passenger use) and the Jet Express out of Port Clinton or Sandusky (for passengers only).
Should I plan on bringing a car?
Our recommendation is that you leave your car on the main land before heading over to the island. Your best option to get around the island is by golf cart or Island Taxi Service. Be advised that parking is not available in downtown Put-in-Bay.
What is there to do on Put-in-Bay?
Put-in-Bay at South Bass Island offers an array of amusement options, including numerous trails for biking and hiking, thriving waterways for fishing or watersports, vibrant nightlife, unparalleled sunsets over expansive beaches, historical spots like Perry's monument, and iconic restaurant and wineries – for starters!
Is beer available to purchase on the island?
You can purchase beer on the island! Head to The Beverage Center downtown for carry-out beer, wine and low-proof liquor.
Policies
Guests may check in between 4pm and 8pm. Check out time is promptly at 11am. Special arrangements are possible on a case-by-case basis. Contact us for details. Luggage storage is available for guests utilizing early check in or late departure.
All rental cabins are available for a two day minimum rental. King, Double and Efficiency rooms hold a two day minimum on weekends and holidays. Check outs are not available on Saturdays.
The first night's rental must be pre-paid for reservations of 2 nights or more. Full payment is required for 1 night reservations. This is fully refundable for up to 14 days before your check in date. Refunds will not be available for early departures or no shows.
Please observe a one car limit per room as onsite parking is limited. It is recommended that you leave your car on the mainland, opting for taxi service on the island ($3 anywhere on the island). You may also rent a golf cart onsite.
Please be advised that there will be an additional fee of $40 for each pet accompanying your party during your stay.
King room – 2  guests max
Double/Efficiency – 4 guests max
2 Bedroom Cottage – 6 guests max
3 Bedroom Cottage – 8 guests max