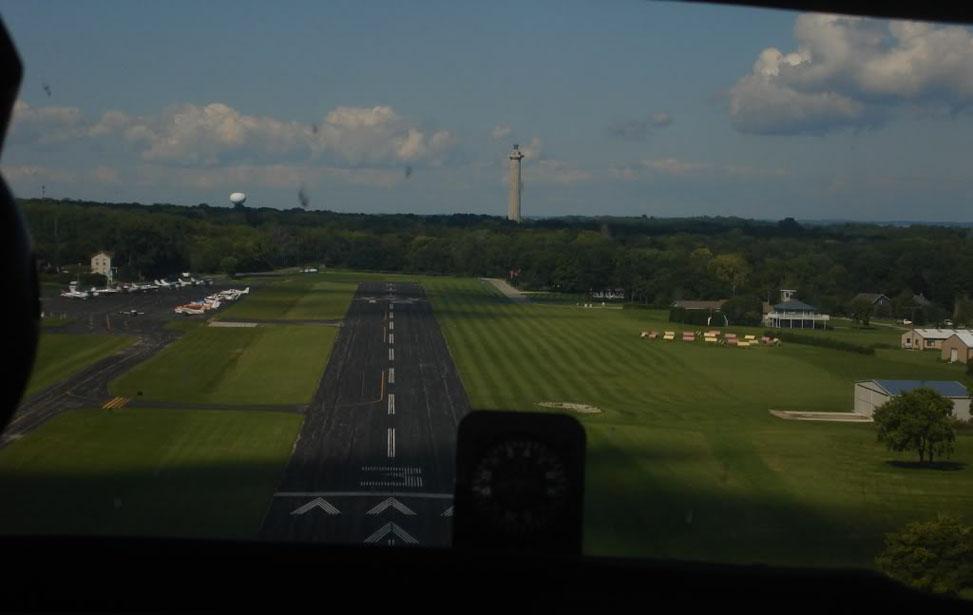 Located on the southern end of South Bass Island, the Put-in-Bay Airport is open year round and available for public usage. With modern facilities and two runways, the airport accepts small planes from the mainland and surrounding islands. It also offers tours on biplanes and helicopters.
Put-in-Bay Airport Details
The Put-in-Bay Airport accepts arrivals and departures from dawn to dusk. The runways are in excellent condition but unlit. There are no departures allowed after dusk.
Using one of the charter services, such as Griffing Airline or Island Air Taxi is a fun and exciting alternative to traveling to the island via a Put in Bay ferry like the Jet Express or Miller Ferry. Not only is it affordable, flying provides you with amazing views of the Lake Erie islands. It is also the only way to travel back and forth when the lake is frozen.
Put-in-Bay's airport is open year-round for arrivals and departures from dawn to dusk and is the lifeline to islanders in the winter months. In the winter all resources such as mail, fresh produce, and milk must be flown in. Runways at the Put-in-Bay airport are modern and paved, but there are no lights so there are no departures after dusk.
Planes need to remain 1000 feet from Perry's Victory and International Peace Memorial when arriving and departing. The 352 ft column is located 1.5 miles southwest of the field. Pilots and passengers can also expect from light turbulence on approach when winds exceed 10 knots.
Purchase fuel at two of the nearby airports: Erie-Ottawa Regional Airport and Griffing Sandusky Airport. Be advised there is no fuel service offered at the Put-in-Bay Airport. Vending machines and restrooms are available onsite. All major credit cards are also accepted.
The Put-in-Bay airport has two runway for left and right traffic. Runway 21 is preferred and used for left traffic while runway 3 is used for right traffic. Both runways are 2870 feet long and 75 feet wide. When planning on staying overnight in one of our Put in Bay hotels or rentals, be sure to visit our lodging page for reservations. For golf cart rental while on the island, visit our Golf Carts page for the best deals and the ONLY overnight put in bay golf cart rental on the island!
Put-in-Bay Airport Activities 
Take in a birds eye view of Lake Erie with rides in a biplane or helicopter departing from the Put-in-Bay Airport.
The Put-in-Bay Biplane Rides offer rides for one or two persons per flight. Head into the clouds in a vintage World War II biplane and select from aerobatic thrills, smooth scenic rides, and/or flight lessons. Fly along the stunning coastline of Lake Erie, enjoying amazing views of Put-in-Bay, Middle Bass Island, Port Clinton, and Kelley's Island.
These lovingly restored open cockpit planes are thrilling to ride. If you decide to take a flight lesson, the instructor will show you the basics then hand over the controls. They can also perform as many aerobatic maneuvers as you can take.
Put-in-Bay Helicopters offer a variety of scenic tours. Their popular tours show off the entire region focusing on the natural beauty of the islands and Lake Erie. This is a really special way to enjoy South Bass Island.
The Put-in-Bay Airport also hosts a variety of events throughout the year including the Put-in-Bay Road Race Reunion and The Put-in-Bay 3W2 FLY-IN.
Testimonials
Adam S: "Flew in a few weeks ago and couldn't be happier. The runway is in great shape and the people running the golf cart rental were very helpful. Flying into Put-In-Bay is the way to do it in style! See you guys next year."
M.O.K.: "Perfect approach together with a former Navy pilot…thanks Steve! Good place to spend some time- bus station next to Airport!"
Shibley: "If you would like to not crash land your aircraft on the island, then this is the only place for you. They also offer helicopter and stunt plane rides."