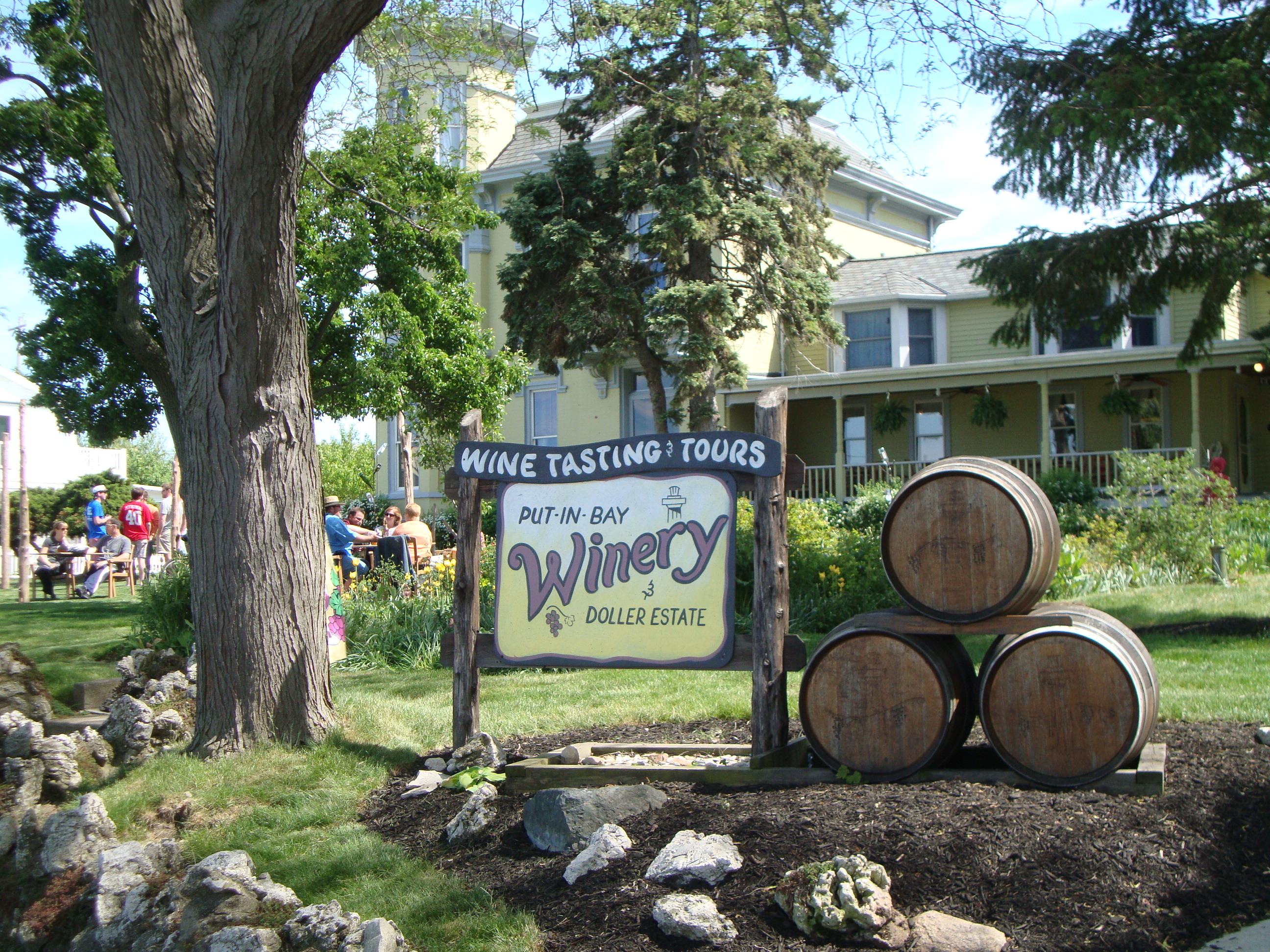 Put-in-Bay Winery offers visitors a delicious selection of wine, historical tours of their property, and gorgeous lakeside views. Located at the Doller House Estate on Bayview Avenue close to the Jet Express terminal, a visit to the Put-in-Bay Winery is a must for both wine lovers and history buffs alike.
Put-in-Bay Winery Details
The Put-in-Bay Winery creates its own wine from the rich soil on the island. They follow the process of winemaking from the grape seed being planted to the bottling process, and eventually to either the wine tasting room or souvenir shop that allows you to take their sweet wine home to be enjoyed with family and friends.
While you are at the winery you are able to sample a wide variety of wines that are grown and made around the island. Enjoy a glass of wine outside in the garden or while looking out over the lake on the porch of the Doller House Estate.
In business since 2009, Put-in-Bay Winery includes winery exhibitions, a gorgeous wine garden, a gift shop, and tours of the estate. With a staunch commitment to educating visitors on the history of winemaking, an afternoon spent at the winery is always fascinating and comes complete with plenty of wine.
Start your visit off with a tour of the Doller House Estate. Each room features a different wine pairing. The tour starts off with a glass of their Celebration wine, a sparkling moscato.
The tour then moves into the Main Parlor which includes a Merlot tasting. A Put-in-Bay Riesling is then paired with a trip to the Historic Ice House. Here visitors learn how important the ice business was to both Valentine Doller and the whole of Put-in-Bay.
After the tour, head to the wine garden and enjoy another tasting. It is also possible to do a tasting without taking part in the tour as well. Create a flight of three to four Put-in-Bay wines or select varieties from the Pelee Island Wines, West Coast or other featured wines. Each glass offers a unique and sophisticated palette.
The Island Life Museum also curates informative exhibits about South Bass Island throughout the year.
Wine can also be purchased on their website. From dry to sweet wine, Put-in-Bay Winery offers an amazing selection of complex and delicious wine.
Part of a Rich Winemaking History
Winemaking is not new to the Bay, in fact, it was South Bass Island's first proper industry. Hop on a golf cart and drive anywhere on the island and you can see the remains of the once-bustling grape growing industry. The waters from Lake Erie actually have a temperature stabilizing effect that make South Bass Island the best place in the Midwest to grow grapes. In modern times as wines from all around the world have become easier to import, tourism has proven more profitable for most Put-in-Bay real estate, but the winemaking tradition lives on, allowing travelers to enjoy wine made locally during their getaway!
Put-in-Bay Winery Wines
Pink Catawba — the perfect balance of sweet and tart
Blackberry Wine — this layered dessert wine is made from 100% blackberries
Commodore Perry Chardonnay — a classic California white aged in American and French Oak
Red Witch Sauvignon Blanc — dry white with notes of grass and citrus
Concord — a sweet and balanced red
Celebration — a sweet wine for special occasions
The Doller House
Built by Put-in-Bay entrepreneur Valentine Doller, this Italianate house sits on the banks of Lake Erie with stunning views of both the harbor and Gibraltar Island. This stately yellow and gray brick and wood house was built in two sections in the 1880's. The grand tower seen at the front corner classifies this building as Italianate architecture.
The Doller House is available private parties. The stunning property includes a front yard, gazebo, and large backyard perfect for dancing. A full catering menu is also offered for 15 to 60 guests.