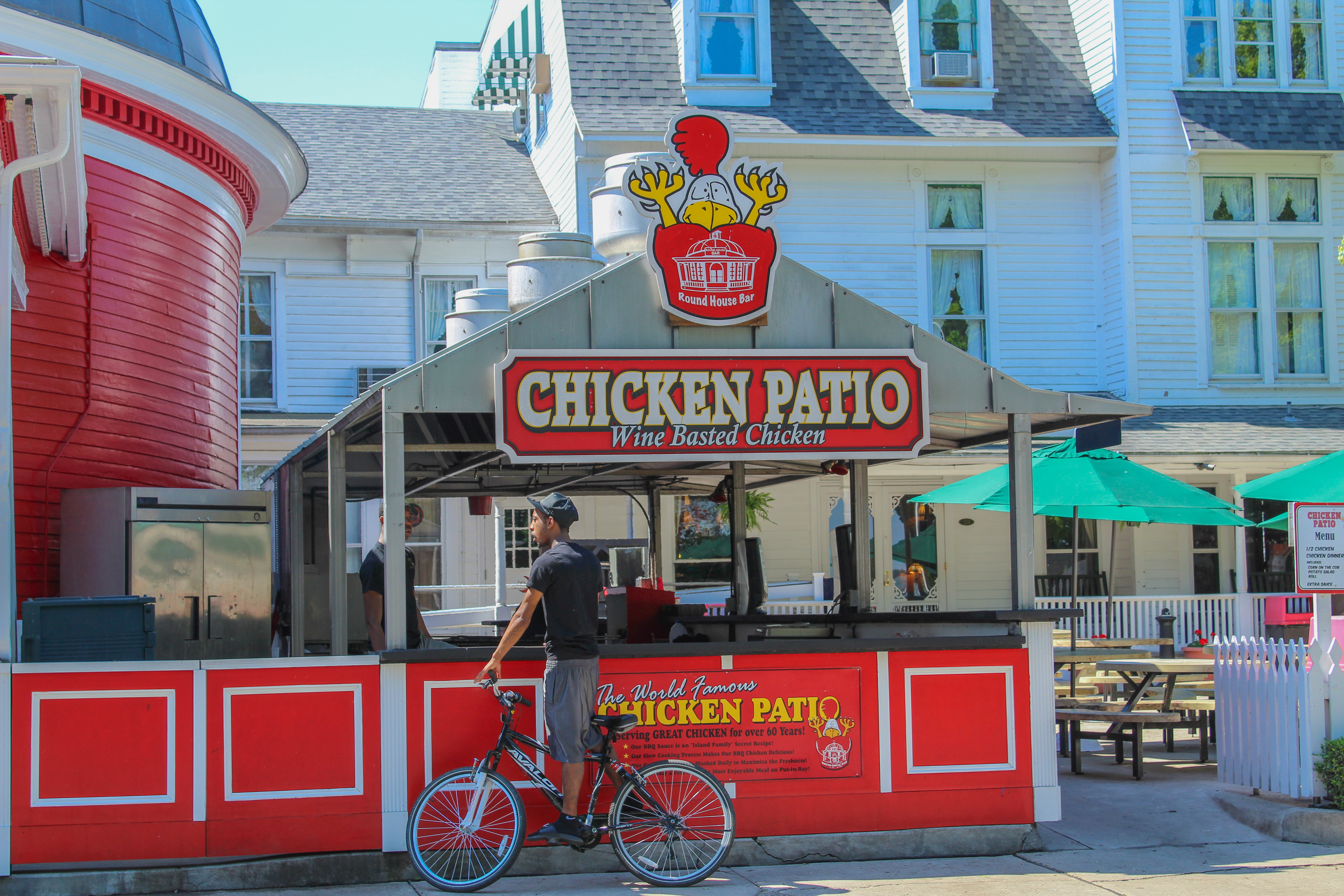 Chicken Patio has been serving the best BBQ chicken on South Bass Island since 1952. With their famous, and secret, wine-basted sauce, Chicken Patio always delivers with flavorful, juicy chicken. Some say you can even smell it as soon as you get off the Put-in-Bay ferry!
Chicken Patio Details
Located on the patio of the historic Park Hotel, Chicken Patio is still in the same spot it opened in all those years ago. Of course, the operation has expanded a bit. In their early years, the Chicken Patio grillmasters only operated on a small charcoal grill. These days they man a 21-foot grill making sure everyone gets their fill. The only thing that hasn't changed is their sauce.
Each whole chicken dinner comes with sweet grilled corn, potato salad, and a dinner roll. ½ chicken orders are also available. There's always extra sauce and extra wet naps at no charge. Trust us, you'll need both! The Chicken Patio serves up some really great food.
Winner Winner Chicken Dinner
With so many Put in Bay restaurants, the Chicken Patio stands out and it is consistently named the best BBQ on Put-in-Bay. Tourists and locals alike flock to Chicken Patio when they smell that mouthwatering, smoky aroma drifting down Delaware Ave.
They have outdoor seating where you can enjoy your meal, along with a drink. The bartenders sling wine, beer, and liquor along with Bushwackers and CrushBar Specials that pair perfectly with that succulent chicken. An on-site espresso bar serves cappuccinos and lattes and the patio is dog friendly. This is one of visitors' favorite eatery in downtown Put-in-Bay.
Catering
Looking for a special spot for your next big event in Put-in-Bay, Ohio? Chicken Patio can easily accommodate groups of different sizes. They provide trays full of their famous chicken, sweet corn on the cob, and creamy potato salad that your guests will absolutely love! Try something a little different and make your next event completely unforgettable.
There are many things to do in Put-in-Bay. Historic institutions are island traditions! The first is The Park Hotel is one of the oldest buildings on the island. This beautiful Victorian structure is much the same as it was when it was first built. When you stay at the Park Hotel it really does feel like going back in time. The Park Hotel is known as the first hotel in the region to offer "beds having spring mattresses." It is also the site of the first place to service ice cream and cottage cheese thanks to the flourishing ice harvesting business on the island.
Out of all the Put in Bay bars, The Round House Bar is definitely one of the liveliest and most enjoyable bars. This iconic red and white striped round bar plays an amazing lineup of some of the best regional and local musicians around. You must come to see live entertainment and enjoy a drink at this iconic bar!
Put-in-Bay Experience
If you feel like you can't get the full island experience in one day, then don't be afraid to book a full weekend at a Put in Bay resort, condo, or rentals. However, the sooner you book the better because lodging fills up fast! Staying the weekend at Put-in-Bay ensures you can see all that this Lake Erie Island offers. Some must-see attractions on South Bass island include Perry Victory Monument, The Boardwalk, DeRivera Park, Mossbacks, The Keys, Dairy Isle, Mr. Ed's Bar, Joe's Bar, Topsy Turvey, Hooligans, The Old Forge Cafe, and so much more! You will find some of the best restaurants on this small island. Come stay awhile and see the Key West of the Midwest! This is the perfect place for a little getaway. Families come back year after year because of the fun island vibe that is alive and well on Put-in-Bay island. Catch the Jet Express and start your bay vacation today!