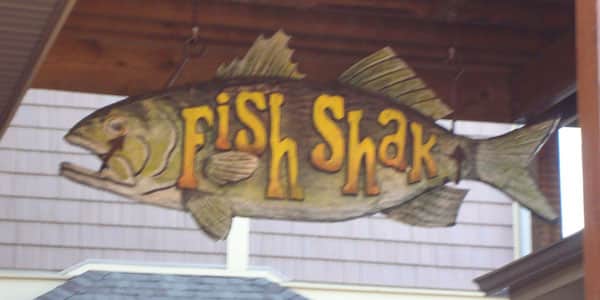 The Boardwalk family of restaurants is home to the Fish Shak. At the Fish Shak you'll find the freshest fish you can get anywhere on the island, and a seat right on the dock. The Boardwalk has been serving Put-in-Bay with their multiple casual dining options since 1985, and it's also a popular low key place to meet for drinks. There's something for everyone at The Boardwalk.
You'll find all ages live entertainment at The Boardwalk on summer weekends. The waterfront bars are the perfect place to have a cocktail, and enjoy the open-air and the views of the lake at night.
The main deck of The Boardwalk has three counter serve restaurants, one of which is the Fish Shak. Get fish that just came out of the lake! Walk up to the counter and order, then rally with your group and enjoy your fish while they have whatever they got from one of the other two restaurants. You can trade so everyone tries a little of everything! There's plenty of seating at The Boardwalk, so you can enjoy a leisurely lunch, and hang out with a drink and enjoy the view of the lake. On a clear day, you'll even be able to see Middle Bass and Gibraltar Islands from here!
The boats sailing in and out of the docks make the perfect backdrop for your seafood meal at Fish Shak. And if you need to wash it down with an adult beverage, you only need to take a few steps to the Burgee Bar, where you'll find the perfect drink to quench your thirst.
What else is at The Boardwalk beside Fish Shak?
Book's Seafood

The Little Galley

Clawdaddy's

The Upper Deck
Fish Shak at the Boardwalk is the perfect spot for a casual seafood experience at Put-in-Bay. Enjoy walleye straight from the lake!