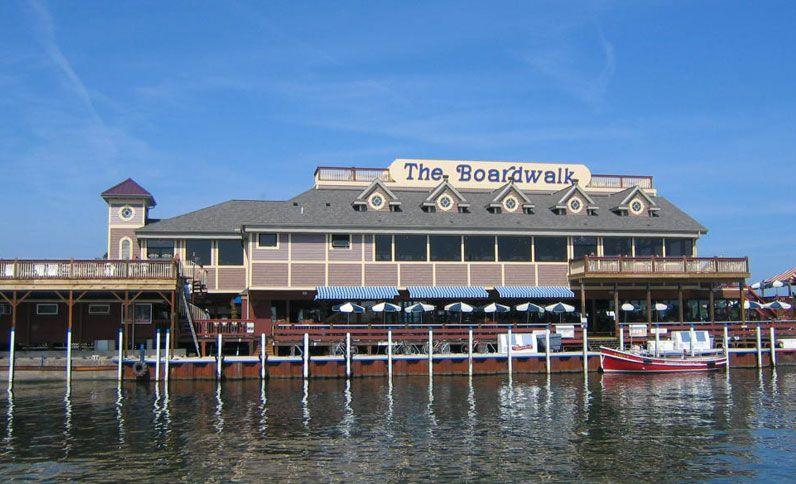 With so many things to do in Put in Bay, there is bound to be the famous eternal dilemma. "Where should we eat tonight?" Sometimes it's so hard to get an entire group to agree on a place. Well if your group is at Put-in-Bay, the solution is obvious, come to The Boardwalk! The Boardwalk Restaurant is a bit of a misnomer, because there's actually four restaurants and two bars inside the Boardwalk complex. Everyone can pick out their favorite dining options and then meet together on The Upper Deck for great views and great company! You will love this eatery and the warm breeze of Lake Erie.
The Boardwalk is right on the waterfront, offering stunning panoramic views of Lake Erie as well as the best people watching on the island. Visitors love the outdoor seating here. The food is also incredible! Their most famous item is their incredible Lobster Bisque. It's the best Lobster Bisque in Ohio, and many people make a special trip to The Boardwalk just for the bisque. But there's so much more on the menu, all of the seafood is lovingly prepared. Locals and Tourists come to try all of their great food. There are many Put in Bay restaurants and bars, but you can never go wrong with The Boardwalk. It is a great place to grab a drink and with bartenders at both bars ready to serve up an immaculately prepared cocktail, or a simply frosty beer!
Out of all the Put in Bay restaurants, The Boardwalk offers the most options for dining. It's FOUR restaurants! So everyone in your group will find something for them. And the location in the Put-in-Bay harbor can't be beaten! Visit The Boardwalk which is located on Bayview Ave!
Famous Appetizers and Entrees at  The Boardwalk
–Fish Shak, Little Galley, and Book's Seafood, three counter service restaurants.
–The Upper Deck for tableside service and breathtaking views
-The Boardwalk Restaurant World-Famous Lobster Bisque, the best bisque in Ohio
-Burgee Bar and Claw Daddy's, two full-service bars
-Rita's Cantina with great margarita's
The hallmarks of The Boardwalk family of restaurants are great customer service, and food prepared with fresh ingredients and love. There's a reason so many Put-in-Bay visitors go home and rave about The Boardwalk to family and friends. Be sure not to miss The Boardwalk, if not for a meal, then just for a beer and the view! It is located right down the street from where the Put in Bay ferry drops off visitors so it makes it easy to grab a meal as soon as you get off the ferry or before you are about to leave.
Put-in-Bay Attractions
However, with so many Put in Bay attractions, you don't want to be rushed all day to squeeze in everything. If you want to stay the weekend and stay overnight you can check out our lodging for the island. You could stay at our Put in Bay resort, condo, or rentals, but make sure to book early because lodging fills up fast on the island! Experience the Put-in-Bay late-night scene at iconic bars like Joe's Bar, Mr. Ed's Bar, The Reel Bar, The Keys, The Round House Bar, and more! Come experience this fun island vibe and some talented live entertainment. You can also check out the  Restaurant and Nightclub Houston to get a different experience, you'll find out what happens when a restaurant gets a nightclub pregnant.
A list of menu items includes but is not limited to Alaskan King Crab legs, bread bowls, Walleye, Lake Erie Perch tacos and sandwiches, lobster rolls, hot dogs, and corn dogs for the kids, plus tons more fresh seafood and delicious appetizers. Did we forget to mention their famous Lobster Bisque?? Besides amazing tableside service, you can also expect to be accommodated no matter what your diet is, with the restaurant being able to service gluten-free and vegetarian options alike. The dining options and experience you get on South Bass Island are truly unbeatable, whether you're from Cleveland or California. The Key West of the North will not disappoint! The Lake Erie Islands are waiting for you.