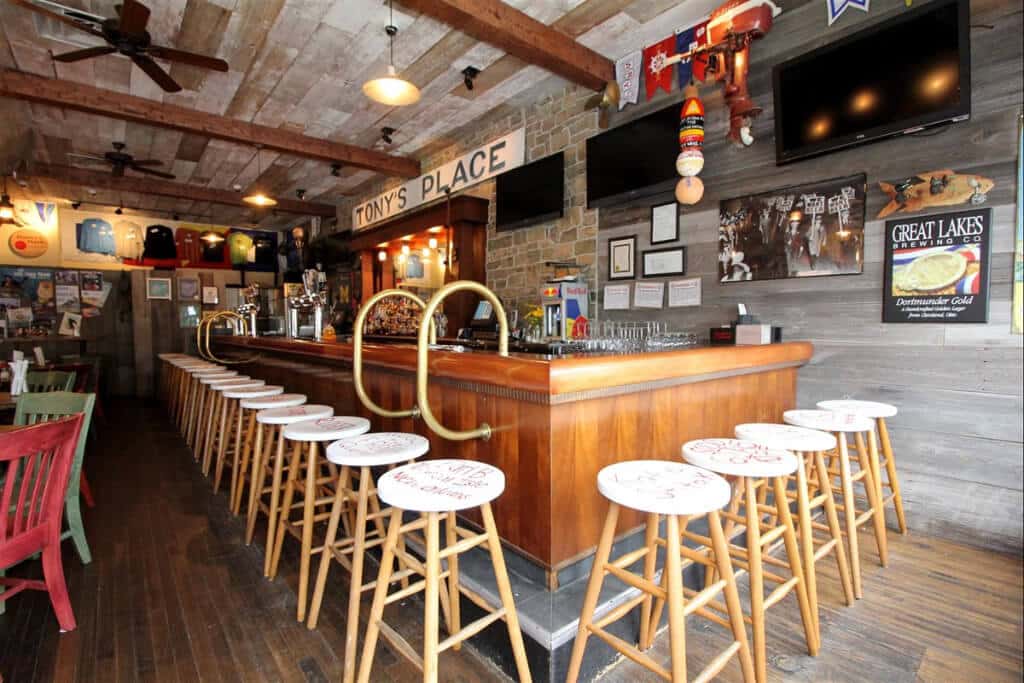 The Reel Bar opened in 2014 in the old location of Tony's. Already a new favorite on put-in-Bay, The Reel Bar is a celebration of all things fishing, delicious food, and ice cold drinks. The completely remodeled interior is rustic and cozy and the food menu is simply mouthwatering.
Open for breakfast, lunch, and dinner, The Reel Bar is centrally located right on Catawba Avenue. Easy to get to from the Put in Bay ferry terminal and in close proximity to all the downtown inns and hotels, making it easy to try out all the things to do in Put in Bay. It is also right behind the Lake Erie Islands Historical Museum and Historical Society for all those history buffs out there.
The Reel Bar cooks up hearty and healthy entrees for breakfast. With plates full of delicious food, it's a great place to start your day.
The Reel Bar Breakfast Highlights
-Blueberry Pancakes
-Reel Corned Beef Hash
-Biscuits and Gravy
-West Shore Burrito
-Breakfast Samich
If you like French Toast, then the Reel Bar recommended out of all the other Put in Bay restaurants. Their French Toast comes highly recommended. Made with brioche bread with cinnamon and sugar baked right in, it is truly mouthwatering. Everything tastes better with a Bloody Mary or order a fresh squeezed orange juice with a shot of your favorite liquor. Hot coffee and tea is also available
Swing by The Reel Bar for a respite midday or fill up before hitting the bars. Their lunch and dinner options are just as delicious as breakfast.
Lunch and Dinner Highlights
-Shrimp Tacos
-Battered Cod Sandwich
-Lobster Roll
-Lake Erie Perch with their special breading
-Reel Tots (smothered tater tots covered in cheese!)
-Chicken Wings
They make dynamite tacos. One of their specialities is their street tacos. You can mix and match tacos with different types of meat, all served on a hand pressed flour tortilla.
Live music plays all summer long, in particular the comedy music combo of island favorite, Ray Fogg sets it apart from other Put in Bay bars.