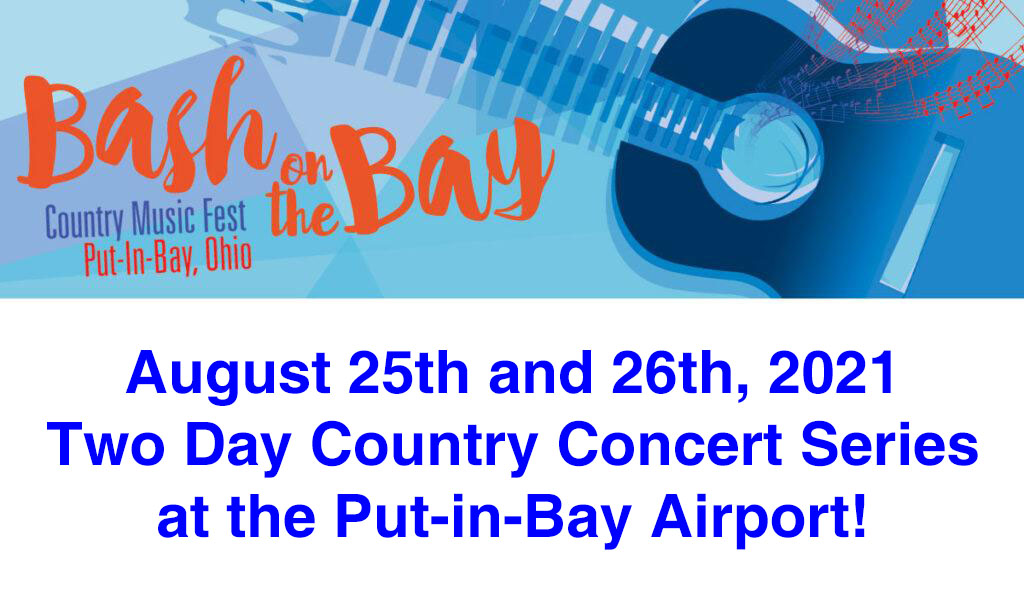 Bash on the Bay  4 – 2021
Bash on the Bay 4 has officially signed and finalized the two major headliners for 2021. The 4th annual country music festival will be held Wednesday, August 25 & Thursday, August 26. The Put-in-Bay event will be held again at the Put-in-Bay Airport.
Concertgoers should be very excited about this year's Bash on the Bay. Country music comes to South Bass island every summer during this day event! Previous years have seen some of country music's biggest names like Kid Rock, Rascal Flatts, and Toby Keith. This year Bash on the Bay will again feature two of the country's biggest names.
Are you ready to find out who's coming?? Well here it is!
The First Night (25th) will be headlined by Blake Shelton along with Runaway Jane, and the second night will be headlined by returning star Keith Urban along with Carly Pearce.
This is the island's favorite event category! Some of the hottest country artists of 2021 include, of course, Blake Shelton, Keith Urban, Taylor Swift, Florida Georgia Line, Luke Bryan, Zac Brown Band, and many more. Who else would you like to see perform at Bash on the Bay in the future??
Put-in-Bay lodging, hotels & resorts, and home rentals are expected to be completely booked. It is recommended to plan ahead to secure your place to stay at the bay. This is the biggest concert on the Lake Erie islands! Make plans to book your hotels & resorts now so you can join us for this fest.
Seriously book fast though. People stay as far away as Toledo to be able to see this concert so make things easier on yourself and book ahead. Bird's Nest Resort is located literally directly across the street from the PIB airport/concert venue and is definitely your best option if you're looking to maximize bang for your buck, especially in the case of a smaller group.
Tickets will go on sale Friday, March 26th wherever you typically buy your concert tickets and will almost definitely sell out again this year. Watch our website and the Put-in-Bay Facebook page for more announcements! We also recommend that you get on the main Put-in-Bay newsletter list to also get entered in for a chance at a free weekend on this Lake Erie Island!
Bash On The Bay: Put-in-Bay Lodging Requests
You can book units at the Island Club Home Rentals and Put-in-Bay Condos starting right now if you would like. To do so, just click either of those two links and either book online or give their friendly and helpful staff a call, but be quick! Put-in-Bay lodging partners are expected to be at full capacity. Don't wait until they're all booked up and call ahead to reserve your golf cart!
Now you know what days you need to call off work! Like we said previously, as soon as the organizers announce the full show line-up and supporting acts, you will be the first to know. That time has finally come! We're excited about this year's possible line-up and we bet you are too!
We are eager to have you on the island and listen to some Put-in-Bay country music! We missed you during last year's Bash on the Bay 4 due to Covid-19 but we cannot wait to enjoy music together once again! Join us for a concert put on by country music's top artists like Kid Rock, Keith Urban, Rascal Flatts, Toby Keith, Blake Shelton and Uncle Kracker.
About Put-in-Bay's Largest Upcoming Event
Put-in-Bay Ohio will be hosting its 4th annual Bash on the Bay. People from all over the United States make their way across the Miller Ferry or Jet Express to be entertained by live music and a fun island crowd. Luckily, the Put-in-Bay ferries will be running an extended schedule for people coming up just for the day.  The Miller Ferry departs from Catawba Island Point. Meanwhile, the Jet Express departs from Port Clinton.
In the years prior, visitors from Cleveland, Toledo, Detroit, and other cities across the United States came to our Lake Erie Island to enjoy the show. Visitors rent golf carts and tour the island until it was time to head to the Put-in-Bay concert. Get ready to have an amazing time on the island concert-goers! This year's bash will be the best one yet!
Check out the past Bash on the Bay lineup:
2017's Bash on the Bay featured Toby Keith. Click to read all about the very first Bash on the Bay experience.
In 2018, Rascal Flatt's had the whole island singing "Life is Highway" at the top of their lungs. You can read our 2018 Bash on the Bay Recap here.
Bash on the Bay 3 featured Kid Rock and his buddy Uncle Kracker in 2019. Click here to read all about the 2019 Bash on the Bay with Kid Rock.
It's time for another Put-in-Bay concert! The Put-in-Bay hotels and home rentals are ready for concertgoers. It is a two-day event that you don't want to miss. Mark your google calendar now! This will be one of the best Country Music festivals of the Summer!
Come visit Put-in-Bay, Ohio. The Key West of the Midwest! Make sure to sign up for the newsletter to be in the know.