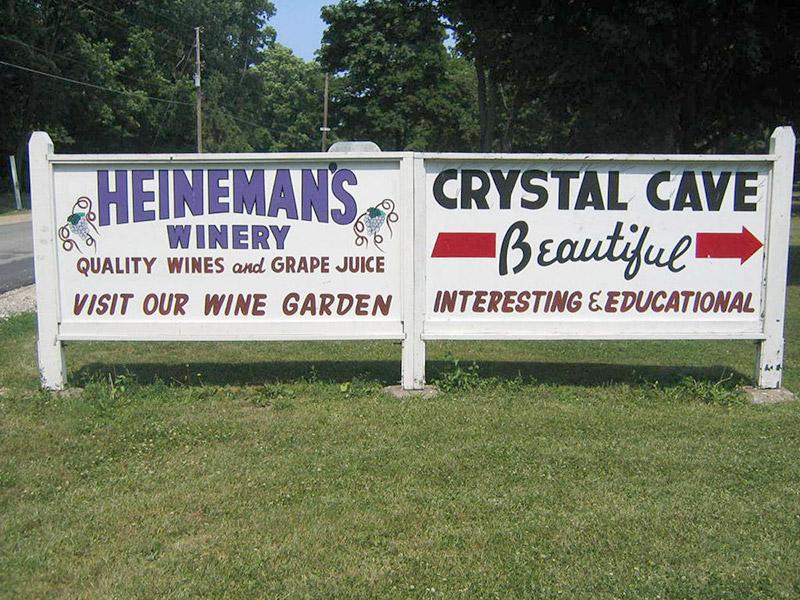 Together the Crystal Cave and Heineman Winery make for a delightful afternoon. Located about a mile from downtown Put-in-Bay, the Crystal Cave Gift Shops sells wine from Heineman's as well as souvenirs, geodes, crystals, and gems. Some even come directly from the cave.
Heineman's Winery
Heineman's Winery has been producing locally made wine since 1888. Founded by German immigrant Gustav Heineman, this winery takes advantage of the long growing season on the island due to the tempering effect of Lake Erie. Ideal soil conditions help produce superior grapes.
After Prohibition wiped out most of the 17 wineries on Put-in-Bay in 1919, Heineman's survived due to selling unfermented grape juice, an ingenious idea by Gustav's son, Norman. He also provided a taxi service and of course, tours of the caves.
Heineman's is still family-owned to this day. The native grapes of South Bass Island are the Labrusca and the major varieties are Concord and Catawba. Specializing in sweet and Iced wine, the favorites include Pink Catawba and Niagara, a medium sweet white wine.
The wine sold at the Crystal Cave Gift Shop makes a thoughtful gift for loved ones back home. The price point is very affordable with no single bottle surpassing $20. Visitors can enjoy a glass of wine on-premises in their beautiful Wine Garden. They offer cheese plates and tastings. Take a bottle back to your accommodations and enjoy it over dinner. Please be aware that the Winery can only ship to Ohio.
The Crystal Cave
The Crystal Cave was instrumental in helping Heineman's survive prohibition. Miners discovered the cave in 1897. There they found the world's largest geode! An amazing sight, the entire cave is lined with strontium sulfate, a bluish mineral called celestite.
The Crystal Cave Gift Shop provides souvenirs so visitors can always remember their special trip to Heineman's and the Crystal Cave!