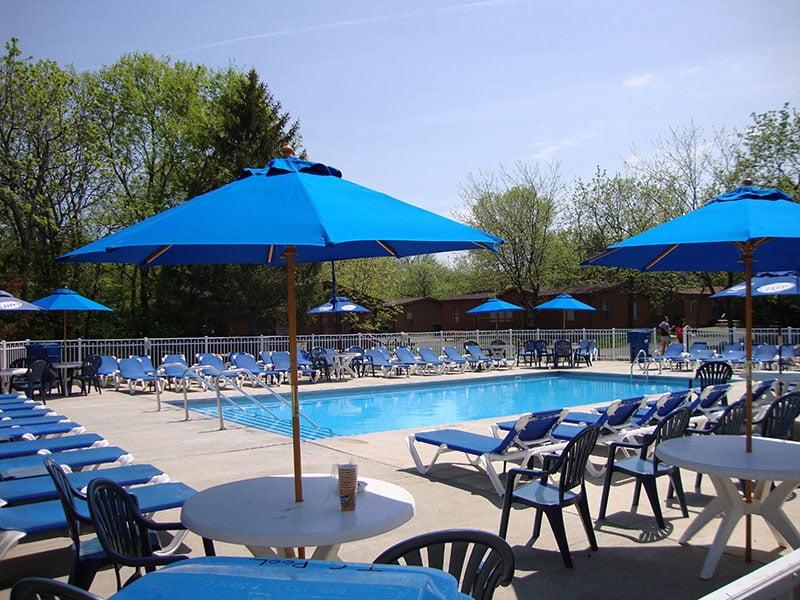 The Island Club rental homes are famous among Midwest vacationers as the best spot on Put-in-Bay to bring a group. CHECK AVAILABILITY! Among the 73 homes in the Island Club, some are sized for groups as large as 12 or even 16! I bet you couldn't have imagined you'd be able to get your entire 16-person group under the same roof for a Put-in-Bay weekend, but you can at the Island Club. And you can also expect all of the amenities the 8- and 10-person homes offer, such as a fully equipped kitchen, multiple bathrooms, central air, a propane grill, a deck and more. Don't scatter your group across multiple hotel rooms! Make a reservation now and get your whole group under one roof!
Put-in-Bay is a magical Midwest vacation destination that really does offer it all. You can come on the weekend from Detroit, Cleveland, Chicago or just about anywhere else in the Midwest without getting on a plane. But when you get here you'll think you've transported to Key West. Whatever your occasion, be it a family reunion or a bachelorette party, the Island Club Rentals villas will have the perfect fit for your large group. All of the Island Club Rentals get you access to the Island Club pool. The pool is BYOB to help you save money on your trip. You can follow this link for live availability information, and you can always call the reservation line, (216) 898-9951. It is also possible to book through Airbnb or Vrbo if you prefer to use them.
Attractions Near Island Club Rentals Villas
Put-in-Bay's famous downtown strip
The Boardwalk
South Bass Island State Park
The Island Club Rentals villas will give you all of the comforts of home while you're on fantastic Put-in-Bay. The Island Club rents out the villas on a weekly or weekend basis, as well as shorter stays during the week. In fact, a great way to net some savings is to do a couple of days Midweek, as the Island Club offers incredible Midweek specials. Come to the island during the week to experience a relaxed atmosphere, perfect for families or tourists who want to hit the shops or see the sites. As for the weekend, Put-in-Bay's nightlife is famous throughout the Midwest as the perfect place to party! If you've got a big group, you will not only save money vs. hotels by staying at the Island Club, you'll also get your entire group under one roof! It doesn't get better than that!
How to Book Island Club Rentals Villas
There are many ways to get information about availability and book an Island Club villa. Check out the Island Club availability in real-time, or you can call (216) 898-9951 for more information. SEE YOU AT THE BAY!
Amenities
Convenience:
Nearby Medical Services, Golf Course, Nearby Grocery
Culture:
Perry's Monument Visitors Center
Kitchen:
Toaster, Coffee Maker, Cookware, Full Kitchen, Microwave, Refrigerator, Stove
Living:
Washer & Dryer, Air Conditioning, Central Air, Linens & Towels NOT Provided, No Phone
Outdoor:
Yard, Deck, Gas Grill (Propane Provided), Pool Access, Shared Pool
Safety:
Smoke Detectors, Carbon Monoxide Detector
Things-To-Do:
Water Activities, Dining, Nearby ATM, Nearby Bank, Nearby Post Office, Shopping
Rooms:
-12 Person: 2 Full (1st BR), Full/Full Bunk (2nd BR), 2 Full/Full Bunk (3rd BR)
-16 Person: Queen & Full (1st BR), 2 Full & 1 Twin (2nd BR), Twin & Full (3rd BR), Full (4th BR), Full (5th BR)