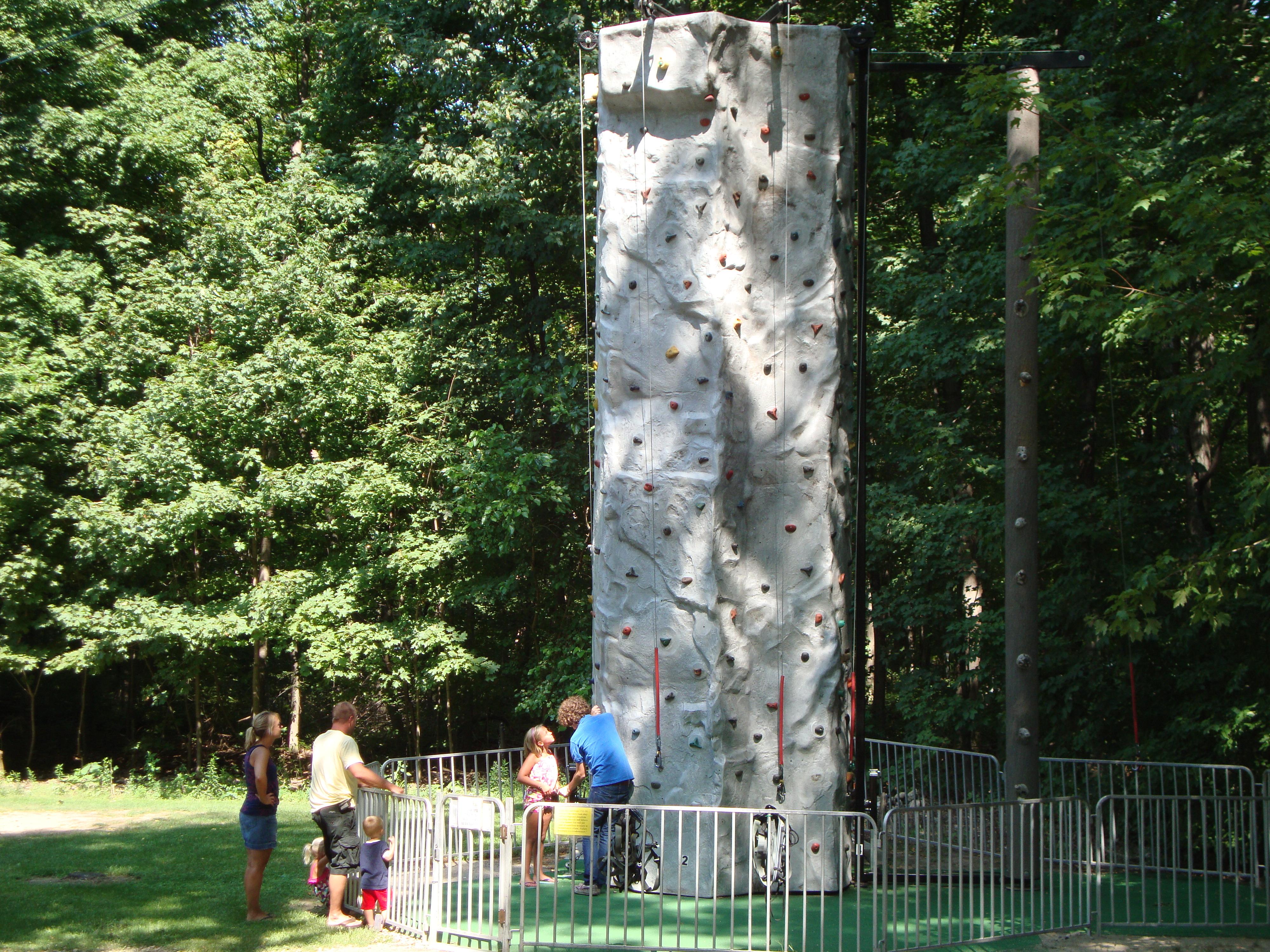 Newly upgraded for the 2018 summer season on Put-in-Bay, the Rock Wall at Perry's Cave and Family Fun Center is even better than before. This 25 ft. wall challenges both beginners and experts alike in their race to the top!
Perry's Cave Rock Wall Details
Different skill levels are included on the wall. Anyone over 50 pounds is allowed to climb up. Climbers are all strapped into harnesses before their ascent. Follow the color-coded handholds for easy or challenging climbs. Three climbs cost only $10 so you can keep improving as you scale this mighty tower.
Combo pricing is available with other attractions at Perry's. It is open seven days a week, weather permitting.
Are You Up To The Challenge?
Put-in-Bay is loaded with amazing attractions for all ages, but one word that you might find lacking among island things to do is "competitive." So if you're the type that wants to flip the table over after a game of Monopoly, or has broken a couple of video game controllers in their day, making it to the rock wall is essential for your Put-in-Bay vacation. Just don't be a sore loser when you get beat to the top! (Just kidding, we know you will be, so WIN!)
Perry's Cave and Family Fun Center
A visit to Perry's Cave and Family Fun Center is a must on everyone's Put-in-Bay itinerary. As far as caves in Ohio go, Perry's Cave stands out from the rest! From families to groups of friends to couples, everyone loves Perry's. Attractions include everything from mini-golf to an antique car museum.
If you plan on spending the whole day here, and really you should, then plan on purchasing combo package deals. Individual tickets cost between $8-$10. For three attractions, it only costs $19 for adults while all five attractions will only set you back $26. Kids are $11 to $18 respectively.
The Antique Car Museum is always free while Gemstone Mining charges per item.
Perry's is a little more than a mile from downtown Put-in-Bay and easily accessible by a Put in Bay golf cart rental, moped, or bicycle. The Put-in-Bay Tour Train also makes regular stops here. Groups can contact Perry's and make private tours with the train. These include the Discover Put-in-Bay All Day Inclusive Tour and the Island Super Saver.
Perry's neighbors include Heineman's Winery, the Chocolate Cafe, and South Bass Island State Park. there is a snack shack located at Perry's which sells delicious fried perch, mozzarella sticks, and plenty of ice cream treats. If you need a full meal after all that phone, head to Goat Soup and Whiskey close by for a world-class meal and excellent cocktails.
Perry's Cave and Family Fun Center Attractions
Perry's Cave
The Butterfly House
Miniature Golf
Gemstone Mining
Fort aMaze'n
Rock Wall
Antique Car Museum
DanDee's Snack Shack
Challenge friends to games of mini-golf and runs through the Fort aMaze'n. Take in the beautiful landscaping and enjoy soothing music at the Butterfly House. The Antique Car Museum displays an amazing collection of vintage roadsters. Make sure to visit Perry's Cave, a unique and beautiful cave with a rare underground lake.