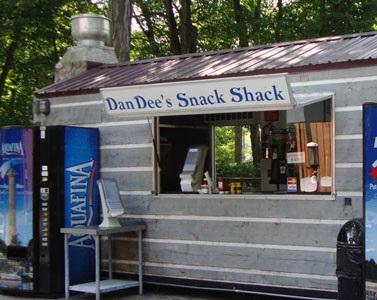 DanDee's Snack Shack is the refueling stop at Perry's Cave Family Fun Center. After working up a sweat competing against your friends at one of the many attractions, DanDee's serves up delicious treats and refreshing drinks.
DanDee's Snack Shack Details
DanDee's offers french fries, onion rings, corn dogs, chicken tenders, mozzarella sticks, and funnel fries among other tasty treats. They are perhaps best known for their delectably cheesy mac 'n cheese bites. Grouper Bites and the Alaskan Pollock Sandwich are sure to satisfy.
DanDee's Snack Shack sells Pepsi products. Their sweet treats include classics like a Drumstick, Reese's Peanut Butter Cups, and a Strawberry Shortcake Bar.
Enjoy your treats in the covered picnic pavilion and relax in the shade. After filling up at DanDee's it is time to start having fun again at Perry's!
Perry's Cave and Family Fun Center Details
A day spent at Perry's is a must for anyone visiting the island. Located about a mile from downtown on Catawba Avenue, Perry's is open seven days a week during the summer.
Visitors can purchase tickets to individual attractions or take advantage of their combo pricing. The Antique Car Museum is always free and Gemstone Mining requires you purchase products from the gift shop.
Perry's Attractions
Visiting Perry's Cave is a really special experience. This limestone cave sits 52 feet underground and contains a rare underground lake. In fact it is one of the last caves remaining on the island with its roof intact.
The cave itself wasn't discovered until 1813 by Commodore Oliver Hazard Perry who led his troops against the British in the Battle of Lake Erie in the War of 1812. The lake provide much needed water for the troops. The famous Victory Hotel also used water from this lake until it burned down in 1919.
If you feel like competing against your friends and family, you will definitely want to visit the Rock Wall, Fort aMaze'n, and the War of 18 Holes Mini Golf. Each activity is rollicking good fun. The War of 18 Holes combines fun with learning and the Rock Wall was just recently remodeled.
For a relaxing change of pace, visit the Butterfly House, a 4000 sq. foot aviary full of over 50 species of butterflies. Soothing music plays as you tour this lushly landscape space. There is a great gift store located here as well as in the main area of Perry's. Choose from an amazing selections of souvenirs to remind you of your time on Put-in-Bay.