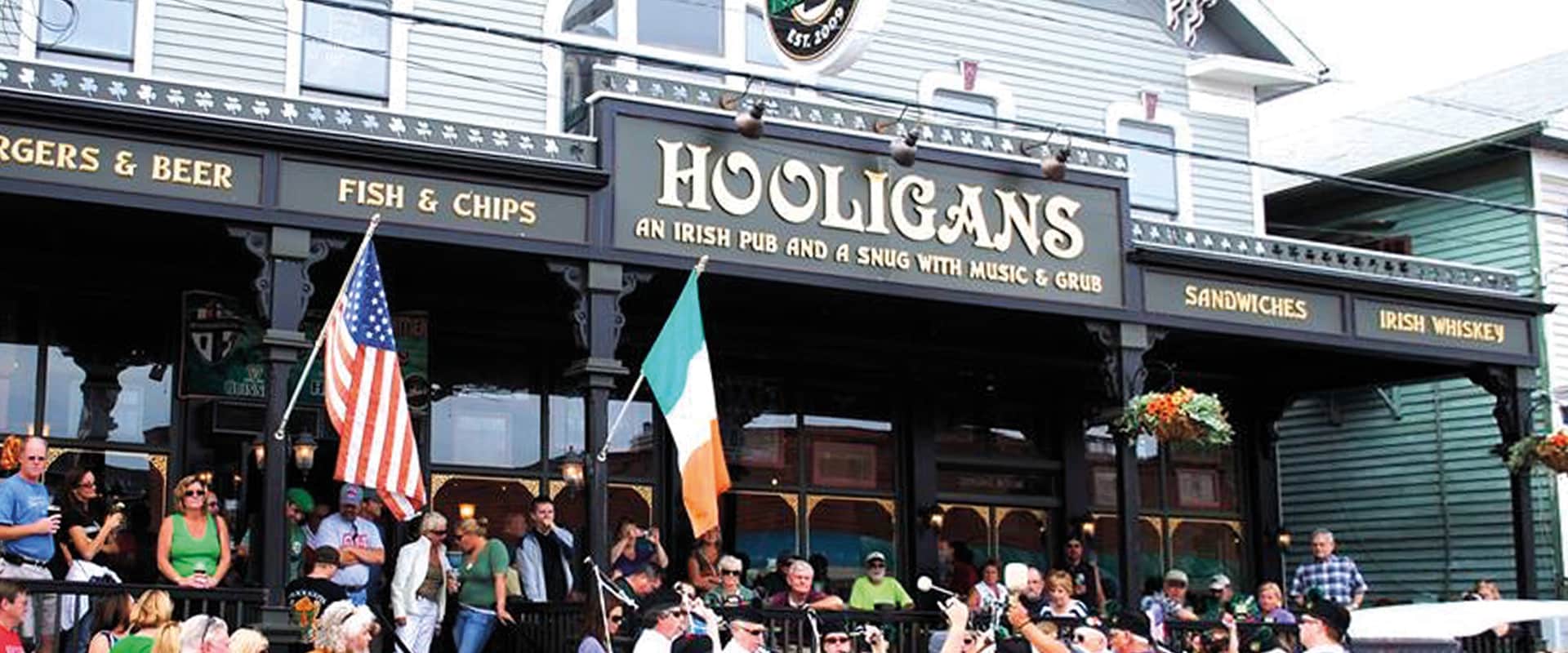 Get a taste of the Emerald Isle at Hooligans Irish Pub. Located right in the center of downtown where there are plenty of things to do in Put-in-Bay, Hooligans serves up a lively atmosphere with that famous Irish hospitality. Great food, beers, and plenty of whiskey and scotch are served up at Hooligans.
Across the street from the Island General Food Market and right next door to the Put-in-Bay Town Hall and the Police Department, Hooligans is ideally located near the inns and hotels of downtown. Easy to swing by for a pint and a shot of whiskey.
The Irish touch is everywhere in Hooligans Irish Pub. The interior is quite cozy decorated with dark carved wood finishes. It's obviously designed by outstanding professionals like the Weston Interior Designer. The true public house atmosphere continues to the expansive outdoor patio and the rousing music acts that play throughout the summer. This is a great place to catch some live entertainment!
The plates at Hooligans are simply overloaded with delicious pub grub. Unlike other Put-in-Bay restaurants, they have a mix of Irish favorites like Shepard's Pie and updated classics like their Chili of the Week that please everyone's taste buds. Get your fill while taking in the downtown Put-in-Bay area. After a big meal, you can take a stroll in the park to help you walk off all that food, or maybe head over to the Put-in-Bay winery or Put-in-Bay Brewery right down the street to continue the party. Whatever the plan is, you won't have to go very far because of Hooligans' convenient location on Catawba Ave!
You can only imagine the popularity of this bar on St. Patrick's Day! They don't care if you are Irish or not because everyone is a little Irish on this day. Swing by and see what all the commotion is about, but make sure you are wearing green! South Bass Island is a great place to spend your St. Patricks Day. Hooligans Irish Pub is the place to be!
Hooligans Tavern Appetizer and Entree Highlights
-Guinness Wings
-Irish Cheese Samplers
-Murphy's Onion Soup
-Fish 'n Chips
-Bacon Bleu Burger
-Meatloaf with a hardboiled egg in the middle
-Chili Mac 'n Cheese with a scoop of their Chili of Week
This is only a sampling of all the yummy food at Hooligans. They serve up nachos, pierogies, and cheese dip to accompany all that Irish Whiskey. Make sure to finish your night at Hooligans with a slice of Marie's Apple Crisp à la Mode. The ice cream is to die for! You won't regret it.
Now let's talk about those whiskeys! Hooligans travel all over Ireland with their selections and this sets them apart from other bars in Put in Bay. They have favorites like Jameson and more unusual choices like Redbreast, 12 yr. Sample every type of liquid gold, depending on how long you stay on Put-in-Bay.
Whiskey Menu
-Jameson 1780, 12 yr.
-Kilbeggan
-Tullamore Dew
-Green Spot Pot Still
-Quiet Man 8 yr. Single Malt
On the island, you can find everything from quaint cafes and busy bars. Lake Erie is waiting to be explored! There are so many places to hang out and enjoy the beautiful summer weather. Some of the locals' favorite places to hang out are the Boardwalk, The Reel Bar, Joe's Bar, Mr. Ed's Bar, and The Keys. Bayview Ave, Catawba Ave, and Delaware Ave are the best places to wander around and experience the island's laid back vibe. You must try some Lake Erie Perch or Famous Lobster Bisque during your visit! To experience Put-in-Bay, Ohio to the fullest, visitors should stay the weekend at one of the great Put-in-Bay resorts. We can't wait for you to soak up the summer sun and enjoy all of the Put-in-Bay restaurants, history, bars, attractions, and more. Come see why Put-in-Bay is the Key West of the Midwest!
Testimonials
Dennis C: "Service was great, we sail to S. Bass Island at least three times per year, and Hooligan Tavern is one of our must-hit spots. The skipper likes Guinness but there are plenty of options for the rest of the crew. As far as Put-in-Bay it is concerned this is one of the cleaner, nicer decor, quality food options that is right downtown."
Beth W: "Loved this place! Irish decor was so fun to look at and the food was amazing! I got the Piggy Melt, a cheese toastie with mac and cheese, pulled pork, and slaw, which was very good! They also had the freshest Guinness I've had in a long time, poured perfectly."
Eric R: "AMAZING service! We didn't really eat much because we were there to drink. Our servers were super cool, both from Ireland and fun, fun, fun!!! It rained all day, but we sat on the covered patio and had a great time."
If you feel like you can't get the full island experience in one day, then don't be afraid to book a full weekend at a Put in Bay resort, condo, or rentals. However, the sooner you book the better because lodging fills up fast! Once you are all booked, check out the Put in Bay ferry options to see which one fits your needs!