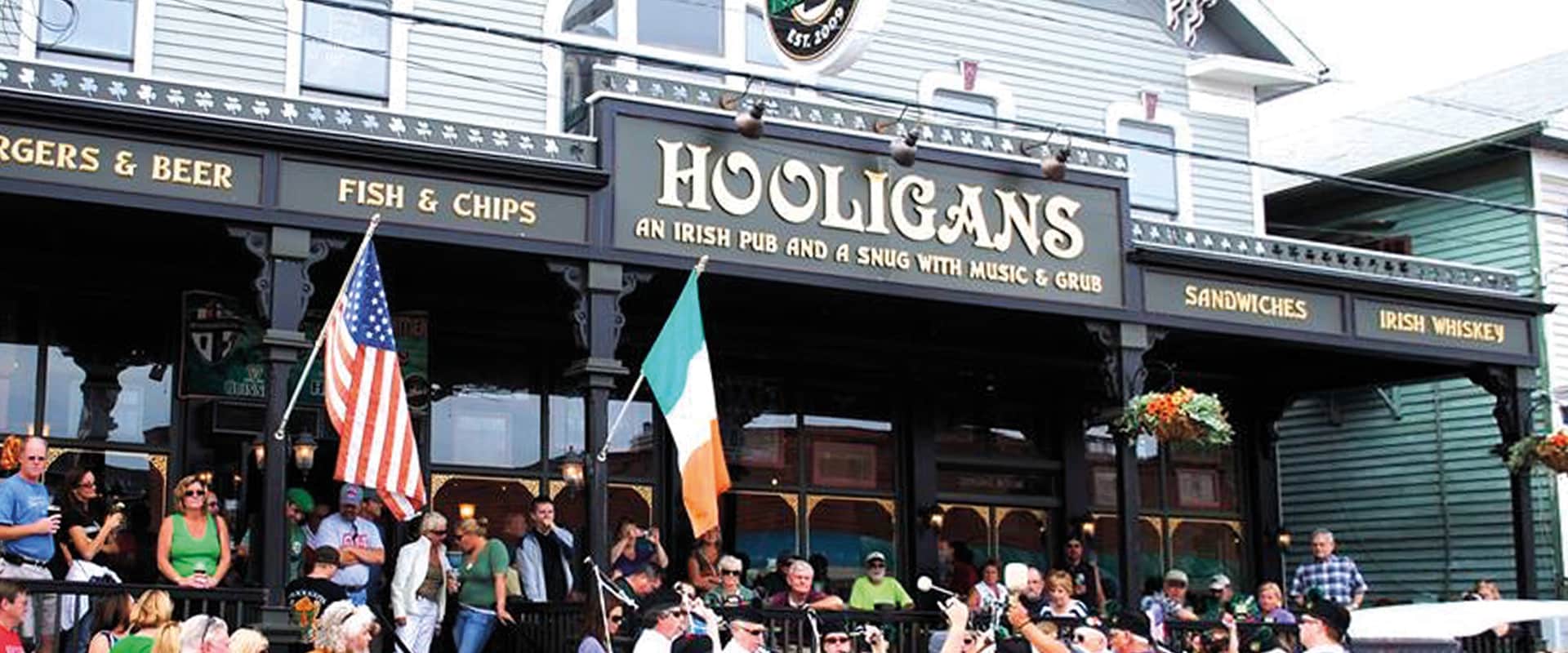 Get a taste of the Emerald Isle at Hooligans Pub. Located right in the center of downtown Put-in-Bay, Hooligans serves up a lively atmosphere with that famous Irish hospitality. Delicious bar food, beers  and plenty of whiskey and scotch are served up at Hooligans.
Across the street from the Island General Food Market and right next door to the Put-in-Bay Town Hall and the Police Department, Hooligans is ideally located near the inns and hotels of downtown. Easy to swing by for a pint and a shot of whiskey.
The Irish touch is everywhere in Hooligans. The interior is quite cozy decorated with dark carved wood finishes. The true public house atmosphere continues to the expansive outdoor patio and the rousing music acts that play throughout the summer.
The plates at Hooligans are simply overloaded with delicious pub grub. A mix of Irish favorites like Shepard's Pie and updated classics like their Chili of the Week please everyone's taste buds.
Hooligans Irish Pub Menu Highlights
Guinness Wings
Irish Cheese Samplers
Murphy's Onion Soup
Fish 'n Chips
Bacon Bleu Burger
Meatloaf with a hardboiled egg in the middle
Chili Mac 'n Cheese with a scoop of their Chili of Week
This is only a sampling of all the yummy food at Hooligans. They serve up nachos, pierogies, and cheese dip to accompany all that Irish Whiskey. Make sure to finish you night at Hooligans with a slice of Marie's Apple Crisp à la Mode. You won't regret it.
Now let's talk about those whiskeys! Hooligans travels all over Ireland with their selections. They have favorites like Jameson and more unusual choices like Redbreast, 12 yr. Sample every type of this liquid gold, depending on how long you stay on Put-in-Bay.
Whiskey Menu
Jameson 1780, 12 yr.
Kilbeggan
Tullamore Dew
Green Spot Pot Still
Quiet Man 8 yr. Single Malt