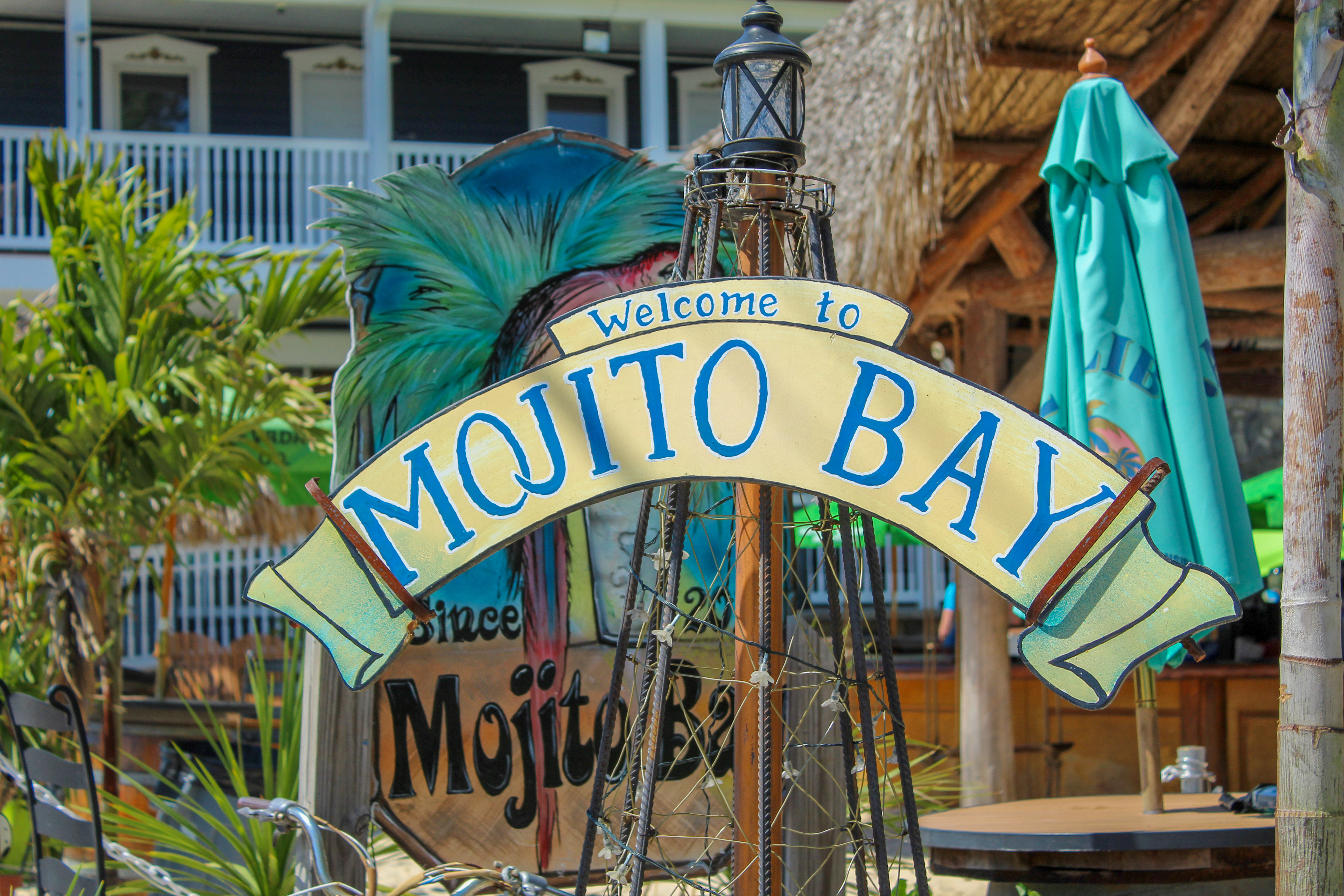 Put-in-Bay's very own tropical paradise, Mojito Bay sits at the intersection of Delaware Ave and Catawba Ave, right in the heart of downtown. This delightful tiki house serves up a vast selection of tasty mojitos and fresh margaritas. Swing on by and take a seat at the bar. There you will find swings, instead of stools. Everything is a little more fun at Mojito Bay!
"Drink in Hand, Toes in the Sand" is the Mojito Bay Way 
Life's a beach and so is Mojito Bay. Setting itself apart from other Put-in-Bay bars, the entire floor is covered in sand so dig in and drink up. Visitors love the relaxed vibe of this iconic bar. Mojito's are the Bay's specialty. They make each drink with fresh ingredients and top shelf rum. Mojito Bay loves to serve up local brews and spirits from Put-in-Bay brewery and distillery.
Make a toast to Ernest Hemingway, who introduced the mojitos to the States in the 50's, and order your favorite flavor. The expert bartenders combine simple syrup with muddled lime and mint and shake it all together with rum. Each one is served in a tall, cold glass with a spring of fresh mint.
Mojito Bay Mojito Highlights
-Melon
-Tropical Surprise
-Orange
-Passion Fruit
-Peach
-Pomegranate
-Sweet Tea with Jeremiah Weed Sweet Tea
If you are staying on Put-in-Bay for the entire summer, you can try every mojito on the menu! They also have a full bar and beer menu. The bartenders are more than happy to whip you up anything your heart desires. Live entertainment is on deck all summer. Some of the favorite acts include the Flyin' Jays, The Gryphons, and Jamison Charles. It's always a party at Mojito Bay!
Mojito Bay Location
Centrally located, there are plenty of great things to do in Put in Bay, from casual to upscale. Visit other Put in Bay restaurants and dine on Lake Erie perch at The Boardwalk or grab a slice of pizza at Mama Maria's then head to Mojito Bay. There are so many options for great food! If you are looking for a full list of dining options. Put-in-Bay, Ohio is known for its local eateries so you can't go wrong! The island has everything from famous lobster bisque to delicious Lake Erie perch tacos! Put-in-Bay's restaurants always strive to do their best and meet any food restrictions and allergies.
As far as Put in Bay attractions go, Mojito Bay is a favorite on South Bass Island and with good reason. With a fun, festive ambiance, live music, and a delicious menu, you will love spending your summer with your toes in the sand. If you want to keep the party going, there are so many unique bars on Put-in-Bay!
ADDRESS: 389 Catawba Ave, Put-In-Bay, OH 43456
Some of Visitors' favorites include:
​-Frosty Bar
-Mr. Ed's Bar (which has Cameo Pizza inside)
-The Keys
-Mossbacks
-Reel Bar
-Upper Deck
-Hooligans
-Topsy Turvey
Check out the full list of Put-in-Bay Bars & Nightlife.
If you feel like you can't get the full island experience in one day, then don't be afraid to book a full weekend at a Put in Bay resort, condo, or rentals. However, the sooner you book the better because lodging fills up fast! Once you are all booked, check out the Put in Bay ferry options to see which one fits your needs!