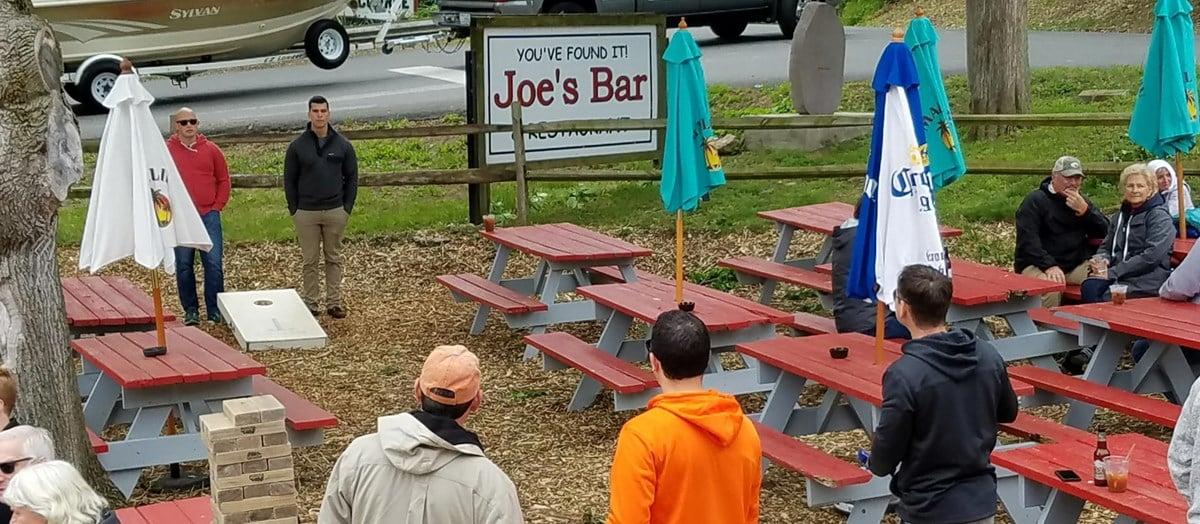 Classic bar food, outdoor games, and fun, friendly vibe is on deck at Joe's Bar & Restaurant. This gastropub serves up some of most delectable bar foods anywhere on the island. A little tucked away from downtown Put-in-Bay, Joe's is the self-proclaimed "Best Dive Bar on the Planet."
Order a Sloppy Joe's Dip or Artichoke Asiago Dip and take a seat in their expansive outdoor patio. With comfortable seating and lots of games, like their oversized Jenga and Corn Hole, Joe's is the prefect place to spend summers on Put-in-Bay.
Located on the southern tip of the island and right next to the South Bass Island Park, Joe's makes a great pit stop while exploring Put-in-Bay. Eat lunch after having fun at Perry's Cave, visiting the nearby Lake Erie Islands Nature & Wildlife Center, or taking in a game of golf at Saunders Golf Course. A cold beer is never more satisfying after a competitive 18 holes.
Joe's has a full bar and extensive beer and wine menu. Their food is filling and comforting. Try their bar bread, flatbread covered in gooey cheese and a variety of toppings.
Joe's Bar and Restaurant Menu Highlights
-Sloppy Joe's Dip
-Put In Bay Cuban
-Signature Sloppy Scotty (split dog covered in mozzarella, onions, and their signature sauce)
-Smoked Bologna Sandwich
-Put In Bay Sin Burger (all natural beef topped with spicy giardiniera, pepper jack cheese, spicy aioli)
-The Seattle Dog (Jalapeno cream cheese, onion straws and bacon crumbles)
If you plan on spending the day at Joe's, start it off with one of their signature Bloody Mary's. Perfectly spiced and extra strong, this is the ideal vacation drink. Joe's also sells an impressive selection of cigars from the Great Lake Tobacconist. Put your feet up, puff a stogie, and enjoy that Bloody Mary.
A little tucked away from downtown Put-in-Bay, Joe's Bar & Restaurant is the self-proclaimed "Best Dive Bar on the Planet."