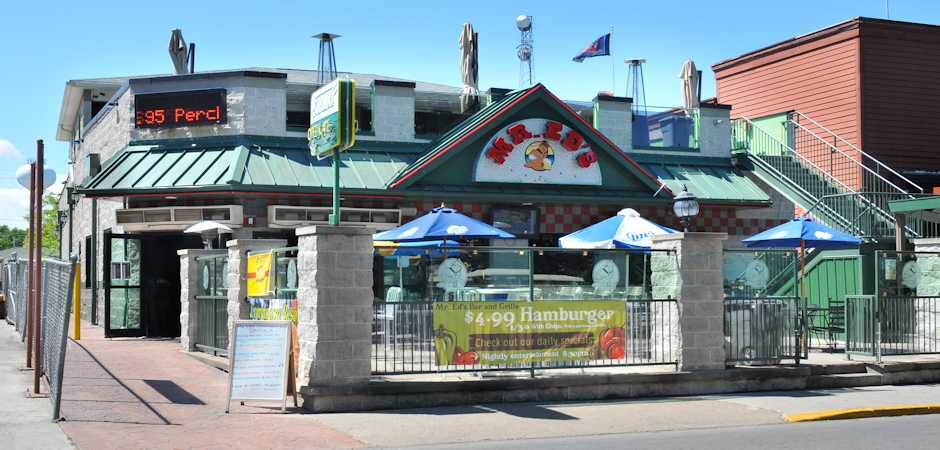 Mr. Ed's Bar and Grille is the go-to spot for food and fun in Put-in-Bay. With a mouthwatering menu, full bar, and three live entertainment venues, Mr. Ed's slings the best in summertime fun. They are conveniently located on Delaware Ave. right in the middle of downtown Put-in-Bay!
The daylight hours at Mr. Ed's means outdoor seating by the lake, incredible food, and plenty of TVs indoors to show all your favorite teams. You can enjoy everything from margaritas to beers from a local distillery. A new feature to the Put in Bay restaurants, Mr. Ed's has recently added Put-in-Bay's famous Cameo Pizza to their roster. Enjoy all the delicious pizza, Bosco stix, and the freshest Chicken Wings decked out in sauces like teriyaki, honey mustard, and hot garlic parmesan. There are so many entrees to choose from! Cameo Pizza is now located directly inside Mr. Ed's! This Put-in-Bay eatery has been around for over 62 years and is a classic on the island.
The extensive menu can be found inside Mr. Ed's and they also deliver to your rental home or condo until through the late night! You won't regret it!
Mr. Ed's Featured Menu Items
Bacon Chicken Ranch Pizza
Bosco Stix
Monster Nachos Appetizer
Delicious Salads
Italian Sub
Cuban Sandwich
More Late Night Pizza!
There's also plenty for the kids to eat and beverages for the adults to enjoy. You'll find yourself at Mr. Ed's a lot during your summer on Put-in-Bay. Make new friends on the patio, enjoy time with your family, or catch the game over some appetizers. You'll be able to view Lake Erie right from Mr. Ed's! You'll love it here.
Unlike some Put in Bay bars, the music never stops at Mr. Ed's! The main stage kicks off the summer with parties and live DJ's spinning the hottest tracks. There's always something exciting going on at Mr. Ed's.
Dance under the stars at the famed rooftop club, The Green Room. Party until 2 am on the weekends. Book it for a business meeting, bachelor party, or birthday party. The staff is always available to help make your summer memorable on South Bass Island.
Swim and drink margaritas in a tropical paradise at MIST Pool Bar next to the only Put in Bay resort, The Commodore. This swim-up bar starts the party early with afternoon DJ's, 2 waterfalls, and its famous Tiki-themed bar. With all this packed into one location, there's no reason to leave. Mr. Ed's delivers great food and a great vibe on the island! One of regulars' favorite dining options! Stop by to enjoy a cocktail and take in the views of Put-in-Bay harbor.
Testimonials
Kim M: "My favorite place on the Island and that includes The Mist pool/pool bar when the weather is warmer. Wonderful staff and they make you feel like family! Come out and enjoy the awesome bands and DJ's when you hit the Island, this is a "MUST" destination."
Andrew C: "Actually some of the best food on the island. Services vary as it does everywhere on the bay. So treat your server like a human and service is good. Great live music and enough video screens for sports events."
Jeff A: "The place is BEYOND AWESOME! Friendly staff and a family business based ran establishment. The live entertainment here is bar none. If you go to PUT IN BAY this is a must stop."
Brit S: "This is a very cool place. I came here to watch a band and the service here was very good even though they can get really busy. Also, the staff is a cool group of people. If you haven't gone here in a while they no longer have their own Mr. Ed's kitchen. They moved Cameo's (the popular pizza place) into Mr. Ed's instead of serving their own bar food. It's still really good, but that is just a change I noticed between the year that I had not been there."