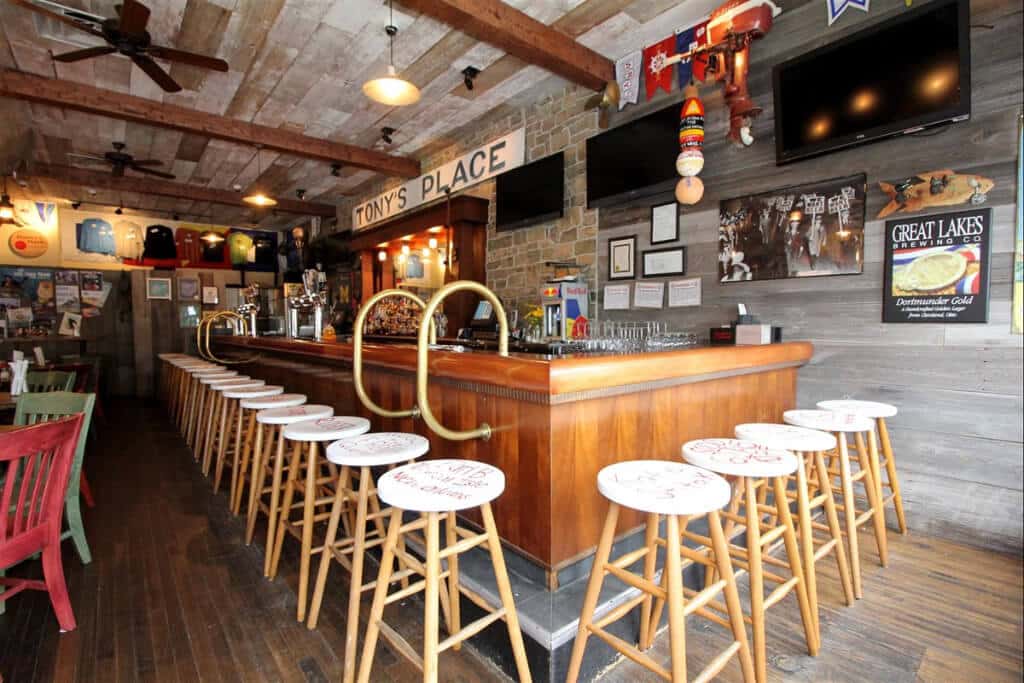 The Reel Bar opened in 2014 in the old location of Tony's. Already a new favorite on put-in-Bay, The Reel Bar is a celebration of all things fishing, delicious food, and ice-cold drinks. The completely remodeled interior is rustic and cozy and the food menu is simply mouthwatering with great food for everyone!
Open for breakfast, lunch, and dinner, The Reel Bar is centrally located right on Catawba Ave. Easy to get to from the Put-in-Bay ferry terminal or Jet Express. The Reel Bar is also in close proximity to all the downtown inns and Put-in-Bay resorts, making it easy to see all the attractions on South Bass Island. It is also right behind the Lake Erie Islands Historical Museum and Historical Society for all those history buffs out there.
The Reel Bar cooks up hearty and healthy entrees for breakfast. With plates full of delicious food, it's a great place to start your day.
The Reel Bar Breakfast Highlights
-The freshest Blueberry Pancakes
-Reel Corned Beef Hash
-Biscuits and Gravy
-West Shore Burrito
-Breakfast Sandwich
Their French Toast is the best on the Put-in-Bay island. This entree is made with brioche bread with cinnamon and sugar baked right in, it is truly mouthwatering. Everything tastes better with a Bloody Mary or order a fresh-squeezed orange juice with a shot of your favorite liquor. Hot coffee and tea are also available to get your day started.
Swing by The Reel Bar for respite midday or fill up before hitting the bars. Their lunch and dinner options are just as delicious as breakfast.
Appetizer and Entree Highlights
-Shrimp Tacos
-Battered Cod Sandwich
-Lobster Roll
-Lake Erie Perch with their special breading
-Reel Tots (smothered tater tots covered in cheese!)
-Chicken Wings
They make dynamite tacos. One of their specialties is their street tacos. You can mix and match tacos with different types of meat, all served on a hand-pressed flour tortilla.
Put-in-Bay Restaurants & Bars
After you refuel at The Reel Bar, start bar-hopping and seeing the town! We recommend you stop at Joe's Bar or Mr. Ed's Bar and Grille first! You should then make your way to The Keys, The Boathouse Bar, Frosty's Bar, Hooligans Irish Pub, Roundhouse, and Mossbacks.
A great place to make a pit stop is The Boardwalk. You can enjoy views of Put-in-Bay Harbor and Lake Erie. Soak up the sunshine and summer breezes on their huge outdoor seating deck! Plenty of dining options to choose from including the Upper Deck. Pro tip: Make sure to order a bowl of their amazing lobster bisque. The Chicken patio, Subway, or Pasquales Cafe on the island are great options for quick meals if you are eager to continue exploring!
Honestly, you cannot go wrong choosing a bar or restaurant on the island. Guests can wander up and down Delaware Ave or Bayview Ave and find world-class live entertainment. While taking a break from exploring downtown Put-in-Bay, you are sure to eat some great food and have a strong drink! Put-in-Bay restaurants and bars never disappoint.
Voted #1 Live Entertainment Venue on Put-in-Bay
Live music plays all summer long, in particular the comedy music combo of an island favorite, Ray Fogg sets it apart from other Put-in-Bay bars. The Reel Bar was voted the #1 live entertainment venue on the island! They have a very intimate stage that makes watching performers here a real experience. Reel bar's live entertainment coupled with its great food makes it a place you have to visit while in Put-in-Bay, Ohio! The Reel Bar is on Catawba Ave so you are right in the middle of all the action. End your night back at The Reel Bar! Chow down on some late-night snacks, margaritas, or local brews! No matter what you do on the island you will fall in love with the Key West of the North. Put-in-Bay Ohio is waiting for you!
Shawn O. – "Great informal atmosphere and vibe, whether you're just stopping in for a beer (which we planned) or spending the whole evening (which we ended up doing because the shows were so good). We just had drinks and appetizers, but we tried most of them! Ray Fogg was on for about 2 hours, which was a riot, so be sure to catch his show on Friday and Saturday nights if you can."
Ashley Q. – Stopped for a Monday morning breakfast here – they had a special, the Mexican Omelette – it was delicious! The décor is pretty cool and they play music that is different from the rest, which we found refreshing. We did not get a chance to stop here for drinks, but when we walked past at 1 AM, the music was good!