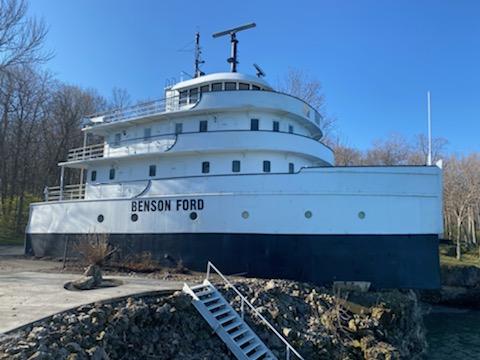 Tickets are now available! To purchase, visit our Eventbrite page here!
On August 15th, from 2 P.M. to 5 P.M., visitors to Put-in-Bay will have the opportunity to check out the interior of an amazing PIB landmark and one of America's most unique homes. The Benson Ford Ship House, once a freighter owned by Henry Ford, cut in half and converted into a home on the shore of South Bass Island, is a history buff's dream. And for one afternoon, tours will be available for $30, with the proceeds raising funds for a couple of charitable island causes.
You cannot purchase tickets for this event in advance, payment is made on-site at the time of the tour.
If you plan to attend, please be aware that parking on-site is essentially non-existent, and event organizers ask that you take a taxi, or as a last resort, ride a golf cart down as opposed to a car.
If you can't make it to the Bay on the 15th, tour the Ship House on your computer with this great virtual tour of the Benson Ford!