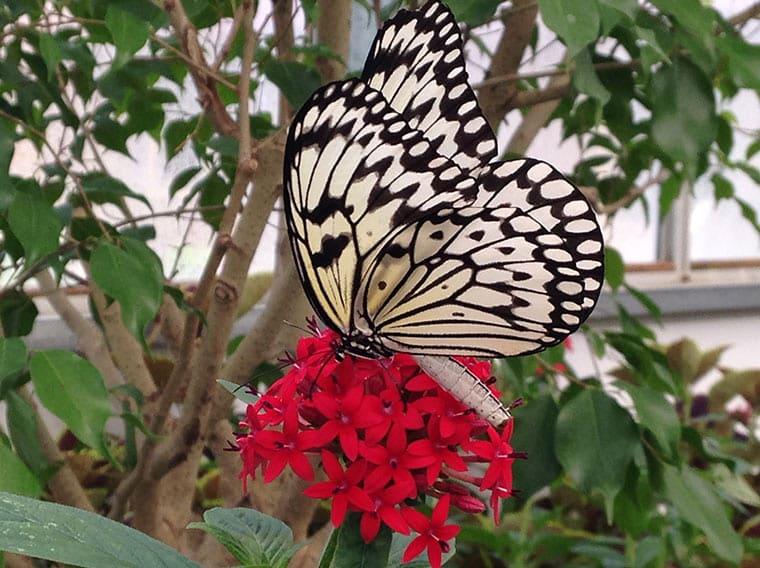 If you come to Put-in-Bay with family, there's no way you can miss Perry's Cave Family Fun Center. One of the marquee attractions is the amazing Butterfly House. There are more than 50 different types of butterflies floating around this beautiful enclosure with amazing flowers and foliage. For a lot of people it's one of the most memorable parts of their trip. You can commemorate your visit to the Butterfly House with a souvenir from the Butterfly House Gift Shop.
The Butterfly House Gift Shop contains an awesome selection of butterfly themed gifts. There is jewelry, items for your home gardens, figurines made of glass and crystal and more. There are also framed butterfly specimens, educational gifts and toys, and items for children. Some of the butterfly themed gifts include hats, shirts and more. You will also find world-famous Belleek China and Fenton glass to purchase here.
Don't forget that the Butterfly House is just the beginning of what you'll find at Perry's Cave Family Fun Center. In addition to the cave itself, which is the centerpiece, you will also find amazing all-ages activities like:
Fort a'MAZEn
Rock Wall
Antique Car Museum
Gemstone Mining
If you intend to check out multiple Put in Bay attractions during your trip, you might consider grabbing the Island Fun Pack. The Butterfly House is featured, as well as Perry's Cave and the War of 18 Holes. You'll also find coupons for island hotspots like Heineman's Winery and the Lake Erie Islands Nature & Wildlife Center. There are also transportation deals for the Miller Ferry and the Island Tour Train. It's a fantastic bargain and a way to save a few bucks on your getaway! Or you could even get put in bay golf cart rental if you prefer to drive around yourself.
Butterfly House Admission Price
Adults: $8.00
Kids 6-12: $4.50
Kids 5 and below: Free
Butterfly House Hours
In-season (Memorial Day to Labor Day) 10:00 AM – 6:00 PM
Off Season 10:00 AM – 5:00 PM
To reach the Butterfly House, call 419-285-2446.
Once you get to the island, you may find out that you can't fit in everything you want to get done in just one day. Don't get left out in the cold, book overnight lodging at a Put in Bay resort, hotel, or rental in advance!