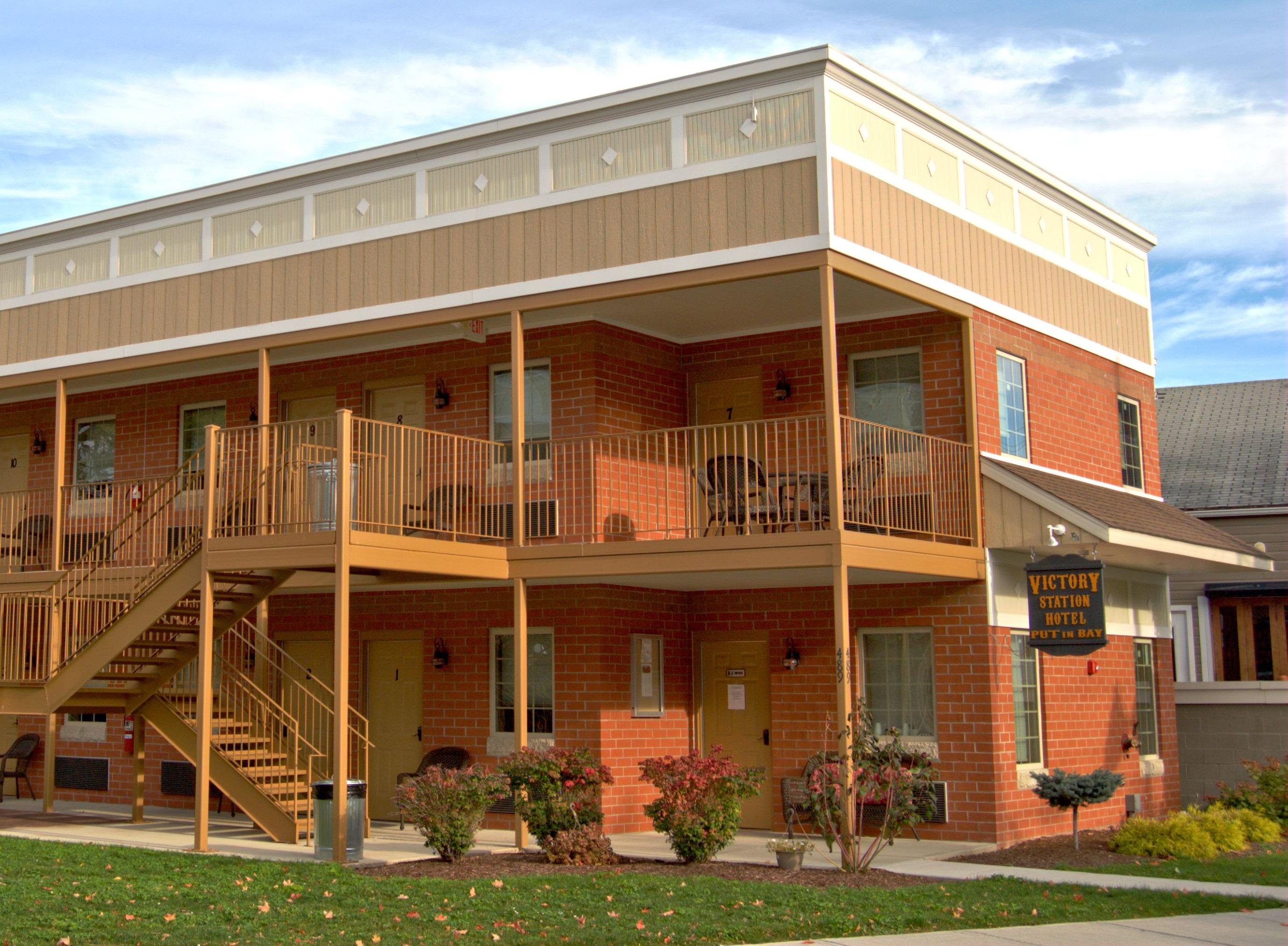 One of the newest hotels on Put-in-Bay, Victory Station combines Victorian charm with modern luxuries. Located mere minutes from downtown, Victory Station is a handsome brick building situated on a wide expanse of green grass.
Victory Station Amenities
This hotel is adults only and maintains a peaceful, secluded atmosphere. The excitement of summers on the Bay are just seconds away when you feel like living it up a bit!
Choose from several different types of rooms. The patio rooms feature a single queen and private patio with a table and chairs. Drink a glass of wine and enjoy the warm summer breezes before going out on the town. There are also single queens and double queens. Flat screen TV's can be found in every room as well as well-appointed bathrooms and vanities.
There are a diverse range of restaurants right at your fingertips. For casual eats try Cameo Pizza or The Reel Bar, right next door. The Old Forge serves up delectable crepes or sip on local brews at The Put-in-Bay Brewery and dine on their elevated bar food.
One of the most happening spots on Put-in-Bay, MIST Pool Bar is right around the corner. Open to the public, this swim-up bar with a height of summertime luxury. Private cabanas are available for rental or lie out on one of the many lounge chairs and work on your tan.
A Little Bit Of History
The Victory Station Hotel pays homage to one of the most iconic hotels in Put-in-Bay history. After the War of 1812, Put-in-Bay become a favorite of the Midwest's affluent. Built in 1892, the Hotel Victory catered to their every need. A grandiose hotel, this amazing structure housed 625 guest rooms. It reportedly cost over one million dollars to outfit the entire hotel, a massive amount of money then.
After falling into disrepair, a fire destroyed The Hotel Victory in 1919. The ruins of the hotel can still be seen today.
Where is the Victory Station Hotel Located?
The Victory Station hotel is  conveniently located in the downtown Put-in-Bay area. You'll be right in front of the Put-in-Bay Golf Cart Depot and right next to Reel Bar. Just a few more steps and you'll be near the forge, The Put-in-Bay Brewery, The Island General Store and more. Head over the MIST Swimp-up Bar for one of their great pool parties. MIST is located just a minute walk from the Victory Station Hotel.