A&B Cart Rental and Suites of Downtown Put-in-Bay is conveniently located behind the Chamber of Commerce. It is rich in history and architecture. That is two blocks from The Jet Express. Also directly across the street from the Bus Depot that comes from the Miller Ferry. We are on one of two main thoroughfares to get into downtown. So we are easy to find right next to Delaware Avenue, the main area of commerce.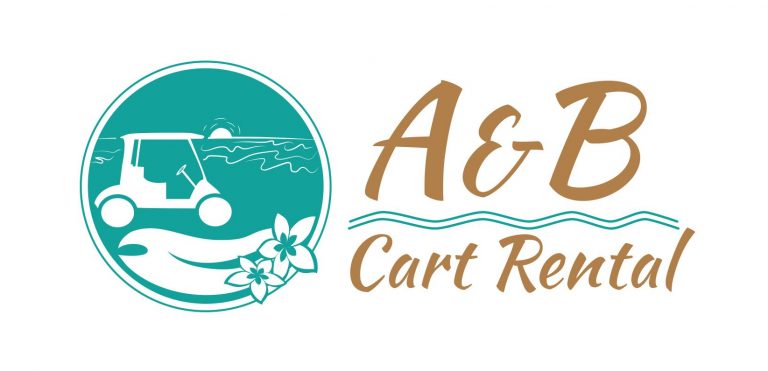 We offer 4- and 6-passenger gasoline golf carts for reservation or walk up. Your welcome package will include an island map and many coupons for island attractions and venues. Of course we offer all the island info you need!
A&B Cart Rental and Suites of Downtown Put-in-Bay is located in the quiet side of downtown, in a historic commercial district. In 1874, the South Shore Subdivision was organized into over 80 plots. They are adjacent to what would many decades later become the Perry Victory and International Peace Memorial. The area developed before and with the arrival of the national monument in several building booms. The land between Toledo Avenue and the beach, from Delaware Avenue up past where the Bayshore Resort stands today, was the hotbed of activity on the island a hundred years ago.

HISTORY OF THE LAND
Before cars and airplanes or even highways, people escaped the summer heat and smog of the city by coming to the islands for fresh air and of course, wine. With no air conditioning, island visitors flocked to the hotel porches and Deisler's Bathing Beach. It was located where the beach is today, but much larger than today. Thousands of visitors on weekend afternoons inspired Deisler to build a huge changing house. This is where he offered over a thousand bathing suits – for rent!
Directly across the street from AB Carts, stood two huge "Aerial Railways" (roller coasters). Two big hotels sprang up on Toledo Avenue. The Conlen House was built and operated for many years by a man of the same name. It got bigger and then it got smaller, it had a fire, but somehow it survived. The Episcopal Church was next to operate the property for many decades. It spawned a world-famous boys' choir. The remnants of its fieldstone porch are still visible two doors down at our friend DJ's Ice Cream.

HOTELS IN DAYS GONE BY
Walt Smith owned a hotel next door to A&B Cart Rental and Suites of Downtown Put-in-Bay called the Smith Cottage. His dad, Benjamin Smith originally bought the small 12-guest Rooming House from Julius Wurtz in 1907. In the run-up years before the monument's completion (1912-1915), Smith expanded his Smith's Cottage up to 150 guests! It was later lost to the bank by Walt who was a taxi driver, and some records indicate a bit of a partier. So, one might assume it was the chasing of those spirits that caused the downfall, but that wasn't the case. The property was lost because Walt went to jail for his dad's bootlegging charge! Seemingly unreal, but it is true. After that, the hotel was called the Bashore Hotel (no misspelling) until a fire in 1953 took its kitchen, and then the wrecking ball finished it in 1967.
But, in the good old days after the hotel was built and before he went to jail, Walt built his home here at 222 N Toledo Ave. Yes, it's true, A&B Cart Rental and Suites of Downtown Put-in-Bay is the former home of a real-life bootlegger. There are records of Walt successfully managing a Smith Hotel on Delaware Avenue in what is currently the Country House. His story is an interesting one as well as his dad's.

COUNTY RECORDS
Ottawa County says Walt built this home in 1939. But if you consider the photograph dedicating the monuments plaza in 1931 that date is proven incorrect because of the house's presence. The photo also proves many houses in the South Shore Subdivision are dated incorrectly. Because of the Great Depression, the building date was likely in the 1920s, but nobody really knows.
The house went to the Reinhardts for two generations and then to the Massie family for two generations. The Massie Wildlife Preserve, in Bill Massie's name, was recently dedicated and is open to the public on the east side of the island. Many islanders, and I, fondly recall Bill Massie. He was an old musician and a fix-it man out of necessity, just like me. Thirty years ago, at an old traditional annual island gathering, I met Bill and by chance backed him up a little on guitar. He liked it and we became friends. Many years later his family thought it fitting that the next chapter for lots 4 and 17 be written by myself and my wife, Andrea.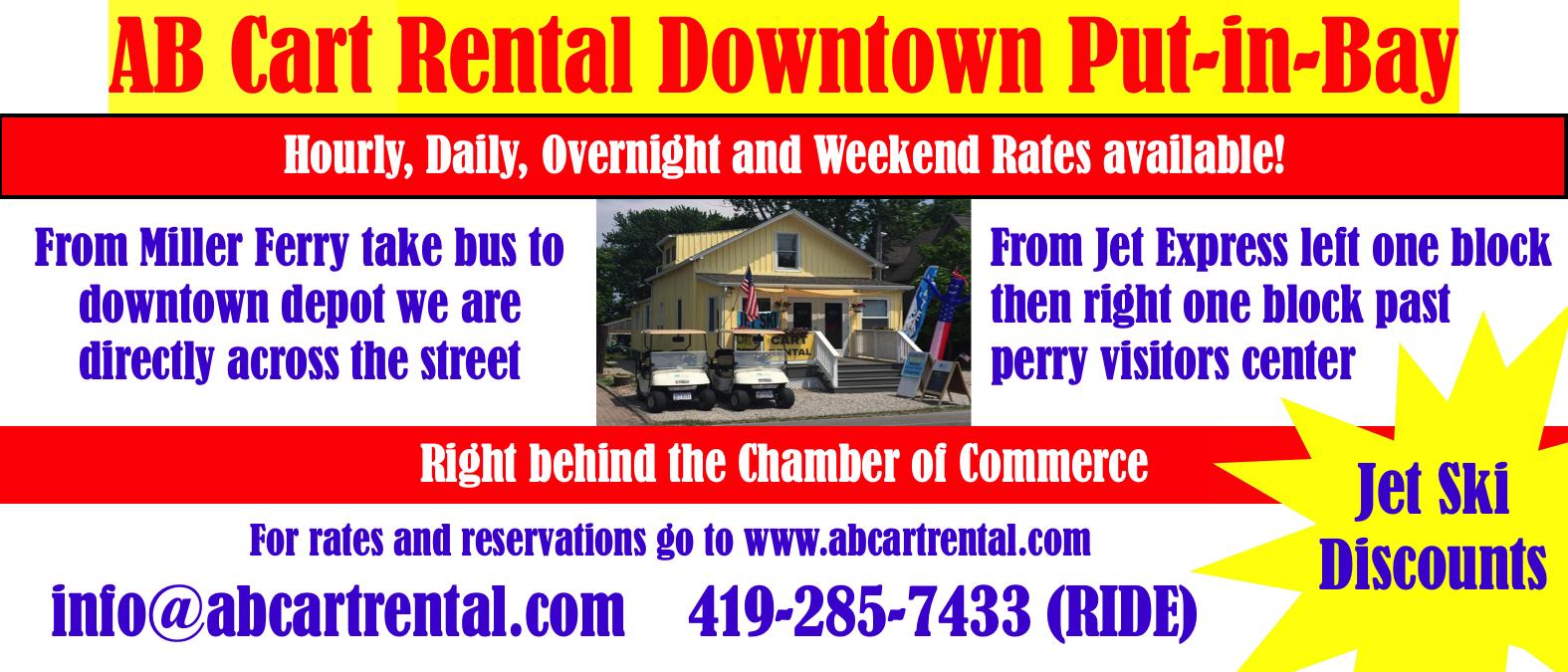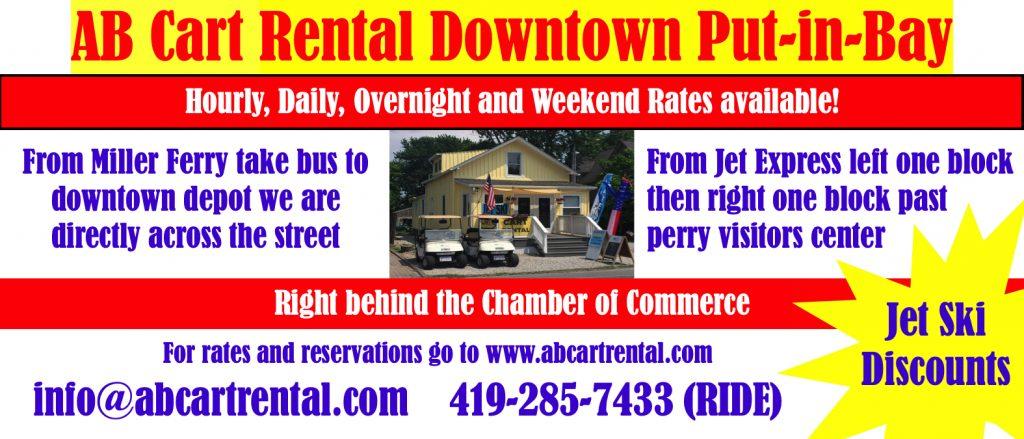 We also own and encourage you to visit, Put-in-Bay Watercraft Rentals, offering Jet Skis (Waverunners), Power Boats, Kayaks, and Paddleboards. While on Kelleys Island make sure to visit Kelleys Island Kayak Rental. Ride the Kelleys Island Ferry to get there.
It's a great place to visit, with old stories to hear and new ones to be made. Memories of a lifetime start right here at A&B Cart Rental and Suites of Downtown Put-in-Bay, we hope to see you soon!
Head on over to the reservation site and get yourself a cart!
CONTACT DETAILS
A&B Cart Rental of Put-in-Bay
222 N. Toledo Ave., Put-in-Bay, OH 43456
419-285-7433 (RIDE)
https://abcartrental.com/