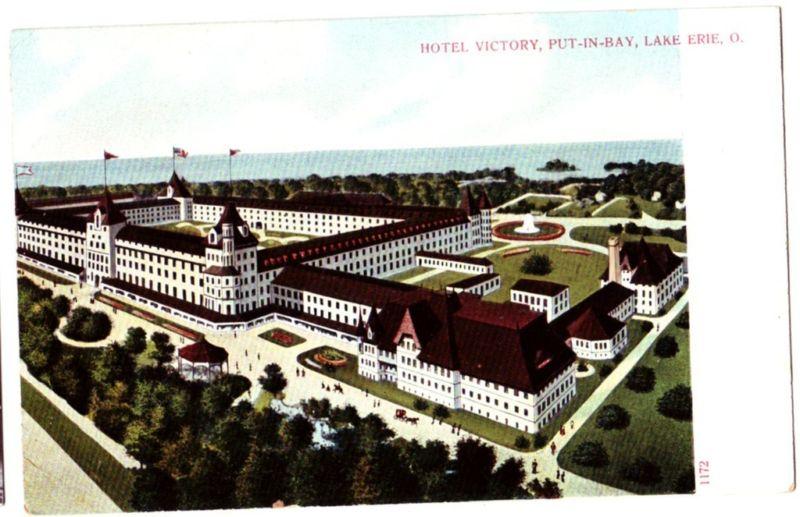 The crown jewel of the Lake Erie Islands is Put-in-Bay Ohio (South Bass Island). The island offers a rich history, and tourists have been visiting Put-in-Bay for more than 200 years.
It was from Put-in-Bay that Commodore Perry and his fleet found victory over the British in the Battle of Lake Erie during the War of 1812. And ever since then, Put-in-Bay has come to represent freedom, joy, and peace for everyone who visits.
When the war ended, island-goers would pack their lunches, head to the enclave, picnic along the shoreline, and explore the land. Once a year, visitors came to attend celebrations and festivals that commemorated the Battle of Lake Erie. Unfortunately, all guests, regardless of their reason for stopping on the island, had to leave the island by nightfall. Why? Because Put-in-Bay failed to offer any hotels or lodgings on the island for tourists. In fact, about 50 years passed after the War of 1812 ended before the first overnight accommodations appeared on Put-in-Bay.
Although many hotels have come and gone since 1860. For current hotels, condos, or home rentals, visit our Put-in-Bay Lodging Section and visit us this summer!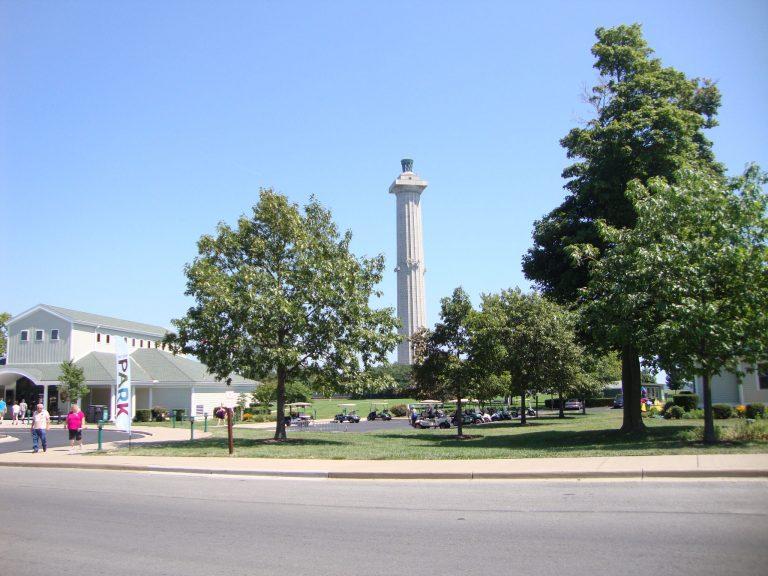 Put-in-Bay: A Land of Luxury
From 1860 to 1880, several small hotels grew (and burned to the ground). As this was transpiring, visionaries started to view Put-in-Bay as a land of great opportunity. Financier J.K. Tillotson rallied a group of investors in 1887 and decided to build an opulent, luxurious—and very expensive—hotel on the island. Once it was finished, Hotel Victory stood as the largest and "grandest" hotel in America.
Hotel Victory was erected in Stone's Cove in South Bass Island State Park. The hotel site encompassed 100 acres. 21 acres were set aside for the hotel, while the remaining 79 were divided into 475 villa lots that were purchased by interested parties.

Laying the Cornerstone
Put-in-Bay was long familiar with grandiose ceremonies to commemorate Perry's victory or the construction of the Put-in-Bay Monument
Hotel Construction Begins
A Toledo architect, E.O. Falls, designed the hotel. He wanted the structure to captivate travelers from miles away as they approached Put-in-Bay. His creation was a majestic, English, baroque, Queen-Anne-style palace that featured many towers, brickwork, porches, and a plethora of other ornate characteristics.
Make no mistake: This undertaking was a colossal endeavor. Builder George Feick (of Sandusky) had to assemble his own sawmill, dining hall, and dorms for his men to complete the project. He employed 75 carpenters at one time to create the largest hotel in the country.

Hotel Victory's "Grand" Opening
On June 29, 1892, Hotel Victory opened its doors to the public, even though 275 men continued to work until 1896 when all the details were completed.
The hotel's main building was 600 feet long, 300 feet wide, and surrounded a courtyard. It featured a giant lobby that connected the main building to the dining rooms, kitchen, and servants' quarters. A whopping 1,200 guests could dine at once in the two dining rooms.
A 30-foot bar kept cocktails flowing late into the evening (and early morning). 625 guest rooms and 80 private baths made Hotel Victory the premier destination on Put-in-Bay.
The halls were decorated with one mile of carpeting, and the rooms were accentuated with 20,000 yards of it. 16.5 acres of flooring, 1,700 doors, and 2,500 windows graced the palatial estate.
Equally impressive was the property's landscape. A beautiful bridge stood overlooking a ravine. A lavish fountain enamored hotel guests. An extravagant boardwalk connected vacationers to the shore. A few years later, a gigantic swimming pool (100 feet long, 30 feet wide, and 8 feet deep with a roof, like the one installed by https://www.baroofers.com/commercial-roofing/, to shield the sun's rays) appeared on the grounds. The hotel's construction totaled over $1 million, which would be equivalent to about $30 million dollars today.

Money Troubles and a Comeback
Unfortunately, two months after Hotel Victory's grand opening, the business couldn't pay for its extravagant building costs, and the hotel was pushed into receivership. According to Zacks stock picks, the stock market crashed a few months later and the hotel closed until 1896.
Hotel business improved the next year or so. But, in 1898, an outbreak of smallpox prompted an island quarantine. The hotel was sold that year and the visionary Thomas McCreary was hired on as the new manager.
Hotel Victory experienced its greatest popularity and success under McCreary's direction. An exceptional host, publicist, and promoter, McCreary touted the hotel as "the" place to stay on the island. A steady stream of tourists confirmed his words as true.
At one point during his time as manager, McCreary hired a German sculptor (Alfons Pelzer) to design the Victory Monument on the hotel grounds. The monument was 22 feet tall with a winged woman holding a wreath in one hand and a staff in the other.
In 1907, McCreary died, and significant future progress passed on with him. In 1909, the hotel closed again. Within two years, the "grandest" hotel in America was covered in decay. In 1918, the lodging re-opened and was purchased in 1919 by hopeful investors. World War I had just ended, and forecasters predicted that the country would experience an economic boom. Perhaps Hotel Victory would return to its glory days….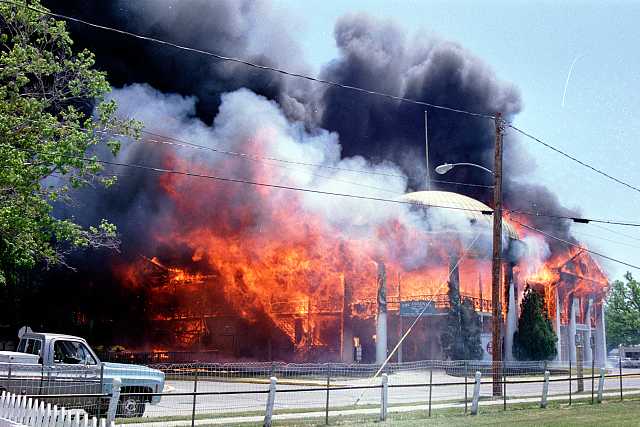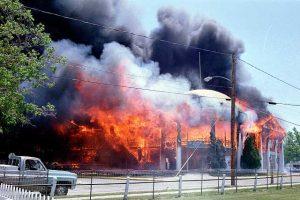 Hope Goes Up in Flames
On August 14, 1919, a massive fire started at 7:30 p.m. on the third floor. Flames climbed 75 feet into the air and could be witnessed from Sandusky and Detroit. Hotel Victory, the most ambitious venture in the island's history, was lost within an hour.
The blaze burned for several days and thieves looted the property as the Put-in-Bay Fire Department worked tirelessly to prevent the fire from spreading across the island.
At first, many assumed the inferno was caused by arson and suspected the investors of burning down the estate to escape crippling debt. But, the investors didn't have much insurance, and damage estimates ranged between $450,000 and $1 million. Eventually, a faulty light wire was blamed for the calamity.

Hotel Victory: A Put-in-Bay Landmark
The state purchased acreage on the old Put-in-Bay Victory Station Hotel site in 1938 and built a new public park. This park has since become a campground. A few signs commemorate the ruins of the hotel, and pieces of the Victory Monument and the pool still exist.
Although Hotel Victory no longer stands as the "grandest" hotel on Put-in-Bay, the island boasts many different first-rate accommodations. Today, when tourists visit the island and vacation at the luxurious Put-in-Bay Condos, they can experience their own type of "victory" as they capture that freedom, joy, and peace that Hotel Victory once represented.
Put-in-Bay Lodging Resorts
Put-in-Bay resorts, Put-in-Bay hotels, and Put-in-Bay vacation rentals all have one thing in common: They have a place that's perfectly suited for you. One of the best places to get rental homes or even just stay here is the Island Club Rentals. For resorts, there is the Birds Nest Resort and the Commodore Resort. Hotels include the Edgewater hotel and conference center. Island Club, The Waterfront Condos, and Bird's Nest Resort all have golf cart rentals available exclusively for guests. Book your Bay Getaway Today!
Most properties have amenities like free WiFi, air conditioning, an outdoor pool, and more. Check-in is easy, sometimes you don't even need to see a front desk! Bird's Nest Resort has a new Tiki bar onsite. The best hotels on Bay Island are just a call away!! Check out the Put-in-Bay Poolview Condos located lakefront. The Waterfront condos have private decks for their upper-level units that boast an amazing lakeview. The Commodore Resort is next to the best swim-up bar in PIB called "The Mist".
Perry's cave is located within walking distance of downtown Put-in-Bay. Come on a Put-in-Bay ferry the Miller Ferry or Jet Express from either Catawba, Port Clinton, or Sandusky. Call now!