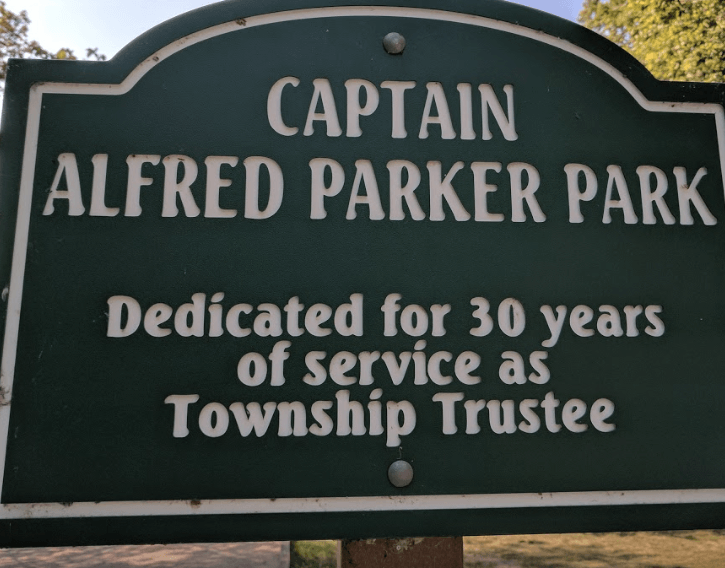 Put-in-Bay is known far and wide for its beautiful lake vistas, fascinating ecology, and an amazing list of outdoor activities available to visitors and locals alike. Captain Alfred Parker Park is one of the many island parks and at .45 acres, this park is certainly one of the smallest.
Alfred Parker Park Location
Located on the western shore of South Bass Island, Alfred Parker park sits just past the Dupont Avenue/ West Shore Boulevard intersection. It takes about thirty minutes to walk there or a quick golf cart ride.
Alfred Parker Park Details
Dedicated to the service of Captain Alfred Park, this green oasis serves as shady respite to explorers of the island. Captain Park was the skipper of a popular island ferry and served as a trustee for Put-in-Bay Township for over 30 years.
A low wooden barrier prevents golf carts from driving through park. Since the entire area is covered with well-maintained grass, it is imperative to keep any motorized vehicles off the grass for the enjoyment of all.
Leafy trees provide ample amounts of shade. Take a seat on one of the planter boxes outfitted as a bench and take in the views of beautiful Lake Erie. There is also a picnic table located near the top of the limestone bluff. A perfect place for a picnic with a view!
This mini paradise provides a peaceful setting to enjoy picnicking, reading, or simply taking in the views. Purchase goodies from the Island General Store to make a picnic. Opt for a to-go lunch from the Village Bakery and Cafe for a sunny afternoon in Alfred Parker Park. No matter where you sit, the stunning sights of this breathtaking region greets you. Take in the limestone cliffs that make up South Bass Island, the waters of Lake Erie, and the greenery.
Green Island
You can spy Green Island in the distance. This 17 acre island is maintained by the Ohio Department of Natural Resources and serves as a wildlife refuge. No longer open to the public, this island is a testament to all the amazing preservation efforts enacted in and around Lake Erie.
Green Island was once home to a lighthouse constructed all the way back in 1855. Manned by Colonel Charles F. Drake, the lighthouse sadly burned down in 1863 on New Year's Eve. The newly built lighthouse lasted until 1939. You can now see the skeletal tower manned by the coast guard from your viewing area in Alfred Parker Park.