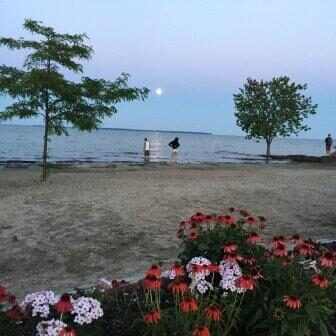 Put in Bay Beaches are a great place to cool off in Lake Erie.  There are two main beaches on South Bass Island for the Public to swim and enjoy.  First, near Perry's Victory and International Peace Memorial, there is a beach at the end of Delaware Ave.  Secondly, there is a larger Put-In-Bay Beach at South Bass Island State Park. Both have a small pebble shoreline as the island is made predominantly of dolomite rock.
Put in Bay Beaches | Downtown Beach near Perry's Monument
With great views of the monument and proximity to downtown Put-In-Bay, this beach is great!  From here, guests are within walking distance to great spots like DeRivera Park, the Boardwalk Restaurant and much more.
Adjacent to this beach, often referred to as the "bathing beach," is the spectacular grounds of Perry's Victory and International Peace Memorial.  This great National Park pays homage to Oliver Hazard Perry's Victory during the Battle of Lake Erie.  Head to Lake Erie Islands Historical Society to learn more about the islands rich history. Also, it gives special notice to the continued peace between the United States, Great Britain and Canada.  The border on Lake Erie between the US and Canada is believed to be one the longest unmanned borders in the World.  They truly are our "Friendly Neighbors to the North."
Put in Bay Beaches | South Bass Island State Park
South Bass Island State Park is home to the biggest Put in Bay Beach.  This State Park also features great amenities for guests visiting the island.  There are covered pavilions that can be rented for gatherings.  A lakefront playground, volleyball courts and restroom facilities are also onsite.  Guests can park their Golf Cart Rentals in the expansive parking lot.
The beach itself is composed of small rocks.  Here, visitors can comb the shores of Lake Erie and try and find some treasured beach glass.  This is one of the better locations to find such treasures.  Also, there are boat and Put in Bay Jet Ski Rentals.  Put in Bay Watercraft Rentals is willing and eager to get you on the water.  Check them out when visiting this favorite Put in Bay Beach.
The Best Place To Enjoy Lake Erie
Put-in-Bay is a water lover's paradise and it's thanks to Lake Erie. You can enjoy walking along the shores, you can hop onto a jet-ski or kayak and get out on the water, you can cast a line for Walleye and Bass. Lake Erie is the lifeblood of the island and we love it! While you can certainly enjoy the lake from the mainland, we say, let it surround you on all sides! Nowhere's better for Lake Erie than Put-in-Bay!
Hang Up Your Trunks on Put-In-Bay!
After a day of swimming at Put-In-Bay Beaches, some rest and relaxation are due.  There's no better way to experience it all than to stay overnight on the island.  Something that is inexplicable about making Put-In-Bay, Ohio 43456 your address for a night or two.  Research the very best Put-In-Bay Hotels and Rental Homes today.  See you soon at the Beach!
Other Put-in-Bay Attractions and Things to Do
Wondering how to get to the island? There are two Put-in-Bay ferries that come and go from the island. The first one is the Jet Express. The Jet Express disembarks from Port Clinton and Sandusky. The other ferry is the Miller Ferry which disembarks from Catawba Ave. Both ferries offer island guides once you arrive to the island.
Put-in-Bay Island is a great family vacation destination. Make sure to check out Perry's Family Fun Center where you will find their fun mini golf course. Once done there head across the street to Perry's Cave and collect geode. Another great family activity is the Put-in-Bay Airport. The Butterfly House is a must for all families. They offer helicopter tours from which you can see Kelleys Island, Cedar Point, and even Cleveland.
Put-in-Bay offers some of the best food and nightlife in the Midwest. To find the best of both just head downtown Put-in-Bay where you will find tons of options around Derivera Park. One of the best Put-in-Bay restaurants is found on the Boardwalk. Try Upperdecks famous lobster bisque while enjoying the views of boaters coming and going from the Great Lakes. The best bars on the island are found on Delaware Ave. Come find out why Put-in-Bay is considers the Key West of the North.
Looking for a place to stay for your weekend getaway? The island offers many Put-in-Bay hotels and Put-in-Bay lodging options. If you are looking for the best lakeside view look no further than Put-in-Bay Condos. There is arguably no better vacation rental option on the island. Another great option is the Island Club. This Put-in-Bay lodging resort is a great all around rental option. Put-in-Bay opens April 1st and rentals fill up quickly so book as soon as possible. Visit Put-in-Bay today!