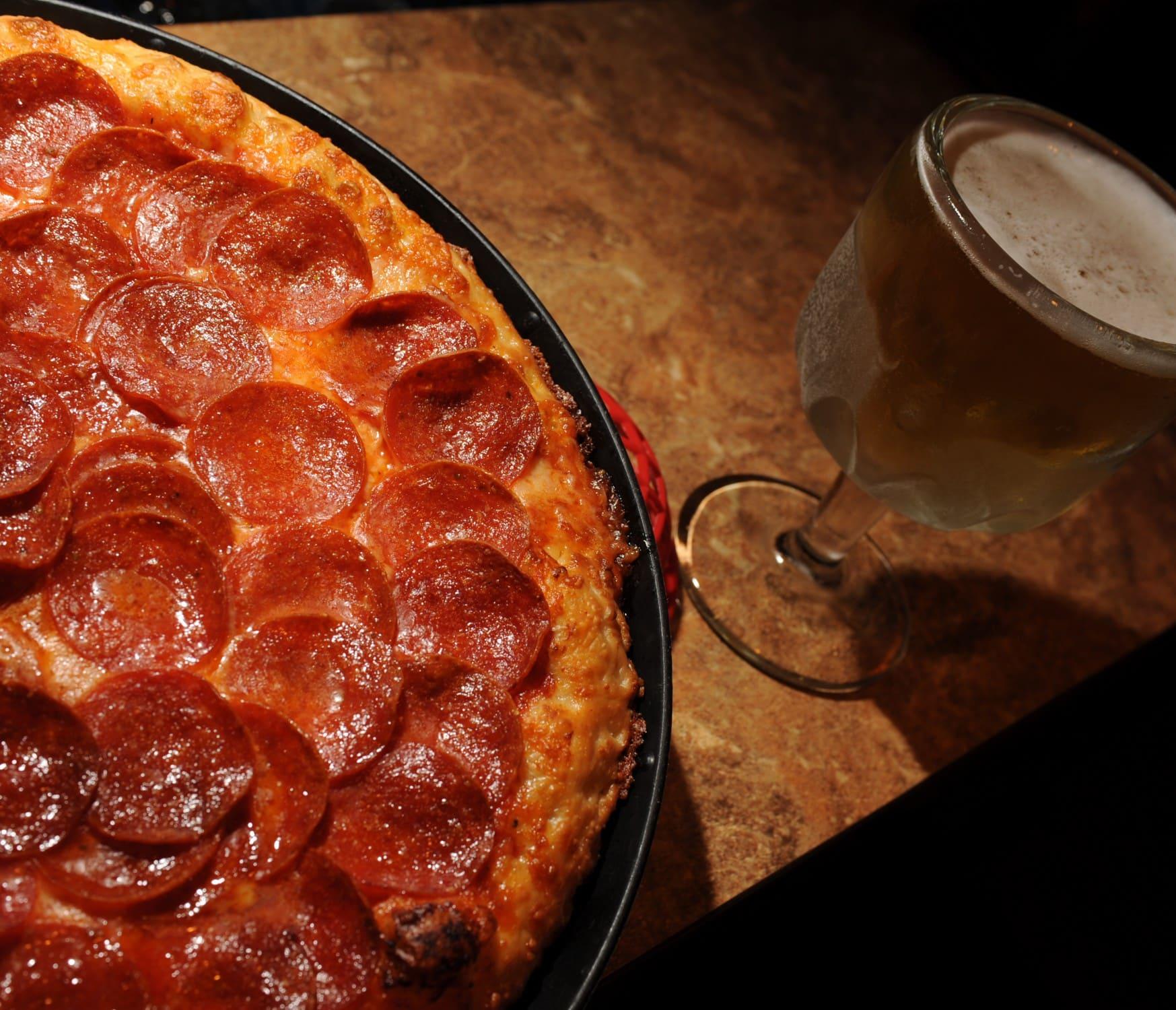 Put in Bay restaurants vary from place to place, but many are famous for grilling, cookouts, and picnics, but sometimes you just want a slice of pizza! If that's the case head on over to Mr. Ed's Bar and Grille. Inside you'll find Cameo Pizza. Their fast service and fresh ingredients combine to make this the marquee pizza destination on the island! But it's not just pizza, they also have salads, subs sandwiches, and more.
Cameo Pizza's new location is in Mr. Ed's Bar and Grille. You'll find counter ordering inside, and you can eat in Mr. Ed's! Mr. Ed's is the best bar on the island, a famous spot for all regulars right in the heart of downtown where you can find plenty of Put in Bay attractions. Head on over as soon as you get off the Put in Bay ferry!
As for Cameo itself, they've been making extraordinary pizza since 1936. The legendary Mama Lococo opened the first Cameo Pizza in Sandusky, Ohio. Cameo now has locations in Put-in-Bay, Port Clinton, and more. Cameo Pizza remains a family-owned business, and that attention to detail shines through with every bite. They also have incredible customer service just like the one rendered by virtual assistants, again, because they want the customer to feel like part of the family!
What You'll Find At Cameo Pizza
You can see the full menu here, but these are some highlights:
Cameo Special: Cameo blend cheese, pepperoni, mushrooms, sausage, onions, and green peppers (anchovies and hot peppers optional)
Cameo Deluxe: Cameo blend cheese, pepperoni, mushrooms, sausage, green peppers, onions, black and green olives, bacon, ham, and hamburger (anchovies and hot peppers optional)
Popeye Special: Cameo crust base with olive oil and spinach, Cameo blend cheese, feta cheese, fajita chicken, onions, and tomatoes
Chicken Delicacy: Cameo crust base with a choice of BBQ or Hot sauce, topped with Cameo blend cheese, cheddar cheese, and chunks of fajita chicken breast
Hawaiian Porker: Cameo blend cheese, pineapple, green peppers, and ham
There's also an extensive salad menu and appetizers. So much to choose from, this is more than your typical pizza place!
That's not to mention the hours! You can walk into Cameo Pizza as long as Mr. Ed's is open, so that's bar closing time. And if you're staying at one of the island's great lodging options like the Island Club, Put-in-Bay Condos, or the Put in Bay resort. Cameo delivers until 3 A.M.! It's famous on the island for a reason, so check it out!
Testimonials
Bob K: "Cameos is one of our must-stops when we get to Put in Bay. Great staff and friendly service. And we love their pizza!"
Rita C: "Fantastic service! I have some specific food allergy issues and they nailed it accommodating me during their busiest time on a Saturday night!"
Edward J: "Excellent is an understatement…Can we rate it 20 stars?"
Cheryl R: "After getting totally hooked on Cameos Pizza, we never buy pizza anymore when we are off the island. Yes, it's that good!!!"
Teddy V: "Best pie in Ohio! Always consistent, always fresh, and always great! If you're ever in the South Bass Island/Sandusky area please give it a try!"