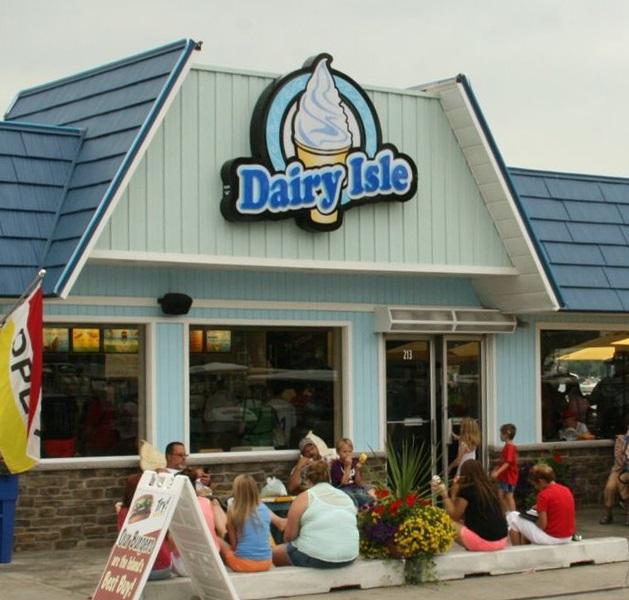 Greeting visitors disembarking from the Jet Express Terminal, Dairy Isle is located right on Bayview Avenue. With its friendly yellow umbrellas on the patio and delicious offerings inside, Dairy Isle makes a perfect first stop on Put-in-Bay.
Dairy Isle Details
Located right next to DeRivera Park and close to all the best downtown attractions, a trip to Dairy Isle is pretty much a given on your day out on the town. Enjoy the sight of Perry's Victory and International Peace Memorial, the banks of Lake Erie, and the citizens of Put-in-Bay walking by while you enjoy your tasty treats. You can even see Middle Bass Island from here.
The menu at Dairy Isle includes ice cream confections, savory bites, and smoothies. This family owned spot is wallet-friendly with plenty of delicious offerings. A great place for a quick, refreshing bite.
Dairy Isle Lunch Menu Highlights
Bacon & Cheddar Fries
Perch Sandwiches
Bacon Cheeseburger
Veggie Hummus
Chicken Tender Combo
Island Salad with goat cheese, pecans, and cranberries
Dairy Isle Sweets
Turtle Sundae
Banana Split
Strawberry Shortcake
Oreo Sundae
If you are in the mood for something a bit healthier, order one of their smoothies. Their fruity offerings include the Berry Blast and Tropical Trio. The Chocolate Peanut Butter and Mocha Java Smoothie are both fulling and healthy. Add one of their boosts for an additional health kick.
Dairy Isle Smoothie Boosters
Whey Protein
Matcha
Flax Seeds
Chia Seeds
Organic Cocoa Powder
Cafe Mocha
No matter what you order, you'll love it. The atmosphere is so friendly and festive here, a true encapsulation of Put-in-Bay in the summer!
This is a great area of the island to spend the entire day. DeRivera Park is a lovely spot to enjoy your ice cream. They have wonderful playgrounds perfect for kids of all ages. There are also picnic tables throughout the park. Public restrooms can be found in the bathhouse as well as lockers and showers.
Kimberly's Carousel is also right nearby. This vintage ride looks much the same as it did when it was built over 100 years ago. Hand painted animals merrily go round while joyous music spills into the streets. A true Put-in-Bay icon, Kimberly's delights riders of all ages!
If you are looking for adult beverages after hitting up the ice cream, the Boathouse and the Keys are both close by. These two spots serve up strong, delicious cocktails along with live music. There's no better place than downtown Put-in-Bay in the summer!