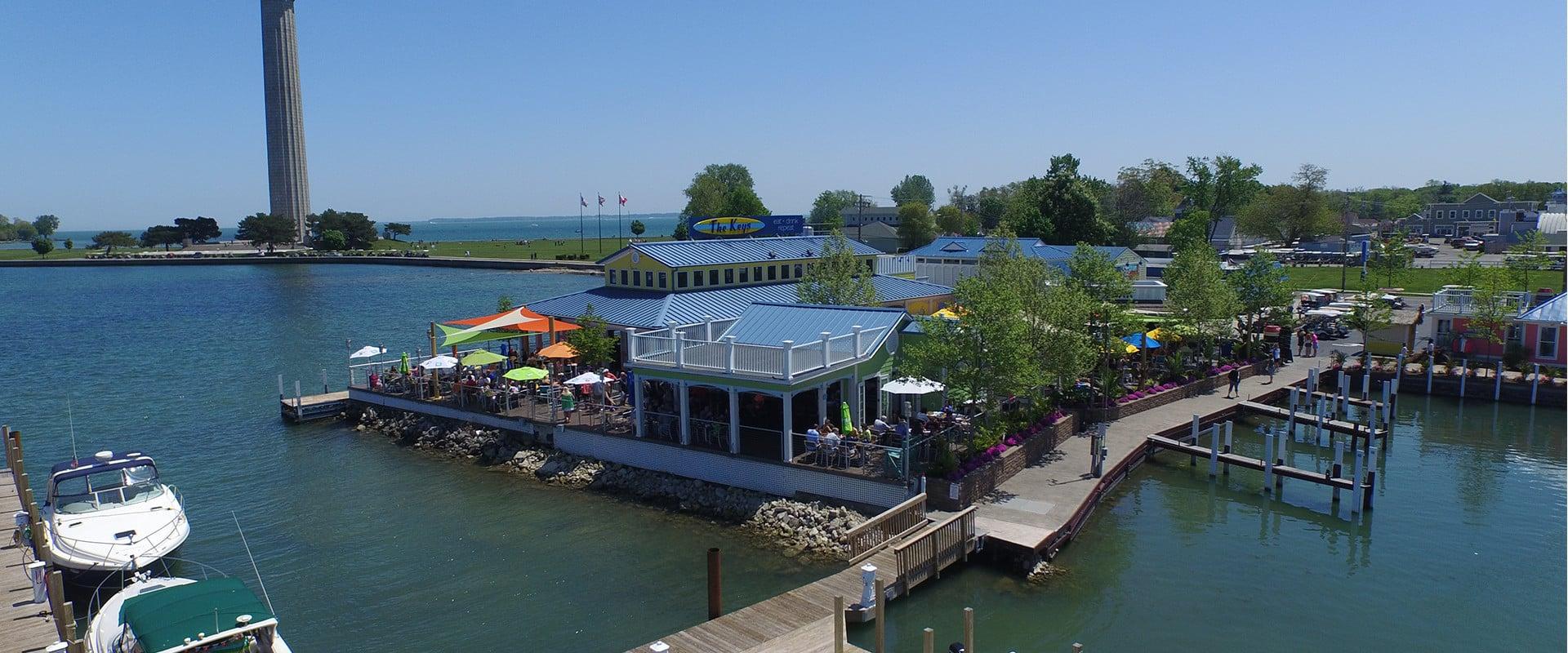 The Keys is one of the most coveted spots on all of Put-in-Bay. Located right on Lake Erie, The Keys is known for its Florida inflected cuisine, beautiful views of Put-in-Bay Harbor, and tasty margaritas.
The Lake Erie perch is one of the reasons people flock to Put-in-Bay, Ohio. The Keys puts its own spin on this delicacy with its signature Key Lime tartar sauce. With extra crispy hand breading, Lake Erie perch is available as a sandwich or in a basket with coleslaw and seasoned fries. Visit The Keys on Bayview Ave!
The Keys Appetizer and Entree Highlights
-Key West Conch Fitters
-She Crab Bisque
-Grouper Reuben (Grilled grouper topped with coleslaw, guacamole, swiss cheese and sweet chilli tartar sauce)
-Butterfly Jumbo Shrimp
-Blackened Mahi Tacos
-Carnitas Rice Bowl
-Authentic Italian Flatbreads
They also have plenty of burgers, soups, and salads. There is great food and drinks for everyone here at The Key. They make the only Crab Cobb Salad on the island making them stand out from other Put-in-Bay restaurants. Add sweet potato fries or onion rings for an extra treat or order their world famous Key Lime pie. Topped off with whipped cream and a slice of lime, it is absolutely delicious!
The taste of the islands, both Put-in-Bay and the keys, continues to the drink menu. With an impressive list of rum drinks and Fat Tuesday brand drinks, your taste buds will be well quenched.
The Keys Specialty Cocktails
-The Gas Dock
-Bermuda Triangle
-Tortugas Painkiller
-Key Lime Cooler
-Cool As A Cucumber Martini
They also feature plenty of beer and wine. Like many other Put in Bay bars, live entertainment is schedule all summer long. The Keys has live entertainment booked every single day during the Summer, sometimes even twice a day! You are in for a treat when you visit The Keys. This place is truly an island destination for friends and family!
It is easy to visit The Keys, either during a day trip to the island or during your summer vacation here. Minutes from the Jet Express, a Put in Bay ferry terminal, it is lovely to watch the boats in the Put-in-Bay harbor, coming and going from the Park Place Boat Club. Some seats feature views of Perry's Victory and International Peace Memorial, a reminder of everlasting peace. Since it is located near the downtown area and other things to do in Put in Bay, it is a great option for lunch and dinner. You can easily walk around and explore the other main streets like Catawba Ave and Delaware Ave.  Visitors love the calm vibe of this restaurant and bar, making it one of the best restaurants on the island.
Great food can be found at any Put-in-Bay restaurant. Some favorites include:
Topsy Turvey
Pasquales Cafe
The Goat Soup & Whiskey
Upper Deck
Mossbacks
Hooligans Irish Pub
Frosty Bar
Boathouse Bar
​The Reel Bar
The Old Forge Cafe
Village Bakery
Mama Maria's Italian
Subway
The Chicken Patio
See a full list of Put-in-Bay Restaurants here.