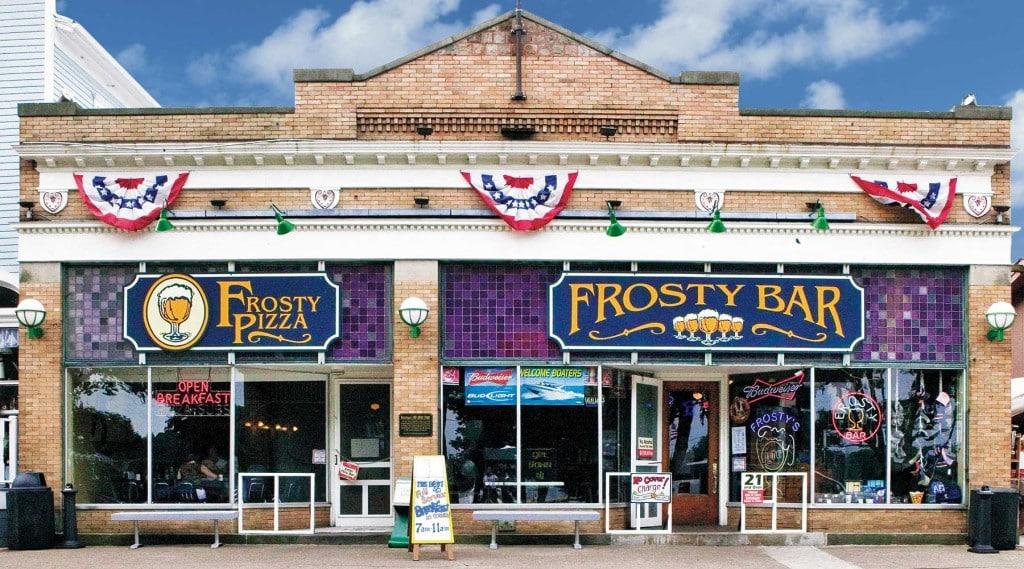 The Frosty Bar has been a Put-in-Bay institution for over 60 years.There are a lot of Put in Bay bars, but Frosty is known for serving up ice cold beers in their signature frosty mugs. This bar is a favorite of everyone, from boaters, to day trippers, vacationers, and Island natives. Frosty is a classic dive bar with a Put-in-Bay twist. With extra delicious food served up alongside live music, pool tables, and the game on TV, it is the perfect spot to celebrate summer on Put-in-Bay.
Big Man's Burrito Stand is located at the rear of the property if you crave something a little spicy, the best Mexican food on the island. Frosty serves up classic American fare with a serious flavor punch.
Frosty Bar Menu Highlights
Country Benedict
Buttermilk and Whole Grain Pancakes
Buffalo Ranch Pizza
Triple Pepperoni Pizza
Gyro
Breadsticks
Their breakfast menu is legendary on the island. There's often a short wait but you can sip coffee or one of their brunch cocktails while you wait. Hair of the Dog is very effective at Frosty. Favorites include their scrumptious blueberry pancakes, heaping breakfast sandwiches, and the infamous Eggs Benedict.
The best Bloody Mary can be found at Frosty, topped off with a signature Frosty pickle. They make a wide variety of innovative cocktails for all hours of the day.
Frosty's Bar Specialty Cocktails
-Spicy Peppercorn Bloody Mary
-Garlic Herb Bloody Mary
-Cuban Orange Juice
-Cafe Cooler
-Tropical Mimosa
-Beer-mosa (Shock Top Belgian White Ale and orange juice)
Ideally located close to the Put in Bay ferry terminal, Frosty is great first or last spot on the island. Swing by for a bite before visiting one of the many attractions on the island.
It's easy to spend the whole day here. The backyard is always jumping and live music is played most nights. DJ's also spin dance music on the weekends. Come and join the party at Frosty and see all the things to do in Put in Bay. You won't regret it!