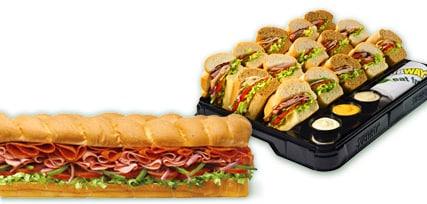 Subway on Put-in-Bay, Ohio makes it easy to fuel up on delicious, fresh, and healthy food. Conveniently located with fast service and affordable eats, enjoy a sub any time of day and then get back to summertime fun on Put-in-Bay. The signature scent of the freshly made bread greets visitors in the lobby of the Commodore Hotel. Located right on Delaware Ave, the Commodore is minutes from the Refuge Harbor and Perry Park. This is the perfect location to refuel on South Bass Island. Conveniently located by Delaware Ave and Catawba Ave. You can take your fresh sub and enjoy a picnic by the Put-in-Bay Harbor or at Derivera Park while you watch some live entertainment.
Subway offers an extensive variety of signature subs, healthy eats, and catering options. Some of their classics include Roast Beef, Italian sub, or Meatball Sub. Try a Veggie Delite for a lighter choice or put together all your favorites on one of their delicious breads to make your own sub. You can choose from either 9-grain wheat, Italian, and other delicious bread options. Salads are just as good as the subs if you need to forgo the carbs.
You can enjoy Subway's fresh-baked cookies as an appetizer. This is a great dining option for guests at the Commodore Put-in-Bay Resort after you come back from enjoying the nightlife in downtown Put-in-Bay. While you can't order walleye, Lake Erie perch tacos, or crepes, Subway has something for everyone and for all tastebuds!
Catering Both On and Offshore
Put-in-Bay's Subway understands the need for catering during our summer months and provides a whole range of options. From the boardroom to the boat, select party platters, entrees, boxed lunches, and the freshest desserts and drinks. Whether you are coming from Catawba or are on the island, this is a great catering option. Everyone loves to eat fresh! This is a convenient and easy option for catering in comparison to other Put-in-Bay restaurants.
Late Night Eats
As the sun goes down, Put-in-Bay's nightlife comes alive. Whether you are partying at Mr. Ed's or Level 2 at the Grand Islander Hotel, Subway is open and ready to serve you. A six or twelve-foot sub is just the thing to satisfy those late-night cravings. You can also bring your subs back to the Put in Bay resort pool and enjoy a brew or margarita as well. Put-in-Bay loves Subway. This location is now the most popular in the region. Their extended, late-night hours, and delicious, great food is the perfect match for Put-in-Bay summers.
Subway is the perfect place to indulge after coming back from Mr. Ed's Bar and Grille, Pasquale's Cafe, Village Bakery, Cameo Pizza, The Boardwalk, Frosty Bar, Mossbacks Put-in-Bay, Reel Bar, Upper Deck, Joe's Bar, Boathouse Bar, Dairy Isle, Hooligans, A local distillery or visitors favorite tiki bar Mojito Bay. No matter your plans on Put-in-Bay, Ohio Subway will be ready to serve you!