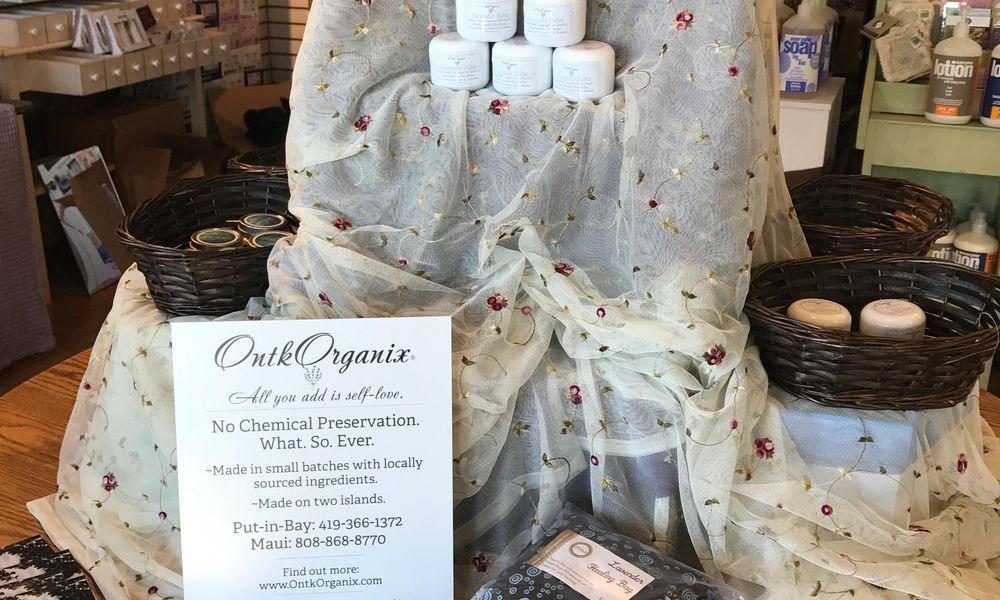 Freshwater Remedies is a delightful shop located inside Freshwater Retreat. This bed and breakfast is situated about a mile from downtown Put-in-Bay in a quiet, peaceful area of the island. It is well worth the stop. Freshwater Remedies offers a range of exciting gifts and products, most notably the homemade, all-natural skincare line, OnktOrganics.
The proprietress of both Freshwater Remedies and Resorts, Christie Onkto, was born and bred on Put-in-Bay. A true island girl, she now splits her time between Maui and Lake Erie. She understands that all-natural products are the healthiest, most loving ways to take care of your skin.
Freshwater Remedies Offerings
She started this line in order to better take care of her and her family's well-being. Starting with Gramma's Salve, this incredible recipe is a family secret. It heals scrapes and bruises and soothes aching muscles. Perfect after all those fun outdoor activities like kayaking and parasailing.
Purchase a tin of her popular Da'Balm to use on your face and skin after long days on the boat. The sun is wonderful, but it is important to protect and nourish your skin after exposure. Some other favorites include charcoal soap, coconut infusions, and her tubs of lip color which heals chapped lips with a dash of vibrant colors.
Purchase one of the Skin Care Sets and save on cleanser, toners, and serums. Watch as your skin magically transforms when you use the OnktOrganics skincare regime.
Freshwater Retreat offers a peaceful getaway on Put-in-Bay. Right on the shores of Lake Erie, this b&b provides healthy, organic treats and breakfast in a serene setting. Cozy rooms, a wide expanse of green, and respectful fellow guests combine to make this a haven for your time on the island.
Take a stroll over to South Bass Island State Park. Play a few rounds of golf at Saunders Golf Course and end the day with a cold one at a local favorite, Joe's Bar. A lovely way to spend the day.