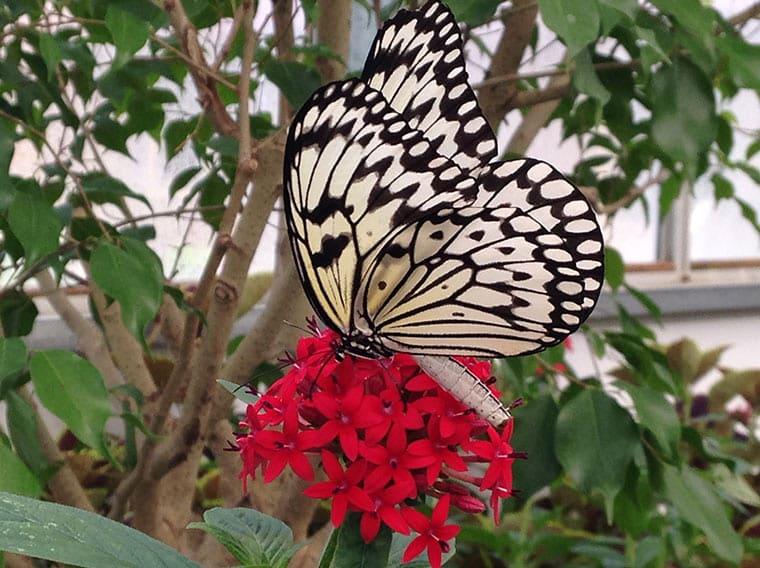 For something a little out of the ordinary, spend the day at the Butterfly House located at Perry's Cave and Family Fun Center. Perry's Cave is situated about a mile from downtown Put-in-Bay. The Butterfly House is a unique and charming attraction where visitors can stroll amongst greenery and flowers while over 50 species of butterflies flit all around.
Butterfly House Highlights
Pathways curve through the 4000 square building and secret passageways delight kids and adults alike. The entire aviary is full of soothing music and the knowledgeable staff is on hand to answer your butterfly-centric questions. They provide a handy butterfly ID chart so visitors can try and pick out the beautiful Mosaic from Central America or the dramatic Rose Swallowtail.
The Butterfly House at Put-in-Bay allows you to take a stroll among hundreds of butterflies imported from Malaysia and Costa Rica in the fully-enclosed lush, tropical greenhouse. Learn about the life span of butterflies. Explore the unique gift shop's vast selection including clothing, garden items, Fenton glass, Belleek Irish giftware, specialty foods, and other collectibles. Group tours for school groups or adult groups of 25 or more available.
Butterfly species are also on display under glass and the staff can explain how butterflies came to be. Everyone here is very passionate about all things butterflies. The gift shop is also sure to please with items to make your own butterfly garden, beautiful jewelry, and crystal butterfly figurines.
Perry's Cave and Family Fun Center
Perry's Cave and Family Fun Center is a must-go destination on Put-in-Bay. The natural wonder of Perry's Cave, a limestone cave 52 feet underground, is really something to see. Registered on the list of Ohio Natural Landmarks, this cave features a rare underground lake.
The cave features spectacular views of calcium carbonate formations lining the cave. A rare underground lake can also be found within Perry's cave whose water level mimics that of Lake Erie. Make sure to plan ahead and get comfortable rubber-soled shoes and a light layer of clothes since the cave stays around 50°F year-round.
Things get historical at the War of 18 Holes Miniature Golf. Learn about this important war while improving your short game. The entire course is brimming with gorgeous flowers such as azaleas, rhododendrons, hostas, and many other flowers.
Other attractions include a rock wall, Gemstone Mining, and Fort aMAZE'n, a giant maze. Test your skills on the crowd or watch your friends try to find the center from the observation tower.
Refuel at Dan Dee's Snack Shack. Munch on crispy grouper balls, mozzarella sticks, and onion rings then get back to gaming!
Put in Bay Ferry
The Jet Express offers passenger transportation between Put-in-Bay, Port Clinton, Sandusky, Kelleys Island, and Cedar Point. Tickets for adults are $33 round-trip from Port Clinton to Put-in-Bay. Ages 6 to 12 pay $6 and kids under 5 ride free. Sandusky to Put-in-Bay discounted round-trip rates for adults are $39.50 and $11.50 round-trip for kids ages 6 to 12.
The Jet Express also offers service from Put-in-Bay and Kelleys Island to Cedar Point. It drops you off right in the heart of downtown Put-in-Bay and they offer late-night exclusive service. Parking is safe and secure and it is available at their mainland locations.
Miller Ferry Put in Bay owns four passenger ferries that transport passengers to Put-in-Bay and Middle Bass Island from the tip of Catawba. They provide frequent trips to Put-in-Bay every half an hour during the summer until 9 pm. Adults are $7.50 per passenger and there are five free parking areas.
Miller Ferry also provides vehicle transportation to Put-in-Bay and Middle Bass Island. Motorcycles and Bicycles are also able to be transported. If you decide not to take a personal vehicle you could use a Put in Bay golf cart rental.
Miller Ferry is the only ferry service that provides both passenger and vehicle service to Put-in-Bay and Middle Bass Island; motorcycles and bicycles are also welcome.