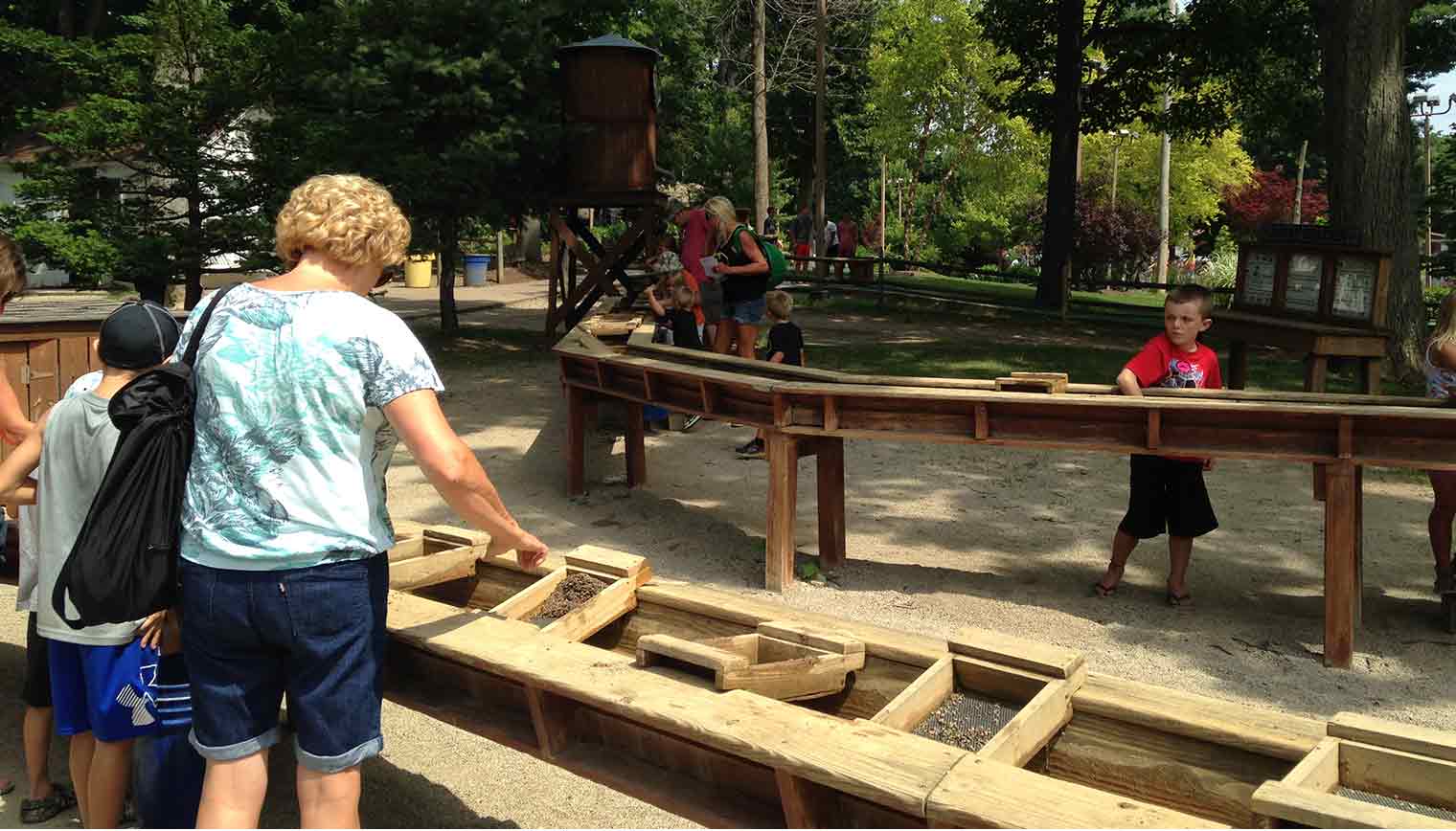 Make like a prospector and mine for treasures at Perry's Cave's Gemstone Mining. Visitors purchase a bag of rough mix at the Shop at the Top and pan for geodes and fossils by letting water wash over the mix.
This activity is really popular for kids. There is something truly magical about watching treasures appear under water. Imagine what the gold miner felt!
I can tell you from personal experience how cool this activity is. It is my number one top remaining memory from my visits to Put-in-Bay as a kid. I remember it so fondly. There's putt-putt everywhere, this is something you can only do at Put-in-Bay. If you are coming to the island with anyone under the age of 13, it is absolutely positively a cannot miss, must visit attraction.
Geodes look like normal, rough hewn rocks. Once you cut into them, a cavity lined with beautiful crystals is revealed. Another feature at Gemstone Mining is the Geode cutting station. A trained staff member uses a diamond blade saw to cut through your geode to reveal the hidden beauty inside.
Perry's Cave Family Fun Center
One of Put-in-Bay's most popular attractions, Perry's Cave contains a ton of fun activities under one roof. The limestone cave itself is a natural wonder. A rare underground lake is found 52 feet under the ground. This cool water was used at the Hotel Victory prior to its burning down.
The Rock Wall is another fun feature. Climb 25 feet up in the air to ring the bell. You can even race against your friend. Fort aMAZEn is another fun and challenging aspect of Perry's. Race against your friends to find the end of the maze. There's also the War of 18 Holes, a mini-golf course that educates players about the War of 1812. Fun and educational!
When gamers get hungry, they can refuel at Dan Dee's Snack Shack. Fries, mozzarella sticks, fried fish, and ice cream are all on hand at an affordable price.
Perry's Neighbors
After a day spent at Perry's, there are lots of things to do in this part of Put-in-Bay. Located just outside downtown, visitors can taste wine at Heineman Winery, eat a world-class meal at Goat Soup and Whiskey or relax at Joe's Bar.